Arizona Almanac: Facts and Figures
Quick Facts and Figures on the State of Arizona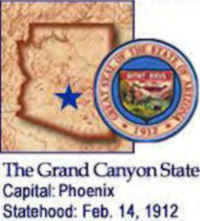 Arizona Almanac furnishes quick facts and figures on the state, its history and geography; largest and smallest counties, largest cities; climate and weather, temperature, highest, lowest, and mean temperatures; elevations, lowest, highest elevations; total area, land area and water area, state forest and park areas; bordering states, electoral votes, number of senators and representatives to the US Congress, and other statistical data.
Use this almanac of Arizona for information on local issues, politics, events, celebrations, people and business pertaining to the state of Arizona that can be found online.
Arizona is one of the Mountain states of the US. The Grand Canyon State shares its boundaries with California, Nevada, New Mexico, Utah, Colorado, and the Mexican province of Sonora. Famous for its beautiful scenery, Arizona has many natural wonders, including the Grand Canyon. Arizona is covered by tall, rugged mountains in the north, and the central plateau gives way to the magnificent desert landscapes of the south. Arizona's name come from combination of two words from the Papago Indian dialect of the Pima language; "Aleh" and "Zon" together as "Aleh-zon" meaning "little spring."

The ancient history and traditions of this land reaches back thousands of years, and today, this state is a favorite stop for golfers and tourists, especially those seeking warm weather. Also, it remains one of the most popular retirement destinations on the planet.
Manufacturing has become Arizona's most important industry. Principal products include electrical, communications, and aeronautical items. The state produces over half of the country's copper. Agriculture is also important to the state's economy. Top commodities are cattle and calves, dairy products, and cotton. In 1973 one of the world's most massive dams, the New Cornelia Tailings, was completed near Ajo.
Official Name
Arizona
Capital
Phoenix
Nicknames
Grand Canyon State ...and more
Motto
Ditat Deus (God enriches)
Location
Region
33.54255 N, 112.07139 W
Rocky Mountains
Southwestern
Constitution Ratified
1911
Statehood
February 14, 1912
48th state
Population
6,392,017 (2010)
45.15 sq. mi.
20th
Largest City
(by population)
10 largest cities (2010): Phoenix, 1,445,632; Tucson, 520,116; Mesa, 439,041; Chandler, 236,123; Glendale, 226,721;Scottsdale, 217,385; Gilbert, 208,453; Tempe, 161,719; Peoria, 154,065; Yuma, 90,041
Bordering States
North: Utah
East: New Mexico
South: Mexico
West: California and Nevada (The Colorado River forms much of the W boundary)
Major Industry
mining (copper, molybdenum, gold, and silver), manufacturing, and tourism
Major Rivers
Colorado River, Little Colorado River, Gila River, Bill Williams River
Major Lakes
Lake Mead, Lake Havasu, Lake Mohave, Theodore Roosevelt Lake, San Carlos Lake, Lake Powell
Arizona Counties
15 Counties in Arizona
Largest County
(by population)
Maricopa County
3,635,528 (2005)
9,204 sq. mi.
Largest County
(by area)
Coconino County
18,562 sq. mi.
State Parks
28
Electoral Votes
10 (as of the 2004 Presidential Election)
US Congress
2 Senators; 8 Representatives
Time Zone
Mountain Standard Time
Arizona, non-Navajo, no Daylight Saving
Zip Codes
NANPA
State Quick Facts
Census Bureau Quick Facts

Arizona Climate and Weather

Arizona's weather is popularly categorized as hot and dry, but what most people outside the state don't realize is that Arizona's climate is actually quite varied.

While Central Arizonans are basking in mild weather with cool breezes in January, folks in Northern Arizona might be swooshing down the state's ski slopes enjoying a cool winter day. And in the summer, Southern Arizonans could be sunbathing, while people in North-Central Arizona might slip on sweaters and enjoy the crisp night air.

Highest Temperature
128 degrees
June 29, 1994 - Lake Havasu
Lowest Temperature
-40 degrees
Jan. 7, 1971 - Hawley Lake
Avg. Temp:
High - Low
105 degrees
66.9 degrees

Arizona Points of Interest

Arizona offers a myriad of things to see-and-do, including the Colorado River, Grand Canyon, Lake Havasu and the London Bridge, Meteor Crater, Monument Valley, Painted Desert, Sonoran Desert, city sights of Phoenix, Scottsdale, Tucson, as well as plenty of sunshine, golfing, hiking, swimming, and so much more.

Arizona Highest, Lowest, and Mean Elevations (Feet)

Mean Elevation: 4,100 feet
Highest Point: Humphreys Peak: 12,633 feet

Humphreys Peak is the highest peak in Arizona. It rises in the Kachina Peaks Wilderness Area, immediately north of Flagstaff. The area is volcanic in origin, as is apparent by the conal shapes of some of the neighboring peaks, but Humphreys is now heavily eroded, and has lost its symmetry. On a clear day on the summit, the view to the northwest includes the rim of the Grand Canyon. Usual access to Humphreys is via the Arizona Snow Bowl, a popular ski lodge located just south of the mountain. It is sacred to several Native American tribes

Lowest Point:
Colorado River
70 feet

Arizona Land Area (Square Miles)

Geographic Center
In Yavapai County, 55 mi. ESE of Prescott
Longitude: 111°47.6'W
Latitude: 34°1 8.5'N
Total Area
113,998.30 sq. mi.
6th
Land Area
113,634.57 sq. mi.
99.69%
Water Area
363.73 sq. mi.
0.31%
Forested Land Area
27.4%
Dimensions
(Length - Width)
400 miles - 310 miles
County Information and County History
Apache, Cochise, Coconino, Gila, Graham, Greenlee, La Paz, Maricopa, Mohave, Navajo, Pima, Pinal, Santa Cruz, Yavapai, Yuma
---