Massachusetts Almanac: Facts and Figures
Quick Facts and Figures on the State of Massachusetts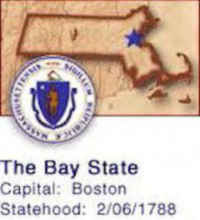 Massachusetts Almanac furnishes quick facts and figures on the state, its history and geography; largest and smallest counties, largest cities; climate and weather, temperature, highest, lowest, and mean temperatures; elevations, lowest, highest elevations; total area, land area and water area, state forest and park areas; bordering states, electoral votes, number of senators and representatives to the US Congress, and other statistical data.
Use this almanac of Massachusetts for information on local issues, politics, events, celebrations, people and business pertaining to the state of Massachusetts that can be found online.
Massachusetts, officially Commonwealth of Massachusetts, one of the New England states of the US. It is bordered by Rhode Island, Connecticut, New York, Vermont, New Hampshire and the Atlantic Ocean. The Jesuit missionary Father Rasles thought that Massachusetts' name was taken from Massachusetts tribe of Native Americans, meaning "at or about the great hill"
Massachusetts, early became an important intellectual center, known for Harvard University and the cultural institutions of Boston. In the 19th century, it developed into a major manufacturing state, noted for textiles and footwear; in the mid-20th century, electronic components and other high-technology items became leading manufactures. Massachusetts is famous for its summer resorts, such as the sand beaches of Cape Cod. Tourism has become an important factor in the economy of the state because of its numerous recreational areas and historical landmarks.
The state's cranberry crop is the nation's second-largest (after Wisconsin). Also important are dairy and poultry products, nursery and greenhouse produce, vegetables, and fruit.
Official Name
Massachusetts
Capital
Boston
Nicknames
Bay State, Old Colony State ...and more
Motto
Ense Petit Placidam Sub Libertate Quietem (By the sword we seek peace, but peace only under liberty)
Location
Region
42.33602 N, 071.01789 W
New England
Northeastern
Constitution Ratified
1780
Statehood
February 06, 1788
6th state
Population
6,547,629 (2010)
601.5 sq. mi.
13th
Largest City
(by population)
10 largest cities (2010): Boston, 617,594; Worcester, 181,045; Springfield, 153,060; Lowell, 106,519; Cambridge, 105,162; New Bedford, 95,072; Brockton, 93,180; Quincy, 92,271; Lynn, 90,329; Fall River, 88,857
Bordering States
North: Vermont and New Hampshire
East: Atlantic Ocean and several of its arms (such as the Gulf of Maine, Massachusetts Bay, Boston Bay, and Cape Cod Bay)
South East: Atlantic Ocean and a number of its arms (such as Nantucket Sound and Buzzards Bay)
South: Rhode Island and Connecticut
West: New York.
Coastline: 192 mi.
Major Industry
Textiles, electronics, publishing, education, tourism, fishing
Major Rivers
Charles River, Connecticut River, Merrimack River
Major Lakes
Quabbin Reservoir
Massachusetts Counties
14 Counties and 7 Geographical Census Areas
Largest County
(by population)
Middlesex County No Form of County Government
1,503,085 (2010)
824 sq. mi.
Largest County
(by area)
Worcester County
1,513 sq. mi.
State forests and parks
450,000 ac.
Presidential Birthplaces

John Adams was born in Braintree (now Quincy) on October 30, 1735 (he was the 2nd US President, serving from 1797 to 1801).

John Quincy Adams was born in Braintree (now Quincy) on July 11, 1767 (he was the 6th US President, serving from 1825 to 1829).

John Fitzgerald Kennedy was born in Brookline on May 29, 1917 (he was the 35th US President, serving from 1961 to 1963).

George Herbert Walker Bush was born in Milton on June 12, 1924 (he was the 41st US President, serving from 1989 to 1993).

Electoral Votes
12
US Congress
2 Senators; 10 Representatives
Time Zone
Eastern Standard Time
Zip Codes
NANPA
State Quick Facts
Census Bureau Quick Facts

Massachusetts Climate and Weather

Weather in Massachusetts is diverse and changeable. It can go from sunny to rainy (or, in winter, snowy) several times a week. Coastal areas usually have more moderate temperatures in summer and winter than the Berkshires in the west. Summer in Massachusetts is generally comfortable, though temperatures will climb above 90 F/32 C at least once each summer in all parts of the state. Cape Cod is kept cool by ocean breezes, though the mid 80s F/27-29 C are not unusual. In July, temperatures in central Massachusetts range 60-81 F/16-27 C, with some days above 90 F/32 C. Fall high temperatures can range from 60 to the low 70s F/15-22 C. Winter temperatures are moderately cold (11 to 29 F/-13 to -2 C, on average), with heavier snows in the west and central portions (60-80 in/152-203 cm) and less on the Cape.
Highest Temperature
107 degrees
August 7, 1975 - Chester and New Bedford
Lowest Temperature
-35 degrees
January 12, 1981 - Chester
Avg. Temp:
High - Low
81.8 degrees
15.6 degrees

Massachusetts Points of Interest

Massachusetts boasts all of the diverse features that are typical to the New England area, and it's widely considered the center of America's Colonial and Revolutionary War history.

In addition to breathtaking scenery, major points-of-interest here include the historic capital city of Boston, Cambridge and Harvard University, Cape Cod and the National Sea Shore, Gloucester (America's oldest seaport), lobster dinners anywhere along the coast, statewide historic sites, and Salem, with its fascinating witch trial history, and the House of the Seven Gables. Old Sturbridge Village in Sturbridge, Minute Man National Historical Park between Lexington and Concord, and Plymouth Plantation in Plymouth. In Boston there are many places of historical interest, including Old North Church, Old State House, Faneuil Hall, the USS Constitution, and the John F. Kennedy Library and Museum

Massachusetts Highest, Lowest, & Mean Elevations (Feet)

Mean Elevation: 500 feet
Highest Point: Mt. Greylock: 3,487 feet

The 3,491-foot peak, accessible by car, is the highest peak in Massachusetts, and offers visitors views of up to 100 miles. The 92-foot high War Veteran's Memorial Tower, built in 1932 and restored in 1975, is open daily during the summer and fall.

Lowest Point:
Atlantic Ocean
Sea level

Massachusetts Land Area (Square Miles)

Geographic Center
In the town of Rutland in Worcester County
Longitude: 72°1.9'W
Latitude: 42°20.4'N
Total Area
10,554.57 sq. mi.
44th
Land Area
7,840.02 sq. mi.
Water Area
2,714.55 sq. mi.
25.71%
Forested Land Area
65.1%
Dimensions
(Length - Width)
190 miles -50 miles
County Information and County History
Barnstable, Bristol, Dukes, Nantucket, Norfolk, Plymouth, Suffolk, Berkshire, Essex, Franklin, Hampden, Hampshire, Middlesex, Worcester
---