Nevada Almanac: Facts and Figures
Quick Facts and Figures on the State of Nevada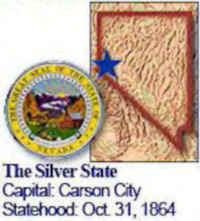 Nevada Almanac furnishes quick facts and figures on the state, its history and geography; largest and smallest counties, largest cities; climate and weather, temperature, highest, lowest, and mean temperatures; elevations, lowest, highest elevations; total area, land area and water area, state forest and park areas; bordering states, electoral votes, number of senators and representatives to the US Congress, and other statistical data.
Use this almanac of Nevada for information on local issues, politics, events, celebrations, people and business pertaining to the state of Nevada that can be found online.
Nevada is one of the Mountain states of the US. By area, it is the seventh biggest state in the country. Nevada covers a total area of 110,562 sq. miles and its neighboring states are California, Oregon, Utah, Idaho, and Arizona. Spanish sailors gazed upon the beautiful mountain ranges of California. They called these mountains Sierra Nevada (snowy range). Sierra Nevada seemed an apt name for the new territory that was being carved out of Utah, but when the deed was done in 1859, the name of this new territory was shortened to Nevada.
Nevada has been known for its mineral wealth and for its gambling casinos and scenic landscapes that attract millions of tourists. By the early 1990s, however, Nevada had developed a relatively diversified economy; tourism, mining, and ranching remain important, but manufacturing and construction have grown rapidly. Nevada manufactures gaming equipment; lawn and garden irrigation devices; titanium products; seismic and machinery monitoring devices; and specialty printing. The state's leading agricultural industry is cattle and calves. Agricultural crops consist mainly of hay, alfalfa seed, barley, wheat, and potatoes.

Official Name
Nevada
Capital
Carson City
Nicknames
Sagebrush State; Silver State; Battle Born State ...and more
Motto
All for our country
Location
Region
39.14832 N, 119.74324 W
Rocky Mountains
Southwestern
Constitution Ratified
1864
Statehood
October 31, 1864
36th state
Population
2,700,551 (2010)
18.20 sq. mi.
35th
Largest City
(by population)
10 largest cities (2010 est.):Las Vegas, 583,756; Henderson, 257,729; Reno, 225,221; Paradise, 225,167; North Las Vegas, 216,961; Sunrise Manor 189,372; Spring Valley, 178,395; Enterprise 108,481; Sparks, 90,264 ; Carson City, 55,274
Bordering States
North: Oregon and Idaho
East: Utah and Arizona
South West and West: California
Major Industry
tourism, mining (gold, silver), hydro-electric power
Major Rivers
Colorado River, Humboldt River, Truckee River
Major Lakes
Pyramid Lake, Lake Mead, Lake Mojave, Lake Tahoe, Walker Lake
Nevada Counties
16, plus 1 independent city
Largest County
(by population)
Clark County
1,951,269 (2010)
7,911 sq. mi.
Largest County
(by area)
Nye County
18,147 sq. mi.
State parks
24
Electoral Votes
5 (as of the 2004 Presidential Election)
US Congress
2 Senators; 2 Representatives (3 Representatives as of the 2002 election)
Time Zone
Pacific Standard Time
Zip Codes
NANPA
State Quick Facts
Census Bureau Quick Facts

Nevada Climate and Weather

Nevada's alpine topography, central and north, and the desert conditions of the south are as different as day and night. In the southern desert area (Las Vegas), summers are hot, dry and windy. Average high temperatures are right at 90 degrees. Winters in the desert are usually quite mild, with average highs in the mid-40s, often much higher.

In the central and northern mountain areas, summers are milder with cool mornings. Winter brings much colder temperatures and snow (sometimes heavy), especially in the high mountains of the Lake Tahoe area.

Annual precipitation amounts are very low in Nevada, with less than 10 inches common. Some higher elevations in the mountains receive up to 30 inches, and Lake Tahoe approaches 50 inches
Highest Temperature
122 degrees
June 23, 1954 - Overton
Lowest Temperature
-50 degrees
January 8, 1937 - San Jacinto
Avg. Temp:
High - Low
104.5 degrees - 19.5 degrees

Nevada Points of Interest

Colorado River and the Hoover Dam - Lake Mead area, Lake Tahoe, Las Vegas, Reno, the recreation areas at Pyramid Lake, historic Virginia City, Red Rock Canyon, Lake Tahoe, Reno, and Las Vegas are major resorts. Other attractions are Hoover Dam, Virginia City, and Great Basin National Park (includes Lehman Caves), and much, much more.

Nevada Highest, Lowest, and Mean Elevations (Feet)

Mean Elevation: 5,500 feet

Highest Point: Boundary Peak: 13,140 feet

Of the 11.86 million acres of the heavily visited Inyo National Forest split between Nevada and California, only 60,654 lie in Nevada. In that portion, you will find this one lonely Wilderness, the state's smallest. But this Wilderness makes up in height what it lacks in size, with Boundary Peak, at 13,140 feet, rating as the highest point in Nevada. The peak overlooks, as might be expected, the California border, and rises above the White Mountains, a high and dry range from which colorful canyons descend eastward into desert land.

Lowest Point:
Colorado River
479 feet

Nevada Land Area (Square Miles)

Geographic Center
In Lander County, 26 mi. SE of Austin
Longitude: 116°55.9'W
Latitude: 39°30.3'N
Total Area
110,560.71 sq. mi
7th
Land Area
109,825.99 sq. mi
99.34%
Water Area
734.71 sq. mi.
0.66%
Forested Land Area
14.1%
Dimensions
(Length - Width)
490 miles - 320 miles
County Information and County History
Carson City, Churchill, Clark, Douglas, Elko, Esmeralda, Eureka, Humboldt, Lander, Lincoln, Lyon, Mineral, Nye, Pershing, Storey, Washoe, White Pine
---