Oklahoma Almanac: Facts and Figures
Quick Facts and Figures on the State of Oklahoma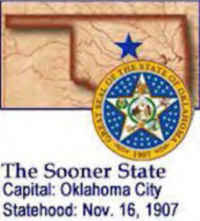 Oklahoma Almanac furnishes quick facts and figures on the state, its history and geography; largest and smallest counties, largest cities; climate and weather, temperature, highest, lowest, and mean temperatures; elevations, lowest, highest elevations; total area, land area and water area, state forest and park areas; bordering states, electoral votes, number of senators and representatives to the US Congress, and other statistical data.
Use this almanac of Oklahoma for information on local issues, politics, events, celebrations, people and business pertaining to the state of Oklahoma that can be found online.
Oklahoma is one of the West South Central states of the US. It is the 28th most populous state in the US. The state consists of mountain ranges, prairie, mesas, and eastern forests. Most of the state of Oklahoma lies in the Great Plains and US Interior Highlands and is prone to rough and extreme weather.

Oklahoma is one of the six states on the Frontier Strip. It is bounded from various directions by the states of Arkansas, Missouri, Kansas, Colorado, New Mexico and Texas. Oklahoma's name was derived when Allen Wright combined two Choctaw words, "ukla" meaning person and "humá" meaning red to form the word that first appears in a 1866 Choctaw treaty. Oklahoma means "red person."
Oil made Oklahoma a rich state, but natural-gas production has now surpassed it. Minerals produced in Oklahoma include helium, gypsum, zinc, cement, coal, copper, and silver. Oklahoma's rich plains produce bumper yields of wheat, as well as large crops of sorghum, hay, cotton, and peanuts. More than half of Oklahoma's annual farm receipts are contributed by livestock products, including cattle, dairy products, swine, and broilers.
Official Name
Oklahoma
Capital
Oklahoma City
Nicknames
Sooner State ...and more
Motto
Labor Omnia Vincit (Labor conquers all things)
Location
Region
35.46705 N, 097.51349 W
Great Plains
Southwestern
Constitution Ratified
1907
Statehood
November 16, 1907
46th state
Population
3,751,351 (2010)
50.24 sq. mi.
27th
Largest City
(by population)
10 largest cities (2010 est.):Oklahoma City, 579,999; Tulsa, 391,906; Norman, 110,925; Lawton, 96,867; Broken Arrow, 98,850; Edmond, 81,405; Moore, 55,081; Midwest City, 54,371; Enid, 49,379; Stillwater, 45,688
Bordering States
North: Colorado and Kansas
East: Missouri and Arkansas
South: Texas (Red River forms much of the Southern boundary)
West: Texas and New Mexico
Major Industry
farming (wheat, cattle), oil, natural gas
Major Rivers
Arkansas River, Canadian River, Red River
Major Lakes
Lake Texoma, Eufaula Lake, Lake Hudson, Lake O' the Cherokees, Gibson Lake, Oologah Lake, Keystone Lake
Oklahoma Counties
77 Counties in Oklahoma
Largest County
(by population)
Oklahoma County
718,633 (2010)
709 sq. mi.
Largest County
(by area)
Osage County
2,251 sq. mi.
State parks
50
Electoral Votes
7 (as of the 2004 Presidential Election)
US Congress
2 Senators; 5 Representatives
Time Zone
Central Standard Time
Zip Codes
NANPA
State Quick Facts
Census Bureau Quick Facts

Oklahoma Climate and Weather

Weather conditions in Oklahoma vary widely. Summers are usually hot, humid and windy, with cooler evenings. In winter, northern cold fronts and chilling winds bring temperatures down to freezing.

Early evening thunderstorms are common in summer, and tornados strike the state on a regular basis. Oklahoma is in America's Tornado Alley.

January is the coldest month, with average high temperatures near 40 degrees. July is the warmest month, with average high temperatures around 82 degrees. Hotter summers and colder winters, with snow, are not uncommon.

Annual precipitation amounts range from 20 - 30 inches central and west, while in the east, 40 - 50 inches are normal.
Highest Temperature
120 degrees
July 26, 1934 - Tishmoningo
Lowest Temperature
-27 degrees
January 18, 1930 - Watts
Avg. Temp:
High - Low
93.9 degrees
24.8 degrees

Oklahoma Points of Interest

Numerous American Indian historic sites and museums, State Capital Building and Murrah Federal Building monument in Oklahoma City, the Will Rogers Museum, National Cowboy Hall of Fame in Oklahoma City, the Will Rogers Memorial in Claremore, the Cherokee Cultural Center with a restored Cherokee village, the restored Fort Gibson Stockade near Muskogee, the Lake Texoma recreation area, pari-mutuel horse racing at Remington Park in Oklahoma City, and Blue Ribbon Downs in Sallisaw, and much, much more.

Oklahoma Highest, Lowest, and Mean Elevations (Feet)

Mean Elevation: 1,300 feet

Highest Point: Black Mesa: 4,973 feet

Located in Cimarron County, Oklahoma, Black Mesa Nature Preserve consists of approximately 1,600 acres which the Conservancy has conveyed to the Oklahoma Tourism and Recreation Department with a management agreement. The preserve protects about 60% of the mesa top in Oklahoma in addition to talus slopes and plains habitat. A native granite monument marks the highest point in Oklahoma - 4,973 feet above sea level.

Lowest Point:
Little River
289 feet

Oklahoma Land Area (Square Miles)

Geographic Center
In Oklahoma County, 8 mi. N of Oklahoma City
Longitude: 97°39.6'W
Latitude: 35°32.2'N
Total Area
69,898.19 sq. mi.
20th
Land Area
68,667.06 sq. mi.
98.24%
Water Area
1,231.13 sq. mi.
1.76%
Forested Land Area
17.4%
Dimensions
(Length - Width)
400 miles - 220 miles
County Information and County History
Adair, Alfalfa, Atoka, Beaver, Beckham, Blaine, Bryan, Caddo, Canadian, Carter, Cherokee, Choctaw, Cimarron, Cleveland, Coal, Comanche, Cotton, Craig, Creek, Custer, Delaware, Dewey, Ellis, Garfield, Garvin, Grady, Grant, Greer, Harmon, Harper, Haskell, Hughes, Jackson, Jefferson, Johnston, Kay, Kingfisher, Kiowa, Latimer, LeFlore, Lincoln, Logan, Love, Major, Marshall, Mayes, McClain, McCurtain, McIntosh, Murray, Muskogee, Noble, Nowata, Okfuskee, Oklahoma, Okmulgee, Osage, Ottawa, Pawnee, Payne, Pittsburg, Pontotoc, Pottawatomie, Pushmataha, Roger Mills, Rogers, Seminole, Sequoyah, Stephens, Texas, Tillman, Tulsa, Wagoner, Washington, Washita, Woods, Woodward
---