South Dakota Almanac: Facts and Figures
Quick Facts and Figures on the State of South Dakota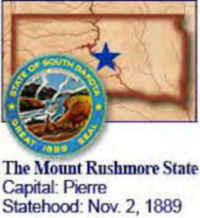 South Dakota Almanac furnishes quick facts and figures on the state, its history and geography; largest and smallest counties, largest cities; climate and weather, temperature, highest, lowest, and mean temperatures; elevations, lowest, highest elevations; total area, land area and water area, state forest and park areas; bordering states, electoral votes, number of senators and representatives to the US Congress, and other statistical data.
Use this almanac of South Dakota for information on local issues, politics, events, celebrations, people and business pertaining to the state of South Dakota that can be found online.
South Dakota is one of the West North Central states of the US. It is considered a part of both the Midwest as well as the Great Plains region. South Dakota is bordered to the north by North Dakota; to the south by Nebraska; to the east by Iowa and Minnesota; and to the west by Wyoming and Montana. The total land area of South Dakota is 77,121 square miles (199,740 sq. km)This is the 17th largest state by area in the Union. The state also consists of many rivers and natural lakes. North and South Dakota were one territory until 1889. South Dakota was named for the Dakota, Sioux tribe which lived in the region. Dakota is the Sioux word for "friends" or "allies."
Agriculture is a cultural and economic mainstay, but it no longer leads the state in employment or share of gross state product. Durable-goods manufacturing and private services have evolved as the drivers of the economy. Tourism is also a booming industry in the state, generating over a billion dollars' worth of economic activity each year.

South Dakota is the second-largest producer of sunflower seed and oil in the nation. South Dakota is also a leading producer of a variety of small grains including oats, barley, rye, flaxseed, sorghum and alfalfa.

Official Name
South Dakota
Capital
Pierre
Nicknames
The Mount Rushmore State (Official); Coyote State ...and more
Motto
Under God, the people rule
Location
Region
44.37298 N, 100.32248 W
Great Plains
Midwest
Northwestern
Constitution Ratified
1889
Statehood
November 02, 1889
40th state
Population
775,933 (2010)
9.95 sq. mi.
46th
Largest City
(by population)
10 largest cities (2010 est.):Sioux Falls, 153,888; Rapid City, 67,956; Aberdeen, 26,091; Brookings, 22,056; Watertown, 21,482; Mitchell, 15.254; Yankton, 14,454; Pierre, 13,646; Huron, 12,592; Vermillion, 10,571
Bordering States
North: North Dakota
East: Minnesota and Iowa
South: Nebraska (Missouri River forms part of the Southeastern boundary)
West: Wyoming and Montana
Major Industry
Major Rivers
Major Lakes
South Dakota Counties
66 Counties in South Dakota
Largest County
(by population)
Minnehaha County
169,468 (2010)
809 sq. mi.
Largest County
(by area)
Meade County
3,471 sq mi.
State parks
12
Electoral Votes
3
US Congress
2 Senators; 1 Representative
Time Zone
Central Standard Time
Mountain Standard Time
Zip Codes
NANPA
State Quick Facts
Census Bureau Quick Facts

South Dakota Climate and Weather

Weather in the Great Plains usually includes broad temperature changes in South Dakota, light to moderate precipitation. low humidity and plenty of sunshine.

January is the coldest month, with average temperatures ranging from 10 degrees in the east to 14 degrees in the west. July is the warmest month, with average temperatures ranging from 69 degrees in the east to 64 degrees in the west.

South Dakota does have occasional days with high temperatures near 90 degrees, and harsh winter temperatures (way below 0 degrees) are normal.

Annual precipitation amounts range from 25 inches in the east and southeast, while the west receives no more than 20 inches on average. The exception is the Black Hills, where rain can exceed 35 inches yearly.
Highest Temperature
120 degrees
July 5th, 1936 - Gannvalley
Lowest Temperature
-58 degrees
February 17, 1936 - McIntosh
Avg. Temp:
High - Low
86.5 degrees - 1.9 degrees

South Dakota Points of Interest

The Black Hills, Mount Rushmore, Crazy Horse Memorial, Custer State Park, Presidents Park, the Badlands and Wind Cave National Park . Other tourist attractions include the the World's Only Corn Palace, in Mitchell; and the city of Deadwood, where Wild Bill Hickok was killed in 1876 and where gambling was recently legalized.to name but a few.

South Dakota Highest, Lowest, and Mean Elevations (Feet)

Mean Elevation: 2,200 feet

Highest Point: Harney Peak: 7,242 feet

As well as being the South Dakota high point, Harney Peak is the tallest peak in North America east of the Rocky Mountains. It lies in the beautiful Black Hills, a region with a unique natural history. The range exists like an island in the surrounding prairie grassland.

Lowest Point:
Big Stone Lake
966 feet

South Dakota Land Area (Square Miles)

Geographic Center
In Hughes County, 8 mi. NE of Pierre
Longitude: 100°28.7'W
Latitude: 44°24.1'N
Total Area
77,116.49 sq. mi.
17th
Land Area
75,884.64 sq. mi.
98.41%
Water Area
1,231.85 sq. mi.
1.59%
Forested Land Area
Dimensions
(Length - Width)
380 miles - 210 miles
County Information and County History
Aurora, Beadle, Bennett, Bon Homme, Brookings, Brown, Brule, Buffalo, Butte, Campbell, Charles Mix, Clark, Clay, Codington, Corson, Custer, Davison, Day, Deuel, Dewey, Douglas, Edmunds, Fall River, Faulk, Grant, Gregory, Haakon, Hamlin, Hand, Hanson, Harding, Hughes, Hutchinson, Hyde, Jackson, Jerauld, Jones, Kingsbury, Lake, Lawrence, Lincoln, Lyman, Marshall, McCook, McPherson, Meade, Mellette, Miner, Minnehaha, Moody, Pennington, Perkins, Potter, Roberts, Sanborn, Shannon, Spink, Stanley, Sully, Todd, Tripp, Turner, Union, Walworth, Yankton, Ziebach
---