Wyoming Almanac: Facts and Figures
Quick Facts and Figures on the State of Wyoming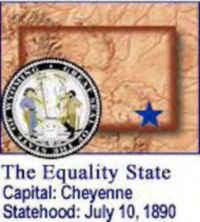 ing Almanac furnishes quick facts and figures on the state, its history and geography; largest and smallest counties, largest cities; climate and weather, temperature, highest, lowest, and mean temperatures; elevations, lowest, highest elevations; total area, land area and water area, state forest and park areas; bordering states, electoral votes, number of senators and representatives to the US Congress, and other statistical data.
Use this almanac of Wyoming for information on local issues, politics, events, celebrations, people and business pertaining to the state of Wyoming that can be found online.
Wyoming is one of the Mountain states of the US. Wyoming is the 10th biggest state in the United States in terms of area. Wyoming is the 10th largest state in the US The capital of the state is Cheyenne and it is also the largest city. Wyoming is bordered on the north by Montana, on the east by South Dakota and Nebraska, on the south by Colorado, on the southwest by Utah, and on the west by Idaho. Delaware Indian word, meaning "mountains and valleys alternating"; the same as the Wyoming Valley in Pennsylvania. Legh Freeman, publisher of The Frontier Index in Kearny, Nebraska, claimed that it was he who first suggested Wyoming as the name for this portion of the Dakota Territory. Wyoming name comes from the Dakota "mscheweamiing" meaning "at the big flats" or "large plains."
Wyoming is the leading coal-producing state and a leader in the production of petroleum and natural gas. Wyoming has the world's largest sodium carbonate (natrona) deposits and has the nation's second largest uranium deposits.

A leading producer of sheep and wool, Wyoming is also a major producer of beef cattle and hogs. Principal crops include wheat, oats, sugar beets, corn, barley, and alfalfa.
Official Name
Wyoming
Capital
Cheyenne
Nicknames
Equality State ...and more
Motto
Equal rights
Location
Region
41.14545 N, 104.79234 W
Great Plains
Northwestern
Northwest, Pacific
Rocky Mountains
Constitution Ratified
1890
Statehood
July 10, 1890
44th state
Population
563,626 (2010)
5.09 sq. mi.
50th
Largest City
(by population)
10 largest cities (2010): Cheyenne, 59,011; Casper, 55,316; Laramie, 30,816; Gillette, 29,087; Rock Springs, 23,036; Sheridan, 17,444; Green River, 12,515; Evanston, 12,359; Riverton, 10,615; Cody, 9,520
Bordering States
North: Montana
East: South Dakota and Nebraska
South: Colorado and Utah
West: Utah, Idaho, and Montana
Major Industry
farming (cattle, sheep), mining (coal, uranium), oil, natural gas, tourism
Major Rivers
Bighorn River, Green River, Belle Fourche River, Powder River, North Platte River
Major Lakes
Yellowstone Lake, Glendo Reservoir, Bighorn Lake, Boysen Reservoir, Flaming Gorge Reservoir, Seminoe Reservoir, Alcova Reservoir, Keyhole Reservoir
Wyoming Counties
23 Counties in Wyoming
Largest County
(by population)
Laramie County
91,738 (2010)
2,686 sq. mi.
Largest County
(by area)
Sweetwater County
10,426 sq. mi.
Electoral Votes
3
US Congress
2 Senators; 1 Representative
Time Zone
Mountain Standard Time
Zip Codes
NANPA
State Quick Facts
Census Bureau Quick Facts

Wyoming Climate and Weather

Wyoming is the second highest state in the United States, and because of that elevation, conditions are normally on the dry side. Some areas of the state receive only 5 inches of rain, while in the mountains, especially the Grand Tetons, 60 or more inches per year are common.

Overall, throughout the state, mild springs are followed by warm (sometimes hot) summers, with cool morning lows. Fall brings occasional snow and cool temperatures, especially in the mountain canyons and higher elevations. Winter can be very cold with heavy snow in the mountains.

The statewide average high temperature in July is just over 60 degrees, while in January, a 20 degree high is the average.
Highest Temperature
114 degrees
July 12, 1900 - Basin
Lowest Temperature
-63 degrees
February 9, 1933 - Moran
Avg. Temp:
High - Low
87.1 degrees
11.9 degrees

Wyoming Points of Interest

Wyoming has many attractions for the tourist trade, notably Yellowstone National Park . Hikers, campers and skiers are attracted to Grand Teton National Park and Jackson Hole National Monument in the Teton Range of the Rockies. Cheyenne is famous for its annual "Frontier Days"celebration. Flaming Gorge, the Fort Laramie National Historic Site, and Devils Tower and Fossil Butte National Monuments are other points of interest and numerous ski resorts.

Wyoming Highest, Lowest, and Mean Elevations (Feet)

Mean Elevation: 6,700 feet

Highest Point: Gannett Peak: 13,804 feet

Gannett Peak is the highest peak in the Wind River Range, and the highest peak in Wyoming. It rises on the Continental Divide, just southeast of Yellowstone National Park and the Teton range. It is a snow peak in a range of rock peaks. It is flanked by five glaciers and its summit is snow-capped.

Lowest Point:
Belle Fourche River
3,099 feet

Wyoming Land Area (Square Miles)

Geographic Center
In Fremont County, 58 mi. ENE of Lander
Longitude: 107°40.3'W
Latitude: 42°58.3'N
Total Area
97,813.56 sq. mi.
10th
Land Area
97,100.40 sq. mi.
99.20%
Water Area
713.16 sq. mi.
0.80%
Forested Land Area
78.5%
Dimensions
(Length - Width)
360 miles - 280 miles
County Information and County History
Albany, Big Horn, Campbell, Carbon, Converse, Crook, Fremont, Goshen, Hot Springs, Johnson, Laramie, Lincoln, Natrona, Niobrara, Park, Platte, Sheridan, Sublette, Sweetwater, Teton, Uinta, Washakie, Weston
---