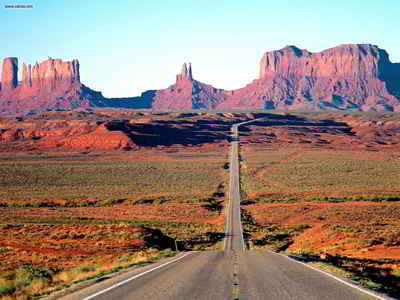 Arizona Counties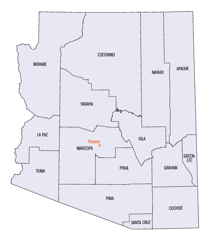 Click Image to Enlarge
Arizona Counties
There are fifteen Counties in Arizona. There is one defunct county: Pah-Ute County formed in 1865 from Mohave County and returned in 1871. Four Counties (Mohave, Pima, Yavapai and Yuma) were created in 1864 following the organization of the Arizona Territory in 1862. The newest, La Paz County was created in 1983.
Maricopa County, Arizona
Maricopa County Education, Geography, and History
Maricopa County is a county located in the south-central part of the state of Arizona. Based on the 2010 census, its population was 3,817,117, making it the most populous county in the state, and the fourth-most populous in the United States. Maricopa County was created on February 14, 1871 from parts of Pima County and Yavapai County The county seat is Phoenix, the state capital and sixth-most populous city in the country. The county was named after the Maricopa Native American people.

Maricopa County is included in the Phoenix-Mesa-Glendale, AZ Metropolitan Statistical Area.

In 2010, the county's center of population was the city of Mesa
Etymology - Origin of Maricopa County Name
Maricopa is named after the Maricopa Native American people. There are five Indian reservations located in the county. The largest of these are the Salt River Pima-Maricopa Indian Community (east of Scottsdale) and the Gila River Indian Community (south of Phoenix).
Demographics:
County QuickFacts: CensusBureau Quick Facts
Maricopa County History
Maricopa County, Arizona
This county is surrounded on the north by Yavapai County; on the east by New Mexico; on the south by the Gila River, or Pima County, and on the west by Yuma County. The people are nearly all engaged in farming, the most of who are located in Salt River Valley. This valley is one of the largest and most productive in the Territory; has been settled less than four years, and now contains sufficient population to sustain a county government. The lands are cultivated by irrigation, and there is an abundance of water in Salt River for the use of a vast extent of country. The people who settled here commenced with little or no means and by industry and economy have constructed irrigating canals and made improved farms, and are now in a prosperous and comparatively independent position. The products raised for sale have been barley, corn and wheat. Wheat and barley are usually sown from November to February, and harvested in May. The average yield of wheat is from 20 to 40 bushels per acre, and of barley from 30 to 60, and sells at from three to four cents per pound. There has been a demand for all the grain that has been raised. After the wheat and barley are harvested, corn can be planted on the same soil, with ample time for it to mature. Much of the land of Arizona is cultivated in this way, and produces two crops each year. The average yield of corn is from 30 to 60 bushels per acre. Vegetables, with the exception of Irish potatoes, do remarkably well. Sweet potatoes in particular grow to a large size and are very prolific. Fruit trees grow rapidly, and it is thought that oranges and lemons maybe rose in abundance. Experiments in planting grapes have proved very successful. Vines in two years after planting, produce abundantly of an excellent quality.
There are thousands of acres of excellent land in this valley yet unoccupied, that can be pre-empted and purchased by actual settlers at $1.25 per acre. It was once the abode of an immense population who has passed away, and no one knows who they were. Their irrigating canals, constructed with considerable engineering skill, can now be traced for many miles over these plains; and ruins of houses, that were once the abode of a large population, are visible on every band. There is some farming carried on in this county on the north side of the Gila River as far up the river as Florence. Above this point, owing to the hostility of the Apache Indians, the county is entirely vacant, though the Gila Valley, for two hundred miles, presents most inviting fields for settlements. Large tracts of excellent agricultural lands are found at almost any point along it and its tributaries, and the table lands and mountains adjacent are covered the year round with excellent grass. A colony one hundred strong, that would co-operate together, could take possession of, and hold, any of these lands against the savages. The county north of the Gila Valley and east of the settlements, is generally broken and mountainous. There are a number of fine streams of water flowing through it, and each of these contains many rich valleys. Wood and grass are found in abundance, also many large forests of heavy timber.
Geography: Land and Water
As reported by the Census Bureau, the county has a total area of 9,224 square miles (23,890 km2), of which 9,200 square miles (24,000 km2) is land and 24 square miles (62 km2) (0.3%) is water. Maricopa County is also one of the largest counties in the United States by area having a land area greater than that of seven states. It is by far Arizona's most populous county, encompassing well over half of the state's residents. It is also the largest county in the United States to contain a capital city.

Neighboring Counties
Bordering counties are as follows:
North: Yavapai County
Northeast: Gila County
Southeast: Pinal County; Pima County
Southwest: Yuma County
Northwest: La Paz County
Education
Maricopa County Library District operates the county libraries in Maricopa County.
---
Arizona Colleges, Universities, & Schools
Compare More Colleges and Universities

Find more schools to match to your needs.