Find the Right School
Online Colleges
Campus Colleges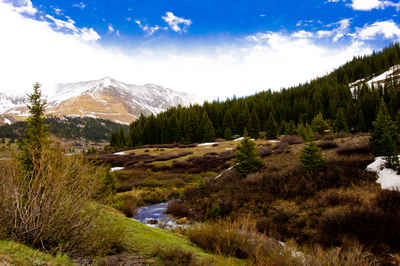 Arkansas Counties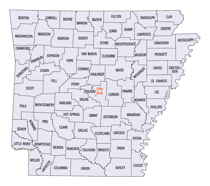 Click Image to Enlarge
Arkansas Counties
There are 75 Counties in the State of Arkansas which vary from the rich Delta farmlands of the Mississippi River valley to the rolling hills and gently sloped mountains of the Ozarks and Ouachitas
Madison County, Arkansas
Madison County History, Geography, and Demographics
County Seat: Huntsville
Year Organized: 1836
Square Miles: 837
Court House:

1 Main Street, PO Box 37
County Courthouse
Huntsville, AR 72740-0037
Etymology - Origin of County Name
Madison is named for James Madison, the fourth president of the United States. James Madison, Jr. (March 16, 1751 – June 28, 1836) was an American politician, the fourth President of the United States (1809–1817), and one of the Founding Fathers of the United States. Considered to be the "Father of the Constitution", he was the principal author of the document. In 1788, he wrote over a third of the Federalist Papers, still the most influential commentary on the Constitution. The first President to have served in the United States Congress, he was a leader in the 1st United States Congress, drafted many basic laws and was responsible for the first ten amendments to the Constitution (said to be based on the Virginia Declaration of Rights), and thus is also known as the "Father of the Bill of Rights". As a political theorist, Madison's most distinctive belief was that the new republic needed checks and balances to protect individual rights from the tyranny of the majority
Demographics:
County QuickFacts: Census Bureau Quick Facts
County History
Created in September 30, 1836 from part of Washington County and was named in tribute of James Madison, the fourth President of the United States. It has an area of 836 square miles. Two previous Governors have come from Madison County: Isaac Murphy (1 864-1868) and Orval Faubus (1955-1967). The first session of the county court was held in the barn of Evan S. Polk, a little northwest of the present town of Huntsville. Later sessions were held at the house of John Sanders until July 22, 1839, when Huntsville was declared the permanent county seat.

The first courthouse was a hewed log structure about thirty feet square, erected at a cost of $150. A brick courthouse was built in 1815 and served until 1863 when it was burned by Federal troops. After the war, sessions of the court were held at the home of John Vaughan and in the Masonic hall until a new courthouse was completed in January 1871. It was destroyed by fire December 1, 1879, and the next courthouse was completed in October 1882. Long before settlers began arriving from Europe around 1826, the area that is now Madison County was home to many Native American tribes, including cliff dwellers whose artifacts have been found in caves and shelters along the county's waterways.

The same natural resources that drew them to the area appeal to modern residents and visitors. The King's River in Madison County was the first stream in Arkansas to receive legislative recognition and protection. Also protected is the Sweden Creek Falls Natural Area in the Boston Mountains. An eighty-foot waterfall maintains moist conditions where ferns grow naturally. Two wildlife management areas are located in the county, Madison County WMA and White Rock WMA. Both offer excellent hunting. War Eagle Creek also flows through the county offering family recreation with fishing, canoeing and camping. The rugged Ozark National Forest land attracts hikers and campers with its beauty. Withrow Springs State Park is located four miles north of Huntsville and offers camping, swimming and hiking suitable for the whole family. Poultry and cattle are raised on farms throughout the county. Some residents commute to more industrialized neighboring counties for work. Butterball Turkey Co. and Labarge Electronics are the two major industries in Huntsville. St. Paul has no industry but used to be the hub of major railroads years ago. When the timber industry left, the railroads left with them. St. Paul is located in the southern part of Madison County and was the home of Ralph Baker who served as sheriff from January 1, 1973 - January 5, 1998. At the time of his death his tenure in office was tied with only one other sheriff in the state.

Neighboring Counties:
Northeast: Carroll County
East: Newton County
Southeast: Johnson County
Southwest: Franklin County; Crawford County
West: Washington County
Northwest: Benton County
Cities and Towns:
- Hindsville
town
Incorporated Area
- Huntsville

(County Seat)

city
Incorporated Area
- St. Paul
town
Incorporated Area
- St. Paull
town
County Resources:
Enter County Resources and Information Here

County Resources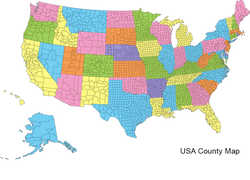 The history of our nation was a prolonged struggle to define the relative roles and powers of our governments: federal, state, and local. And the names given the
counties
, our most locally based jurisdictions, reflects the "characteristic features of this country!"