Career College Search
Online Schools
Campus Schools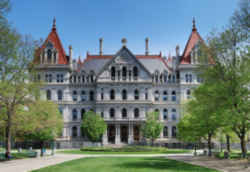 State Facts - History Firsts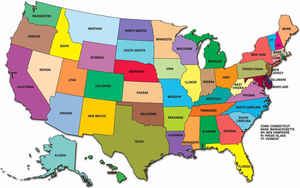 Get Your Degree!
Find schools and get information on the program that's right for you.
Powered by Campus Explorer
Get Your Degree!
Find schools and get information on the program that's right for you.
Powered by Campus Explorer
Get Your Degree!
Find schools and get information on the program that's right for you.
Powered by Campus Explorer
New York State Facts - New York History Firsts
Catch up on your state trivia with these New York history firsts and interesting fun facts about the state.
Official Name
New York
Capital
Albany
Location
Region
42.66575 N, 073.79901 W
Northeast
Constitution Ratified
1777
Statehood
July 26, 1788
11th state
Number of Counties
58 Counties in New York
Largest County
(by population)
New York City
8,008,278
309 sq. mi.
1600 - European settlers who brought seeds to New York introduced apples in the 1600s.
1747 - The oldest cattle ranch in the US was started at Montauk on Long Island.
1763 - First international sports hero, boxer Bill Richmond of Staten Island, was born August 5, 1763.
1778 - The coat of arms of the State of New York was formally adopted in 1778, and appears as a component of the State's flag and seal.
1789 - First capital of the United States was New York City. In 1789 George Washington took his oath as president on the balcony at Federal Hall.
1801 - The popular tabloid New York Post was originally established in 1801 as a Federalist newspaper called the New York Evening Post by Alexander Hamilton, an author of the Federalist papers and the nation's first secretary of the treasury.
1803 - "New York Post," founded in 1803 by Alexander Hamilton, is the oldest running newspaper in the United States.
1807 - The Clermont made its maiden voyage from New York City to Albany making the vessel the first successful steamboat.
1812 - Sam Wilson, a meatpacker from Troy who's caricature Uncle Sam came to personify the United States is buried at Troy's Oakwood Cemetery. During the War of 1812, he stamped "US Beef" on his products which soldiers interpreted the US abbreviation as meaning Uncle Sam.
1820's -The Erie Canal, built across New York State in the 1820s, opened the Midwest to development and helped New York City become a worldwide trading center.
1843 - First American chess tournament was held in New York.
1848 - First women's rights convention met at Seneca Falls.
1857 - Joseph Gayetty of New York City invented toilet paper.
1861 - A brewer named Matthew Vassar founded Vassar College in Poughkeepsie.
1869 - John Babcock invented both the indoor rowing machine and the sliding seat during the winter of 1869/1870.
1876 - First Boy's Club was established in New York City.
1879 - Belva Ann Bennett Lockwood Belva Ann Bennett Lockwood (October 24, 1830 - May 19, 1917) was on a farm in Royalton, New York, She was an American attorney, politician, educator, and author. She was active in working for women's rights. She graduated from law school in Washington, D.C. and became one of the first female lawyers in the United States. She successfully petitioned Congress in 1879 to be allowed to practice before the United States Supreme Court, becoming the first woman attorney later in the year given this privilege.
1885 - Niagara Reservation became the first state park in the US
1886 - The Statue of Liberty was a gift from the people of France in honor of the United States' enduring dedication to freedom and democracy and of the alliance held between the two countries during the American Revolution. Erected in 1886 on Bedloe's Island (later renamed Liberty Island) in New York Harbor, the statue stood as a welcoming symbol to the 14 million immigrants who entered the United States through New York until 1924.
1896 - Hartsdale has a pet cemetery established in 1896 and containing 12,000 plots.
1899 - Sam Schapiro began the Kosher wine industry on New York's Lower East side with their famous extra heavy original concord wine.
1907 - Mount Kisco's landmark, a statue of Chief Kisco, was once an elaborate fountain for watering horses. The statue stands at the intersection of Routes 117 and 133. D.F. Gorham, a strong supporter of prohibition, presented it to Mount Kisco in 1907. The inscription on the base to the statue reads "God's Only Beverage for Man and Beast."
1912 -

Arthur Eldred became the first Eagle Scout in May 1912, in Oceanside.
The Titanic was scheduled to arrive at Chelsea Piers on April 16, 1912 at the conclusion of her maiden voyage. The "unsinkable"ship struck an iceberg and sank on April 14. Of the 2,200 passengers aboard, 675 were rescued by the Cunard liner Carpathia, which arrived at the Chelsea Piers on April 20th.

1915 - First presentation of 3D films before a paying audience took place at Manhattan's Astor Theater on June 10, 1915.
1945 - On July 28, 1945 an Army Air Corps B-25 crashed into the Empire State Building at the 79th floor level.
1971 - The bloodiest prison rebellion in US history resulted in the deaths of 43 people at the Attica State Correctional Facility.
1979 - Vassar students were the first from a private college to be granted permission to study in the People's Republic of China.
1882 - Find out more about New York State Great seal
1885 - The first daily Yiddish newspaper appeared in 1885 in New York City.
1901 - Find out more about New York State Flag
1955 - The Rose is New York State Flower
1956 - The Sugar maple (Acer saccharum Marsh) was designated as New York State Tree
1969 -

Garnet was chosen to be New York State Gem
After the towns of Woodstock and Wallkill refused permission to host what ultimately became the country's most renowned musical festival, a dairy farmer in nearby Bethel agreed to provide access to his land for "Three Days of Peace and Music." With musical acts kicking off on August 15, 1969, the Woodstock Music Festival attracted more than 400,000 attendees- most of whom were admitted for free since the organizers of the event were unprepared to control access for such a large crowd. The Woodstock Music and Arts Fair was actually held in Bethel.

1970 - The Bluebird (Sialia sialis) was selected New York State Bird
1975;2006 - Brook or Speckled Trout (Salvelinus fontinalis) was chosen to be New York State Fresh-water fish
1975 - The Beaver (Castor canadensis) was designated New York State Animal
1981 - Milk was selected as New York State Beverage
1976 - The Apple (Genus Malus) is New York State Fruit
1984 - The Sea scorpion (Eurypterus remipes) was adopted as New York State Fossil
1987 - The Apple muffin was designated the New York State Muffin
1988 - The Bay scallop (Argopecten irradians) was chosen as the New York State Shell
1989 - The Ladybug (Coccinella novemnotata) was designated as New York State Insect
2006 -
2009 - "I love New York" was made New York State Slogan
2011 - New York City contains roughly 660 miles of subway track connecting 468 subway stations- the lowest of which is located 180 miles below street level. In 2011, more than 1.6 billion people rode the subway.
More New York History Firsts & State Facts
Delta Phi, the oldest continually operated fraternity, is located at Union College. Sigma Phi was also started on this campus.
Hartsdale has a pet cemetery that contains over 12,000 plots.
The longest game in baseball history was played between Rochester and the Pawtucket Red Socks. The game lasted a total of 33 innings.
L. Frank Baum, the author of the Wizard of Oz, lived in Chittenago. The city now has a yellow brick road and many other Oz-themed businesses, including an annual Munchkin parade.
The world's smallest church, only 3.5X6 feet, is located in Oneida.
The Genesee River is one of the few rivers in the world to flow south to north
New York has the most extensive public library facilities in the United States, including the New York Public Library, one of the nation's largest.
New York was the first state to require license plates for cars.
The 641 mile transportation network known as the Governor Thomas E. Dewey Thruway is the longest toll road in the United States.
Jell-O, marshmallows, French's Mustard, and gold teeth were all developed in Rochester.
The Fashion Institute of Technology in Manhattan is the only school in the world offering a Bachelor of Science Degree with a Major in Cosmetics and Fragrance Marketing.
Union College in Schenectady is regarded as the Mother of Fraternities because Delta Phi is the oldest continually operating fraternity and Kappa Alpha and Sigma Phi Societies were started on the campus.
Dairying is New York's most important farming activity with over 18,000 cattle and or calves farms.
New York City has 722 miles of subway track.
Power Mill Park situated outside Rochester has a house on Park Road shaped like a group of mushrooms.
Chittenago is the home of L. Frank Baum, author of the "Wizard of Oz". It features a yellow brick inlaid sidewalks leading to Aunti Em's and other Oz-themed businesses. Chittenago is the location of an annual Munchkins parade.
Oneida has the world's smallest church with the dimensions of 3.5' X 6'.
The first railroad in America ran a distance of 11 miles between Albany and Schenectady.
In November for Boy Scouts and in March for Girl Scouts the annual Urban Camp-Outs are hosted at the Empire State Building.
The Catskills are the home of the legend of Rip Van Winkle, brown trout and flycasting.
The Genesee River is one of the few rivers in the world that flows south to north.
Rochester is known as both the Flour City and the Flower City. The community is home to the first abolitionist group, bloomers, marshmallows, Jell-O, French's Mustard, baby shoes, gold teeth and the mail chute.
Gennaro Lombardi opened the first United States pizzeria in 1895 in New York City.
New York's largest lake in Oneida measures 79.8 square miles.
New York's highest waterfall is the 215 foot Taughannock.
The Big Apple is a term coined by musicians meaning to play the big time.
Ten Mile River Boy Scout Camp in Narrowsburg is the largest council owned camp in the country.
Wade Boggs and Cal Ripken Jr. played against each other in Rochester vs. Pawtucket Red Sox in the longest game in baseball history. The game went a total of 33 innings.
Adirondack Park is larger than Yellowstone, Yosemite, Grand Canyon, Glacier, and Olympic Parks combined.
Washington's Headquarters State Historic Site in Newburgh was the first publicly owned historic site.
New York State is home to 58 species of wild orchids.
New York has over 70,000 miles of rivers and streams.
The first public brewery in America was established by Peter Minuit at the Market (Marckvelt) field in lower Manhattan.
The name Canandaigua (pronounced Can-an-DAY-gwa) is derived from a Native American word meaning the chosen spot.
Horseheads is the first and only village in the United States dedicated to the service of the American military horse.
County Information and County History
Albany, Allegany, Broome, Cattaraugus, Cayuga, Chautauqua, Chemung, Chenango, Clinton, Columbia, Cortland, Delaware, Dutchess, Erie, Essex, Franklin, Fulton, Genesee, Greene, Hamilton, Herkimer, Jefferson, Lewis, Livingston, Madison, Monroe, Montgomery, Nassau, New York City, Niagara, Oneida, Onondaga, Ontario, Orange, Orleans, Oswego, Otsego, Putnam, Rensselaer, Rockland, Saratoga, Schenectady, Schoharie, Schuyler, Seneca, St. Lawrence, Steuben, Suffolk, Sullivan, Tioga, Tompkins, Ulster, Warren, Washington, Wayne, Westchester, Wyoming, Yates
State Facts
History Firsts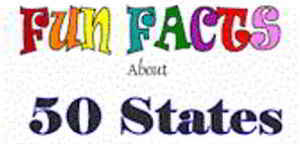 History firsts and fun facts: popcorn triva that you always wanted to know about the United States of America.
Colleges & Universities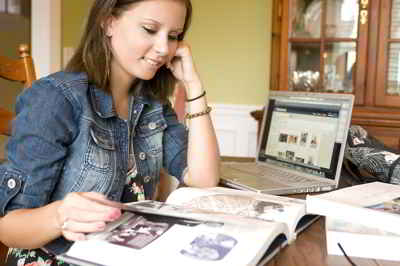 With access to over 8,500 schools to choose from!
Get Your Degree!
Find schools and get information on the program that's right for you.
Powered by Campus Explorer
Get Your Degree!
Find schools and get information on the program that's right for you.
Powered by Campus Explorer
Get Your Degree!
Find schools and get information on the program that's right for you.
Powered by Campus Explorer
Get Your Degree!
Find schools and get information on the program that's right for you.
Powered by Campus Explorer
Get Your Degree!
Find schools and get information on the program that's right for you.
Powered by Campus Explorer