Career College Search
Online Schools
Campus Schools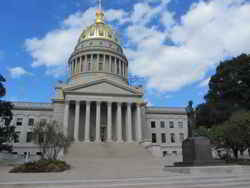 State Facts - History Firsts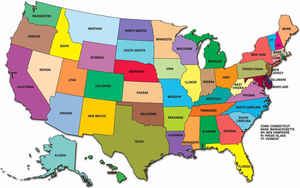 West Virginia State Facts - West Virginia Firsts
Catch up on your state trivia with these West Virginia history firsts and interesting fun facts about the state.
Official Name
West Virginia
Capital
Charleston
Location
Region
38.35055 N, 081.63043 W
Appalachia
Constitution Ratified
1872
Statehood
June 20, 1863
35th state
Number of Counties
55 Counties in West Virginia
Largest County
(by population)
Kanawha County
200,073
903 sq. mi.
1671 - September 17 - The first white people to go through the New River Gorge and reach the head of Kanawha Falls were Thomas Batts and Robert Fallam .
1756 - First spa open to the public was at Berkeley Springs, West Virginia, in 1756 (then, Bath, Virginia).
1775 - A variety of the yellow apple, the Golden Delicious, originated in Clay County. The original Grimes Golden Apple Tree was discovered in 1775 near Wellsburg.
1785 - First pottery plant was in Morgantown.
1787 - First steamboat was launched by James Rumsey in the Potomac River at New Mecklensburg (Shepherdstown) on December 3, 1787.
1792 - The first post office in West Virginia was established on June 30, 1792, at Martinsburg.
1794 - The first iron furnace west of the Alleghenies was built by Peter Tarr on Kings Creek in 1794.
1798 and 1799 - Daniel Boone made his last survey of Charleston on September 8, 1798. He left the state in 1799.
1815 - First glass plant in West Virginia was at Wellsburg.
1824 - On February 14, 1824, at Harpers Ferry, John S. Gallaher published the "Ladies Garland," one of the first papers in the nation devoted mainly to the interests of women.
1838 - Moundsville is the site of the continent's largest cone-shaped prehistoric burial mound. It is 69 feet high and 900 feet in circumference at the base and was opened on March 19, 1838. An inscribed stone was removed from the vault and is on display at the Smithsonian Institute in Washington, D.C.
1841 - William Tompkins used natural gas to evaporate salt brine in 1841, thus becoming the first person in the United States to use natural gas for industrial purposes.
1849 - One of the first suspension bridges in the world was completed in Wheeling in November 1849.
1859 - Abolitionist John Brown led a raid on a national armory at Harpers Ferry in an attempt to secure weapons for a planned slave rebellion.
1860 - In May, the first well in the state for producing crude oil was drilled at Burning Springs.
1861 - West Virginia was a part of Virginia until that state seceded from the United States in 1861; delegates from 40 counties formed their own government, and statehood was granted them two years later.
1861 - First major land battle fought between Union and Confederate soldiers in the Civil War was the Battle of Philippi on June 3, 1861.
1861 - Bailey Brown, the first Union solider killed in the Civil War, died on May 22, 1861, at Fetterman, Taylor County.
1862 - The first free school for African Americans in the entire south opened in Parkersburg in 1862.
1863

June 20 - Declared a state by President Abraham Lincoln, West Virginia is the only state to be designated and acquired its sovereignty by proclamation of the President of the United States.
A naval battle was fought in West Virginia waters during the Civil War. United States Navy armored steamers were actively engaged in the Battle of Buffington Island near Ravenswood on July 19, 1863.
Find out more about the West Virginia State Great seal

1867 - West Virginia University was established on February 7, 1867 under the name of "Agricultural College of West Virginia."
1870 - First brick street in the world was laid in Charleston, West Virginia on October 23, 1870, on Summers Street.
1885 - Stone that was quarried near Hinton was contributed by West Virginia for the Washington Monument and arrived in Washington in February 1885.
1896 - First rural free mail delivery was started in Charles Town on October 6, 1896, and then spread throughout the United States.
1897 - Last public hanging in West Virginia was held in Jackson County in December 1897.
1903 - The Big laurel (Rhododendron maximum) was designated as West Virginia State Flower
1908 -

Mother's Day was first observed at Andrews Church in Grafton on May 10, 1908.
Outdoor advertising had its origin in Wheeling about 1908 when the Block Brothers Tobacco Company painted bridges and barns with the wording: "Treat Yourself to the Best, Chew Mail Pouch.

1910 - On May 31, 1910, the Supreme Court held that the Maryland-West Virginia boundary was the low-water mark of the south bank of the Potomac River.
1921 - On July 1, 1921, West Virginia was the first state to have a sales tax.
1923 - The first memorial building to honor World War I veterans was dedicated on May 30, 1923, in Welch.
1926 - First federal prison exclusively for women in the United States was opened.
1927 - West Virginia Day, June 20 was designated West Virginia State Day
1928 - Mrs. Minnie Buckingham Harper, a member of the House of Delegates by appointment in 1928, was the first African American woman to become a member of a legislative body in the United States.
1929 - Find out more about the West Virginia State Flag
1933 - The world's largest shipment of matches (20 carloads or 210,000,000 matches) was shipped from Wheeling to Memphis, Tennessee, on August 26, 1933.
1938 - On September 10, 1938, the Mingo Oak, largest and oldest white oak tree in the United States, was declared dead and felled with ceremony.
1949 -
1954 - West Virginia's Memorial Tunnel was the first in the nation to be monitored by television. It opened November 8, 1954.
1960 - On January 26, 1960 Danny Heater, a student from Burnsville, scored 135 points in a high school basketball game earning him a place in the Guinness Book of World Records.
1961 - Coal House, the only residence in the world built entirely of coal, is located in White Sulphur Springs. The house was occupied on June 1, 1961.
1963 -
1972;1995 - Apple (Malus Mill.) then specific, the Golden delicious apple (Malus Mill.) was designated as West Virginia State Fruit
1973 -
1990 - Chalcedony was adopted as West Virginia State Gem
1995 - The Monarch butterfly (Danaus plexippus) was designated as West Virginia State Butterfly
1996;1998 - Appalachian American Indian Tribe/Organization is adopted as the West Virginia State Intertribal Tribe/Organization
1997 -

According to the crime index for 1997, West Virginia had the lowest crime rate in the country in 1977.

1999 - Cecil Underwood is the nation's oldest governor. He turned 77 on November 5, 1999.
2002 - The Honeybee is selected as West Virginia State Insect
2006 - Greenbrier Valley Theatre was designated as West Virginia State Year-round professional theatre
2007 - River City Youth Ballet Ensemble is chosen as West Virginia State Youth ballet
2008 -
2009 - Bituminous coal becomes West Virginia State Rock
2013 - Hall flintlock model 1819 is West Virginia State Firearm
2014 -

"Take Me Home Country Roads," by John Denver, Taffy Nivert, and Bill Canoff is adopted as West Virginia State Song
Cass Scenic Railroad State Park's Shay No. 5 is designated as West Virginia State Steam locomotive

More West Virginia History Firsts & State Facts
West Virginia is considered the southern most northern state and the northern most southern state.
West Virginia has the oldest population of any state. The median age is 40.
Jackson's Mill is the site of the first 4-H Camp in the United States.
The world's largest sycamore tree is located on the Back Fork of the Elk River in Webster Springs.
The longest block in the world is the 1500 block of Virginia Street.
West Virginia is one of the nation's leading producers of bituminous coal and is also noted for the manufacture of fine glass. 15% of the nation's total coal production comes from West Virginia.
"Paws-Paws," nicknamed the "West Virginia banana," originated in the state and took their name from Paw Paw, Morgan County.
Adena burial mounds are the largest example of the distinctive constructions created by Native American mound builders.
Nearly 75% of West Virginia is covered with forests.
Because of its mountains, West Virginia is sometimes referred to as "the Switzerland of the United States".
West Virginia is the second-largest coal producing state in the country.
West Virginia has long been famous for its manufacture of fine glass.
The New River Gorge Bridge near Fayetteville is the second highest steel arch bridge in the United States. The bridge is also the longest steel arch bridge (1,700 feet) in the world. Every October on Bridge Day, the road is closed and individuals parachute and bungee cord jump 876 feet off the bridge. Its West Virginia's largest single day event and attracts about 100,000 people each year.
One of the nation's oldest and largest Indian burial grounds is located in Moundsville. Its 69 feet high, 900 feet in circumference, and 50 feet high. An inscribed stone was removed from the vault and is on display at the Smithsonian Institute in Washington, D.C.
West Virginia's nickname is the Mountain State and its state motto is "Mountaineers Are Always Free."
Some famous individuals from West Virginia include: Pearl Buck (author), Peter Marshall (television host), Chuck Yeager (test pilot /Air Force General,) Don Knotts (actor), Mary Lou Retton (Olympic gold medallist for gymnastics), and Kathy Mattea (country music singer).
West Virginia covers about 24,000 square miles and has a population of about 1.8 million.
West Virginia has an mean altitude of 1,500 feet, giving it the highest average altitude east of the Mississippi.
The border of the state of West Virginia is 1,365 miles flat (as the crow flies).
Organ Cave, near Ronceverte, is the third largest cave in the United States and the largest in the state.
The first electric railroad in the world, built as a commercial enterprise, was constructed between Huntington and Guyandotte.
The Christian Church was begun in West Virginia by Alexander Campbell in Bethany.
Chester Merriman of Romney was the youngest soldier of World War I, having enlisted at the age of 14.
The first organized golf club in America is in West Virginia. West Virginia continues that tradition today with 1884 Oakhurst Links in White Sulphur Springs.
White Sulphur Springs, Greenbrier County, was the first "summer White House."
County Information and County History
Barbour, Berkeley, Boone, Braxton, Brooke, Cabell, Calhoun, Clay, Doddridge, Fayette, Gilmer, Grant, Greenbrier, Hampshire, Hancock, Hardy, Harrison, Jackson, Jefferson, Kanawha, Lewis, Lincoln, Logan, Marion, Marshall, Mason, McDowell, Mercer, Mineral, Mingo, Monongalia, Monroe, Morgan, Nicholas, Ohio, Pendleton, Pleasants, Pocahontas, Preston, Putnam, Raleigh, Randolph, Ritchie, Roane, Summers, Taylor, Tucker, Tyler, Upshur, Wayne, Webster, Wetzel, Wirt, Wood, Wyoming
---
State Facts & History Firsts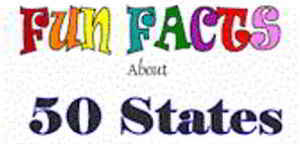 History firsts and fun facts!