Online Schools
Campus Schools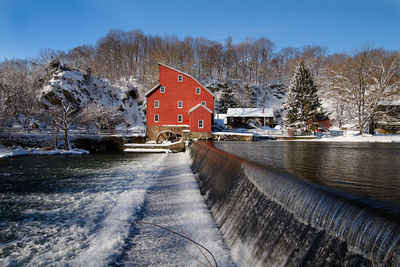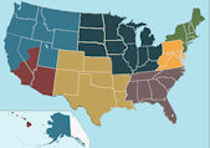 Get Your Degree!
Find schools and get information on the program that's right for you.
Powered by Campus Explorer
Get Your Degree!
Find schools and get information on the program that's right for you.
Powered by Campus Explorer
New Jersey Geography: The Land
Geography and Landforms of New Jersey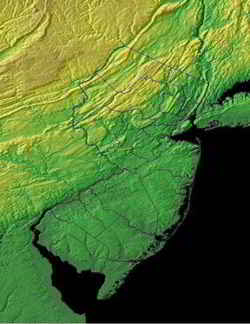 Find an overview of New Jersey geography, topography, geographic land regions, land areas, and major rivers.
Access New Jersey almanac, furnishing more details on the state geography, geographical and land regions, climate and weather, elevation, land areas, bordering states, and other statistical data.
New Jersey is the 5th smallest state. It is surrounded by water, except for its 50-mile northeast boundary with New York. The state has a 130-mile coastline with the Atlantic Ocean. Many popular beaches and resorts are located here. Just west of the coastal area are the Pine Barrens, a region of dense forests and small rivers.

New Jersey Highest, Lowest, & Mean Elevations

Mean Elevation
250 ft.
Highest Point
High Point
1,803 ft.
Lowest Point
Atlantic Ocean
Sea level

New Jersey Land Area (Square Miles)

Geographic Center
In Mercer County, 5 mi. SE of Trenton
Longitude: 74° 33.5'W
Latitude: 40° 4.2'N
Total Area
8,721.30 sq. mi.
47th
Land Area
7,417.34 sq. mi.
71.97%
Water Area
1,303.96 sq. mi.
18.03%
Forested Land Area
41.9%
Dimensions
(Length - Width)
150 miles - 70 miles
Source:(US Census, April 1, 2000)

Mid-Atlantic Piedmont
The eastern border of the Piedmont is the fall line, where resistant volcanic rock gives way to the sands and clays of the Coastal Plain. To the west, the Piedmont ends with the edge of the higher and more rugged Blue Ridge and Ridge and Valley regions of the Appalachian Mountains The Mid-Atlantic Piedmont is arbitrarily separated from the Southern Piedmont at the North Carolina-Virginia line, and extends north through Virginia, Maryland, and Pennsylvania before terminating in northern New Jersey. The rolling topography of the Piedmont formerly supported an extensive hardwood forest, with an oak-hickory type predominant in southern portions and Appalachian oak to the north. Large areas in the Virginia portion were dominated by Loblolly-shortleaf pine or pine-oak forests. Today, roughly 45% of the physiographic area is forested, and about an equal portion is in agricultural production. The remainder is experiencing rapid urbanization, especially in the vicinity of Washington D.C. and Philadelphia.
Northern Ridge and Valley
The Northern Ridge and Valley extends from southeastern Pennsylvania, through northwestern New Jersey and southeastern New York nearly to the base of the Adirondack Mts. It includes portions of several major river valleys, including the Hudson, Delaware, and Susquehanna Rivers. Ecologically, this is a transitional area, with forested ridges grading from primarily oak-hickory forests in the south to northern hardwood forests further north. Pine-oak woodlands and barrens and hemlock ravine forests are also important along ridges, whereas bottomland and riparian forests are important in the valleys, which are now largely cleared for agricultural and urban development. Roughly 50% of the physiographic area is forested today, the vast majority occurring at higher elevations. About 40% of the area is in agricultural production, primarily a mixture of dairy pastureland and corn. Over 200,000 ha is state forest land in PA and NJ; other important public lands include High Point State Park (NJ) and Wallkill National Wildlife Refuge.
Southern New England
The Southern New England physiographic area covers parts of northern New Jersey, southern New York including Long Island, the majority of Connecticut, all of Rhode Island, most of eastern Massachusetts, the southeastern corner of New Hampshire, and south-coastal Maine. This area has experienced the greatest amount of urbanization of any part of the Northeast, including the entire Boston-to-New York City corridor. Urbanization and associated human activities severely threaten remaining high-priority habitats, especially maritime marshes and dunes, relict grasslands, and mature deciduous forests. Forest fragmentation, which is not a major issue in most parts of the Northeast, is a severe factor threatening forest bird populations. Currently, urban land covers roughly one-third of the physiographic area, with an additional 25 % of the region in agricultural production, primarily in the Connecticut River Valley, eastern Long Island, and northern New Jersey. Remaining forests are a mixture of oak-hickory and other hardwoods, white pine-red pine forest, and pine-oak woodlands or barrens.
New Jersey Landscape and Landforms:
New Jersey is made up of 4 main land regions.
Atlantic Coastal Plain
Piedmont
New England Upland
Appalachian Ridge and Valley Region
Atlantic Coastal Plain
The Atlantic Coastal Plain is the largest geographic area of New Jersey and covers more than half of the state. It is an area of gently rolling lowlands that rise less than 100 feet above sea level. The fertile soil in this region supports many farms. The eastern portion of the Coastal Plain consists of salt marshes, lagoons, and meadows.
Piedmont
The Piedmont is a 20-mile wide strip just north of the Atlantic Coastal Plain. Many large rivers are found in this area. It is a highly populated region that supports many of the state's industries. The cities of Elizabeth, Jersey City, and Paterson are located here.
New England Upland
The New England Upland is west of the Piedmont. This area, sometimes called The Highlands, includes flat-topped ridges of rock and extends into Pennsylvania and New York. Many lakes are located in the valleys among the flat-topped ridges of this area.
Appalachian Ridge and Valley Region
This area includes the Kittatinny Mountains and New Jersey's highest elevations. The Delaware Water Gap, a scenic spot where the Delaware River cuts through the Kittatinny Mountains, is located here. Shale and limestone formation can be found in the valley along with dairy cattle and apple orchards.
US Geography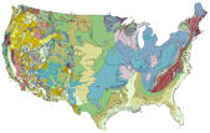 Geography is a field of science dedicated to the study of the lands, the features, the inhabitants, and the phenomena of the Earth.

The term "United States", when used in the geographical sense, means the continental United States, Alaska, Hawaii, Puerto Rico, Guam, and the U.S. Virgin Islands.
Colleges & Universities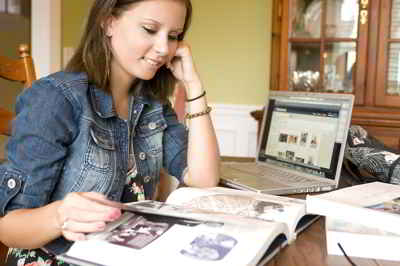 With access to over 8,500 schools to choose from!
Get Your Degree!
Find schools and get information on the program that's right for you.
Powered by Campus Explorer
Get Your Degree!
Find schools and get information on the program that's right for you.
Powered by Campus Explorer
Get Your Degree!
Find schools and get information on the program that's right for you.
Powered by Campus Explorer
Get Your Degree!
Find schools and get information on the program that's right for you.
Powered by Campus Explorer