Connecticut State Aircraft
F4U Corsair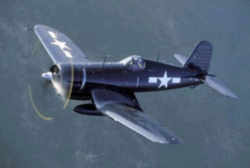 Adopted in 2005
In a May 17, 2005 ceremony in the State Capitol's historic Hall of the Flags, Governor M. Jodi Rell signed into law a bill that makes the World War II fighter plane, the F4U Corsair, the official aircraft of the State of Connecticut.
One of the best fighter-bomber aircraft built during World War II, the F4U was also used during the Korean Conflict.
Some 12,500 Corsairs were built between 1938 and 1945. The aircraft was designed and built in Connecticut by workers at Hamilton Standard, Pratt and Whitney, United Aircraft, and Vought-Sikorsky.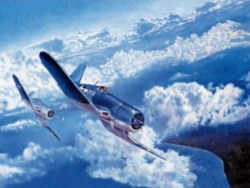 History of the F4U Corsair
Early History
On February 1, 1938, the United States Navy issued a request for proposals for a new carrier-based fighter aircraft. One proposal submitted was that of Vought-Sikorsky (later Chance Vought ) Division of United Aircraft Corporation of Stratford, Connecticut. A design team, headed by Chief Engineer Rex Beisel , developed a radical new design built around the most powerful aircraft engine available at that time - the Pratt and Whitney R2800 "Double Wasp" 18-cylinder, two-row, air-cooled radial engine. In addition, this new design incorporated low-mounted "inverted gull wings" or "bent wings."

The first prototype was ordered in June, 1938 and was designated the XF4U-1. The first flight was on May 29, 1940, with test pilot Lyman A. Bullard Jr..

The initial production order for 584 F4U-1 aircraft was placed on June 30, 1941. The aircraft was given the name Corsair, a name which had been used on other Vought-Sikorsky aircraft.

The first F4U-1 aircraft were received by the U.S. Navy on August 31, 1942. The first recorded combat mission was flown on February 14, 1943.

The F4U Corsair was also used in large numbers by the British Royal Navy. They had more than 2000 of the planes. Many hundreds of Corsairs were also flown by the Royal New Zealand Air Force.
Later Development
Originally designed as a carrier-based fighter, the F4U was also used from land bases. One of the most famous squadron was the VMF-214 "Black Sheep" Squadron which flew out of Henderson Field, located on Guadalcanal Island in the Solomon Islands.

Many versions of the F4U were created, depending on its intended use. These included the following.
F4U-2 - equipped with radar and fitted with a radome on the right wing for night action.
F4U-4 - incorporated a more powerful version of the engine, improved armament, and a 4-bladed propeller.
F4U-5 - included versions designed to be use in low temperatures for the Korean War.
F4U Corsairs were also manufactured by Goodyear Corporation (4007 planes) under the designation of F2G, and by Brewster Aeronautical (735 planes) under the designation F3G.
Service History
F4U Corsairs were used in World War II, the Korean War and in regional conflicts up to 1969. They were purchased by other countries including France and Argentina. The last Corsairs were produced in 1952, with 12,571 total production over the twelve years since 1942.
Accomplishments
The F4U was considered by many pilots to the one of the best fighter aircraft of World War II. It was the first single engine fighter aircraft to exceed 400 miles per hour flight speed with full armament. Fast and highly maneuverable, the F4U also incorporated extensive protection for its pilots.
Basic Information
Specifications for the F4U-4
Crew - On pilot
Length - 33 feet, 8 inches
Wingspan - 41 feet
Height - 16 feet, 1 inch
Wing Area - 350 square feet
Weight Empty - 9,205 pounds
Maximum Speed - 446 miles per hour at 26,200 feet altitude
Maximum Range - 1,560 miles
Powerplant - Pratt and Whitney R2800 "Double Wasp", 18 cylinder radial engine, 2,100 hp
Armament - Six .50 caliber Colt-Browning M2 Machine Guns and two 1,000 pound bombs
Connecticut Law
The law designating the F4U Corsair as the official Connecticut state aircraft is found in the Connecticut General Statutes, Title 3, Chapter 32, Section 3-110n.
TITLE 3. STATE ELECTIVE OFFICERS.
CHAPTER 32. SECRETARY.
SECTION 3-110n. State aircraft.

Sec. 3-110n. . The F4U Corsair shall be the state aircraft.

(P.A. 05-49, S. 1.)
---
---
US State Symbols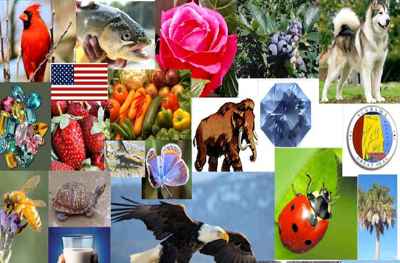 State symbols
represent things that are special to a particular state.
Colleges & Universities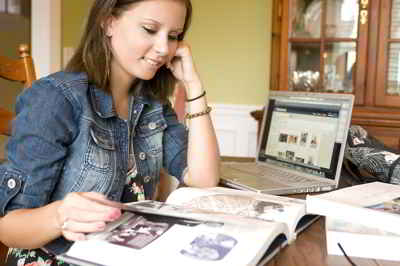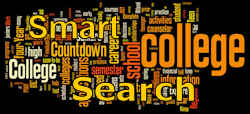 Get Your Degree!
Find schools and get information on the program that's right for you.
Powered by Campus Explorer