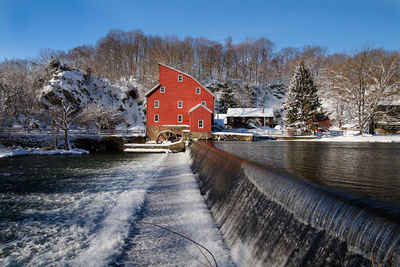 New Jersey Counties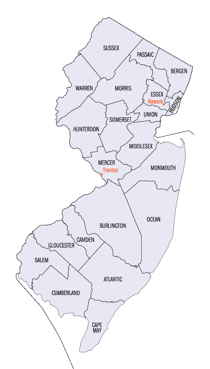 Click Image to Enlarge
New Jersey Counties
New Jersey has twenty-one counties. New Jersey's first counties were created as administrative districts within each province, with East Jersey split in 1675 into Bergen, Essex, Middlesex and Monmouth counties, while West Jersey's initial counties of Burlington and Salem date to 1681. The most recent county created in New Jersey was Union County, created in 1857.
New Jersey Counties: History and Information
Find a brief history of New Jersey Counties
There are twenty-one (21) counties in the state of New Jersey. These New Jersey counties together contain 565 municipalities, or administrative entities composed of clearly defined territory; 250 boroughs, 52 cities, 15 towns, 244 townships, and 4 villages.
In New Jersey, a county is a local level of government between the state and municipalities. County government in New Jersey includes a Board of Chosen Freeholders, sheriff, clerk, and surrogate (responsible for uncontested and routine probate), all of which are elected officials. Counties organized under the Optional County Charter Law may also have an elected county executive. Counties traditionally perform state-mandated duties such as the maintenance of jails, parks, and certain roads. The site of a county's administration and courts is called the county seat.
County
2000
Population
Square
Miles
County Seat
Created
Atlantic County
252,552
561
Mays Landing
1837
Bergen County
884,118
234
Hackensack
1683
Burlington County
423,394
805
Mount Holly
1694
Camden County
508,932
222
Camden
1844
Cape May County
102,326
255
Cape May Court House
1692
Cumberland County
146,438
489
Bridgeton
1748
Essex County
793,633
126
Newark
1683
Gloucester County
254,673
325
Woodbury
1686
Hudson County
608,975
47
Jersey City
1840
Hunterdon County
121,989
430
Flemington
1714
Mercer County
350,761
226
Trenton
1838
Middlesex County
750,162
311
New Brunswick
1683
Monmouth County
615,301
472
Freehold
1683
Morris County
470,212
469
Morristown
1739
Ocean County
510,916
636
Toms River
1850
Passaic County
489,049
185
Paterson
1837
Salem County
64,285
338
Salem
1694
Somerset County
297,490
305
Somerville
1688
Sussex County
144,166
521
Newton
1753
Union County
522,541
103
Elizabeth
1857
Warren County
102,437
358
Belvidere
1824
---