MBA Degree in Information Management
Information Management Concentration: MBA Degree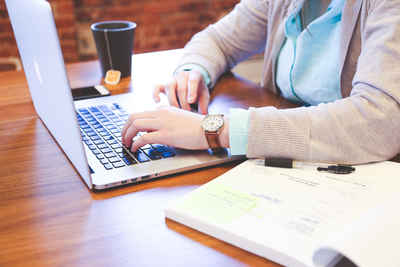 Management of information systems is the application of information technology in business operations and management. Students have the opportunity to explore the application of technology in managerial functions, management of information resources, and consulting or entrepreneurial endeavors at the leading edge of technology in business. The management of information systems major prepares students for careers in or advancement within management of information systems, information technology, and related professions.
Job seekers with an MBA with a concentration in technology or information systems management should reap the best opportunities in the field of computer information systems management, according to the Bureau of Labor Statistics. Effective storing, sharing and utilization of information are increasingly regarded as critical to realizing a company's objectives. As technology changes and becomes more sophisticated, information managers must have a keen sense of both business processes and technical systems that promote the effective functioning of organizations. A campus-based or online MBA degree in Information Management could provide you with the tools and knowledge required to make strategic and thoughtful decisions regarding information systems and processes.

Information managers use technology to operate effectively in increasingly competitive business environments. They need to have technical expertise and a solid understanding of the application of business concepts and theories. To prepare you for a job in information management, the curriculum will include traditional business coursework in subjects related to finance, accounting, economics, and statistical methods. These core competencies are complemented with information-management-specific instruction related to managerial and technical aspects of software engineering, software process management, and database management systems and design.

Careers in information management are not limited to a particular industry or field. Opportunities are available in the private, nonprofit and public sector. Information managers bridge the gap between creators of information systems and those that use the systems. They work with managers from all divisions of an organization in order to develop methods of using information that most effectively promote the organization's objectives. A career in information management can be rewarding and challenging; find out today if a campus-based or online MBA degree in information management is right for you.
Learning online is a particularly flexible method of learning. If you are frequently required to travel overseas, or for long periods, then these trips need not interrupt your education. All you need to continue your studies are a laptop computer and Internet access. Even if you have taken time out to look after a young family, then you can not only keep up to date, but also you can improve your education and earning power whilst raising your family.
---
Local Business Schools
Compare More Colleges and Universities

Find more schools to match to your needs.