Doctorate in Technology | PhD Degree in Technology
Why not consider studying for a Doctorate in Information Technology?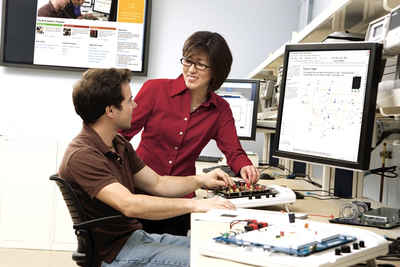 If you are looking for ways of increasing your earning potential or maybe you are attracted by a role in education, then why not consider studying for a Doctorate in Information Technology? Information technology is a growth industry and top researchers in this field are highly sought after by academic institutions and big business wanting to get one step ahead of the competition.
The Bureau of Labor predicts that the number of jobs available for holders of a doctoral degree within the sector 'computer and information scientists/research' will rise by 29.9% between 2002 and 2012. With the right education you could be looking at a much larger salary than average; according to the Bureau of Labor median annual earnings for information technology workers were described as 'very high' and stood at $77,760 in 2002. The Information Technology Association notes that 92% of all information technology workers are employed by non-IT companies. As you can see, the world of information technology is not only thriving, but is well rewarded.

Different colleges offer a variety of different subjects; typical subject areas include: statistical science, operations research, systems engineering, information systems, information security, and software engineering. In most cases you will required to specialize in an area of research and subsequently write an original dissertation on your findings.

A Doctorate in Information Technology will hone your skills in a number of areas, as with any academically rigorous doctoral program. You may find that your analytical and problem-solving abilities, written and verbal communications skills, assertiveness and motivation, and strong attention to detail will all be exercised. These skills are highly sought after in any number of roles.
---
Local Computers & IT Schools
Compare More Colleges and Universities

Find more schools to match to your needs.