Rhode Island Private Colleges and Universities
Looking for Private Colleges and Universities in Rhode Island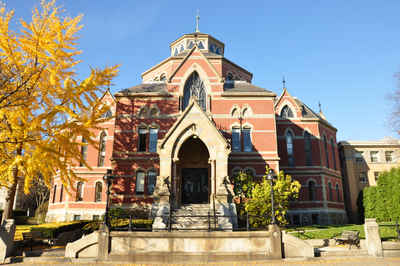 For such a small state, Rhode Island packs a pretty powerful punch when it comes to education. Rhode Island private colleges in the "Ocean State" have some of the best academic programs in the country. So it is not at all surprising that students and professors from all over the world flock in order to learn and teach at the relatively abundant number of schools and universities throughout the state. In fact, Rhode Island private colleges are quite famous for their diversity and multiculturalism.
Rhode Island private colleges and universities offer a wide range of education programs with degrees and certificates up to the doctoral level, as well as professional degrees such as law and medicine.
Rhode Island has 12 colleges or universities within its borders. There are 12 colleges in Rhode Island, 3 public and 9 private. There is a large public research university in Rhode Island, as well as elite private universities and even a federal Navy college. Many top Rhode Island colleges are in Providence, the state capital and third-largest city in the New England region. These Rhode Island private colleges are diverse in character, academic emphasis, and origins. Some private colleges or schools have a religious affiliation; others are secular. Private colleges and universities may be profit or non-profit institutions. Typically, Rhode Island independent colleges or private schools give weight to personal characteristics and activities in addition to considering GPA and test scores.
Private Colleges and Universities in Rhode Island includes:
Brown University in Providence, RI
Roger Williams University (Bristol)
Rhode Island School of Design (Providence)
Bryant University in Smithfield, RI
Johnson & Wales University (JWU) in Providence, RI
New England Institute of Technology (New England Tech) in East Greenwich, RI
Providence College (PC) in Providence, RI
Salve Regina University in Newport, RI
The largest being Johnson & Wales University Providence with 9,983 full time students. Brown University is the most expensive with an in-state tuition of $42,808. On average, how much does it costs to attend private college in Rhode Island? The average annual in-state private college tuition in Rhode Island is $35,758 in 2013.
While many Rhode Island private colleges and universities are considerably more expensive than comparable state institutions, they also tend to offer more substantial financial aid packages. Many students have found the actual out-of-pocket cost to earn a degree from a private college in Rhode Island to be less than the cost of the state schools to which they were accepted. On the one hand, Rhode Island public colleges are usually less expensive, particularly for in-state residents. When discussing the differences between public and private colleges, one of the first issues to arise is tuition cost. To understand the difference, you first must recognize that the two forms of institutions are funded by distinct means. Public universities get most of their money from the state or local government. Check out your state's Guide to Residency. Rhode Island private colleges rely on tuition, fees, endowments, and other private sources of funding. On the other hand, Rhode Island private colleges are usually smaller and can offer more personalized attention (and some believe, more prestige).
Rhode Island Independent Higher Education Association
The Association of Independent Colleges and Universities of Rhode Island is an alliance representing the eight independent institutions of higher learning within the State of Rhode Island. Designed to address common interests and concerns of independent colleges and universities within the state, the Association serves as the collective and unified voice of its member institutions.
---
Rhode Island Colleges, Universities, & Schools
Compare More Colleges and Universities

Find more schools to match to your needs.