Wyoming Public Colleges and Universities
As a state that is known for its wide open spaces, it is not surprising that there is only one major public university in the state of Wyoming.
Recreational activities abound in this western state known for wide, open spaces that are ideal for camping, hiking, and rock climbing. The climate and landscape are other key benefits for college students to studying at one of Wyoming public colleges, as the area is ideal for skiing, snowboarding, and other outdoor sports.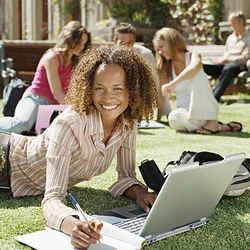 The University of Wyoming, located in Laramie, is the only major public research university in the state of Wyoming. The school is the oldest in the state, having been founded in 1886, sixty years before the next oldest school.
A majority of post secondary institutions are the seven public two year colleges as well as one private college, four private for-profit colleges located in various regions throughout the state to provide educational and career opportunities to residents. The state is also home to Wind River Tribal College, primarily serving the needs of Amerindian residents of the Wind River Indian Reservation.
While higher education options in Wyoming may be limited, students from Wyoming can attend select colleges and universities in 14 states at a fraction of the out-of-state cost through the Western Undergraduate Exchange
The Wyoming Department of Education oversees all programs of public education in the state of Wyoming, including the Wyoming Education Association.
In the scenic state of Wyoming, you will find great distancing learning programs and online colleges waiting to provide you with the foundation to earn your online college degree. In Wyoming 91.9% people over the age of 25 have attained a high school diploma, this is 4.10% higher than the average state, 87.80% and ranks Wyoming as the 3rd state with the highest percentage of high school graduates. 24.2% people over the age of 25 have attained a bachelor's degree which is 2.90% higher than the national average, 27.10%. Wyoming ranks 40th out of the 50 states in percentage of people with a bachelor's degree.
Wyoming Colleges, Universities, & Schools
Compare More Colleges and Universities

Find more schools to match to your needs.