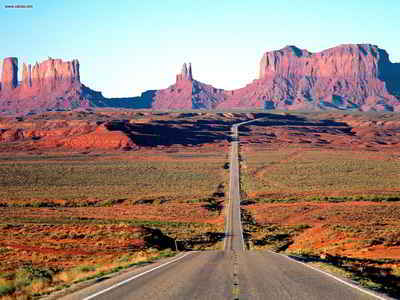 Arizona Counties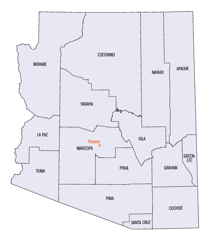 Click Image to Enlarge
Arizona Counties
There are fifteen Counties in Arizona. There is one defunct county: Pah-Ute County formed in 1865 from Mohave County and returned in 1871. Four Counties (Mohave, Pima, Yavapai and Yuma) were created in 1864 following the organization of the Arizona Territory in 1862. The newest, La Paz County was created in 1983.
Gila County, Arizona
Gila County Education, Geography, and History
Gila County is a county in the central part of the state of Arizona. Based on the 2010 census, its population was 53,597. Gila County was created in 1881. The county seat is Globe. The county was named from the Gila River, which forms part of its southern boundary. Gila is from the O'odham name for the river, Keli "old man, elder".
Gila County comprises the Payson, AZ Micropolitan Statistical Area.
Gila County contains parts of Fort Apache Indian Reservation and San Carlos Indian Reservation.
Etymology - Origin of Gila County Name
The county was named from the Gila River, which forms part of its southern boundary.
Demographics:
County QuickFacts: CensusBureau Quick Facts
Gila County History
Gila County, Arizona
Created from parts of Maricopa and Pinal counties on February 8, 1881, and was extended eastward to the San Carlos River by petition in 1889. It contains 3,040,000 acres. The county was named from the Gila River, which forms part of its southern boundary. The county seat was recognized at what was initially called Globe City, now Globe, and significant copper mining center.

The altitude of Gila County varies from 2,123 feet at Roosevelt Dam to 7,153 feet at Mount Ord. Over half of the county is occupied by the San Carlos Indian Reservation, which in turn extends into Graham County for half its own area. The major industries of Gila County have always been and continue to be mining and the raising of livestock."

This county is surrounded on the north by Yavapai County; on the east by New Mexico; on the south by the Gila River, or Pima County, and on the west by Yuma County. The people are nearly all engaged in farming, the most of who are located in Salt River Valley. This valley is one of the largest and most productive in the Territory; has been settled less than four years, and now contains sufficient population to sustain a county government. The lands are cultivated by irrigation, and there is an abundance of water in Salt River for the use of a vast extent of country. The people who settled here commenced with little or no means and by industry and economy have constructed irrigating canals and made improved farms, and are now in a prosperous and comparatively independent position. The products raised for sale have been barley, corn and wheat. Wheat and barley are usually sown from November to February, and harvested in May. The average yield of wheat is from 20 to 40 bushels per acre, and of barley from 30 to 60, and sells at from three to four cents per pound. There has been a demand for all the grain that has been raised. After the wheat and barley are harvested, corn can be planted on the same soil, with ample time for it to mature. Much of the land of Arizona is cultivated in this way, and produces two crops each year. The average yield of corn is from 30 to 60 bushels per acre. Vegetables, with the exception of Irish potatoes, do remarkably well. Sweet potatoes in particular grow to a large size and are very prolific. Fruit trees grow rapidly, and it is thought that oranges and lemons maybe rose in abundance. Experiments in planting grapes have proved very successful. Vines in two years after planting, produce abundantly of an excellent quality.
A long range war broke out in Gila County in the 1880's, that became the most costly feud in American history. It resulted in an nearly complete extermination of the families involved. The Pleasant Valley War (also sometimes called the Tonto Basin Feud or Tonto Basin War) matched the cattle-herding Grahams against the sheep-herding Tewksburys. Once partisan feelings became tense and hostilities began, Frederick Russell Burnham, who later became a celebrated scout and the inspiration for the boy scouts, was drawn into the conflict on the losing side. Burnham shot many men in the feud, and was himself nearly killed by a bounty hunter, Tom Horn, a famous assassin. It is unknown as to which side employed him, and both sides suffered several murders. No suspect was ever identified.
In the 1960s, Gila county was home of Gerald Gault, who was the subject of the 1967 US Supreme Court ruling, in re Gault, that stated juveniles have the same rights as adults when arrested to be notified of the charges against them, the rights to attorneys and to confront their accusers.
Geography: Land and Water
As reported by the Census Bureau, the county has a total area of 4,795 square miles (12,420 km2), of which 4,758 square miles (12,320 km2) is land and 38 square miles (98 km2) (0.8%) is water.
Gila County's terrain ranges from the cool pines of the Apache-Sitgreaves National Forests to the saguaros of the Sonoran Desert. Attractions include Tonto National Monument, Fossil Creek, Salt River Canyon and Theodore Roosevelt Lake, the largest reservoir located entirely in Arizona.
Neighboring Counties
Bordering counties are as follows:
Northeast: Navajo County
Southeast: Graham County
Southwest: Pinal County; Maricopa County
Northwest: Yavapai County; Coconino County
Education

---
Compare More Colleges and Universities

Find more schools to match to your needs.