50 State Guide - eReferenceDesk
Reference and Information on the 50 US States of America
Find colleges, newspapers, radios and tv stations, traffic reports, and K-12 resources: facts, geographies, histories, timelines, and state symbols: animals, birds, flags, flowers, insects, seals, trees, and more as well as links to social, demographic, and economic statistics on the 50 states.
The United States (US) or America, is a constitutional federal republic composed of 50 states, a federal district, five major self-governing territories, and various possessions. Forty-eight of the fifty states and the federal district are contiguous and located in North America between Canada and Mexico. The state of Alaska is in the northwest corner of North America, bordered by Canada to the east and across the Bering Strait from Russia to the west. The state of Hawaii is an archipelago in the mid-Pacific Ocean. The US territories are scattered about the Pacific Ocean and the Caribbean Sea. Nine time zones are covered. The geography, climate and wildlife of the country are extremely diverse.
US 50 State Service & Learning Resource Guide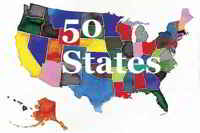 Offers colleges and universities, media, along with state histories; geography, almanacs, counties,
histories, famous people, flags, mottos, names, facts, timelines, state symbols and more as well as quick links to social, demographic, and economic statistics.
»»»
The 50 US States
Find official state symbols, emblems, and icons and more that represent the cultural heritage and natural treasures of each of the 50 US States, including amphibians, animals, birds, butterflies, fishes, flags, flowers, foods, fossils, fruits, gems, insects, mammals, minerals, mottos, names and nicknames, reptiles, rocks, seals, shells, soils, songs, and trees
»»»
State Symbols
Popcorn Trivia: Catch up on your state trivia with these US history firsts and fun facts. Find out how much do you know about
US history
? Catch up on your state trivia with these US history firsts and fun facts.
»»»
State Facts
A portal for US History. Learn about the 50 States history and heritage as well as early history and culture, geography, timeline, facts, history firsts, and famous people. Find a chronological compendium of remarkable and curious events in the history of the US.
»»» History Guide
A portal for the US Counties. Learn about the US Counties, their history before and during their creation and organization, including dates; their county seats, parishes, and bourghs, and the origin of the county's name; it geography and neighboring counties; and education. Locate county resources to census, demographic, facts, and statistics.

»»» US Counties: History and Information
The President of the United States of America ("POTUS") is the head of state of the United States. Under the US Constitution, the President is also the chief executive of the federal government and Commander-in-Chief of the armed forces.
»»»
POTUS Biographies
| | |
| --- | --- |
| Some people believe, or make-believe, that the current sign of the zodiac affects how things go in their everyday lives, depending on the sign of their birth. This idea is called astrology, and people who claim to use the signs of the zodiac to make predictions are called astrologers. »»» Western Astrology | Find links to stories of famous people: presidents, inventors, educators, scientists, business men and women etc. are presented to inspire the student to follow their examples of courage, determination, honesty and willingness to work from each of the 50 states. »»» Famous People |
US 50 State Resource Guide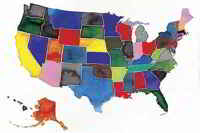 State Resource Guide
is your guide to topics about the 50 US States: articles, flags, state landmarks, climate, colleges and universities, geographies, histories, media, mottos, names, and reference facts for and on each US state, as well as state symbols.
»»» Resource Guide
Quote of the Day
Quote of the Day provided by The Free Library
Article of the Day provided by TheFreeDictionary
---