Wisconsin Private Colleges and Universities
Looking for Private Colleges and Universities in Wisconsin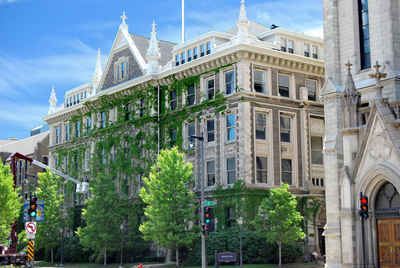 As a student in one of Wisconsin private colleges, you also will be exposed to a host of recreational and business opportunities to supplement your studies.

Wisconsin borders Lake Michigan and offers access to many outdoor and water-related activities in locations such as the Wisconsin Dells and Lake Geneva. This outdoor environment can provide the perfect balance for those who are focused on improving their career skills, starting a college degree program, or participating in distance learning to find a new trade.
Wisconsin private colleges and universities offer a wide range of education programs with degrees and certificates up to the doctoral level, as well as professional degrees such as law and medicine.
Wisconsin can be considered a center of higher education in the Midwest, with more than 85 different colleges and universities operating within the state. Dozens of large research universities, midsize colleges and small liberal arts colleges are also located throughout Wisconsin and in cities such as La Crosse, Eau Claire, Waukesha and the state capital of Madison. These Wisconsin private colleges are diverse in character, academic emphasis, and origins. Some private colleges or schools have a religious affiliation; others are secular. Private colleges and universities may be profit or non-profit institutions. Typically, independent or private schools give weight to personal characteristics and activities in addition to considering GPA and test scores.
Private Colleges and Universities inWisconsin includes:
Cardinal Stritch University (Stritch) in Milwaukee, WI
Edgewood College in Madison, WI
Marquette University in Milwaukee, WI
Beloit College (Beloit)
Lawrence University (Appleton)
Carroll University (Waukesha)
Milwaukee School of Engineering (Milwaukee)
Concordia University - Wisconsin (CUW) in Mequon, WI
Herzing University in Madison, WI
Lakeland College in Plymouth, WI
Marian University in Fond Du Lac, WI
Viterbo University (Viterbo) in La Crosse, WI
The largest being Marquette University with 10,109 full time students. Lawrence University is the most expensive with an in-state tuition of $39,732. On average, how much does it costs to attend private college in Wisconsin? The average annual in-state private college tuition in Wisconsin is $24,473 in 2013.
While many Wisconsin private colleges and universities are considerably more expensive than comparable state institutions, they also tend to offer more generous financial aid packages. Many students have found the actual out-of-pocket cost to earn a degree from a private college in Wisconsin to be less than the cost of the state schools to which they were accepted. On the one hand, Wisconsin public colleges are usually less expensive, particularly for in-state residents. They get most of their money from the state or local government. Check out your state's Guide to Residency. Wisconsin private colleges rely on tuition, fees, endowments, and other private sources of funding. On the other hand, Wisconsin private colleges are usually smaller and can offer more personalized attention (and some believe, more prestige).
Wisconsin Association of Independent Colleges and Universities
WAICU, a nonprofit organized under section 501(c)(3) of the Internal Revenue Code, was founded in 1961 and is recognized in state law as the official organization of Wisconsin's private nonprofit colleges and universities and their nearly 60,000 students. Each WAICU member is a nonprofit, fully accredited, degree-granting institution of higher learning, but each is unique, with its own mission and culture.
---
Wisconsin Colleges, Universities, & Schools
Compare More Colleges and Universities

Find more schools to match to your needs.