Online Articles
Campus Articles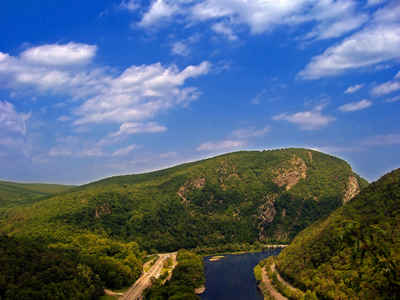 Delaware Counties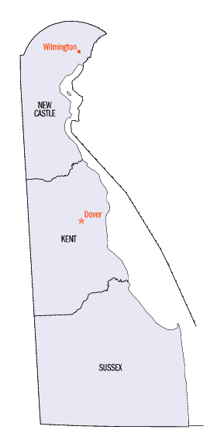 Click Image to Enlarge
Delaware Counties
Delaware has three counties: New Castle, Kent, and Sussex, the fewest Counties of any U.S. state. The origin of the county boundaries go back to former court districts. The powers of the counties' legislative bodies are limited to issues such as zoning and development.
Get Your Degree!
Find schools and get information on the program that's right for you.
Powered by Campus Explorer
Get Your Degree!
Find schools and get information on the program that's right for you.
Powered by Campus Explorer
New Castle County, Delaware
New Castle County History, Geography, and Demographics
County Seat: Wilmington
Year Organized: 1673
Square Miles: 426

Court House:

800 North French St., 8th Floor
Louis L. Redding City/County Building
Wilmington, DE 19801-3590
Etymology - Origin of County Name
New Castle was named in 1673 by Dutch Governor Anthony Colve for the town of New Castle, Delaware.
Demographics:
County QuickFacts: Census Bureau Quick Facts
County History
The first permanent settlement on Delaware soil was Fort Christina, resulting from Peter Minuit's 1638 expedition in the Kalmar Nyckel. The town was laid out where Wilmington presently exists, and the land contracted with the Indians consisted of Old Cape Henlopen north to Sankikans (Trenton Falls), and inland as far as they desired. However, a dispute ensued between the Swedes and the Dutch, who stated they had prior claim to that land.

In 1640, New Sweden was founded a few miles south of Christina, and in 1644, Queen Christina appointed Lt. Col. Johan Printz as Governor of New Sweden. She directed boundaries to be set and to reach Cape Henlopen north along the west side of Godyn's Bay (Delaware Bay), up the South River (Delaware River), past Minquas Kill (Christina River), to Sankikans (Trenton Falls). Printz settled on Tinicum Island, making it the seat of government and capital of New Sweden.

Peter Stuyvesant, Governor of New Netherland, sailed up the South River in 1651. He purchased land from the Indians that covered Minquas Kill to Bompties Hook (Bombay Hook), part of this purchase had already been sold to the Swedes in 1638. Stuyvesant, unaware of any dishonesty, began to build Fort Casimir (contemporary New Castle).

In 1654, John Rising, Commissary and Councilor to the Governor Lt. Col. Printz, officially assumed Printz's duties and began to extricate all Dutch from New Sweden. Fort Casimir surrendered and was renamed Fort Trinity in 1654. The Swedes were now in complete possession of the west side of the Delaware River. On June 21, 1654, the Indians met with the Swedes to reaffirm the purchase.

The Dutch, having learned of the fall of Fort Casimir, sent Stuyvesant to drive the Swedes from both sides of the river. Only the Dutch were allowed to settle in the area and on August 31, 1655, the territory was converted back to Fort Casimir. Consequently, Fort Christina fell on September 15th and New Netherland ruled once again. John Paul Jacquet was immediately appointed Governor, making New Amstel the capital of the Dutch-controlled colony.

As payment for regaining the territory, Dutch West India Company conveyed land from the south side of Christina Kill to Bombay Hook, and as far west as Minquas land. This land was known as the Colony of The City. On December 22, 1663, the Dutch transferred property rights to the territory along the Delaware River to England. In 1664, the Duke of York, James, was granted this land by King Charles II. One of the first acts by the Duke was to order removal of all Dutch from New Amsterdam; the name was then changed from New Amstel to New Castle. In 1672, the town of New Castle was incorporated and English law ordered. However, in 1673, the Dutch attacked the territory, reclaiming it for their own

When during Dutch rule, Governor Colve, set up three district courts of Upland (Chester, Pennsylvania), New Castle, and Hoornkill (Kent and Sussex Counties).
---
On September 12, 1673, the Dutch established New Amstel in present-day Delaware, fairly coterminous with today's New Castle County. The establishment was not stable, however, and it was transferred to the British under the Treaty of Westminster on February 9, 1674.

On November 6, 1674, New Amstel was made dependent on New York Colony, and was renamed New Castle on November 11, 1674.

On September 22, 1676, New Castle County was formally placed under the Duke of York's laws. It gained land from Upland County on November 12, 1678.

On June 21, 1680, St. Jones County was carved from New Castle County. It is known today as Kent County, Delaware.

On August 24, 1682, New Castle County, along with the rest of the surrounding land, was transferred from the Colony of New York to the possession of William Penn, who established the Colony of Delaware.

Source: NEW YORK: Atlas of Historical County Boundaries by Kathryn Ford Thorne and John H. Long.
---
The General Assembly in 1681, under William Penn, officially named the counties New Castle, Kent and Sussex. Today the biggest cities in the county are Wilmington and Newark.
Geography
According to the U.S. Census Bureau, the county has a total area of 494 square miles (1,278 kmē).426 square miles (1,104 kmē) of it is land, and 67 square miles (174 kmē) of it (13.62%) is water.
Neighboring Counties:
North: Chester County, Pa.
Northeast: Delaware County, Pa.; Gloucester County, N.J.
East: Salem County, N.J.
Southeast: Delaware Bay
South: Kent County
Southwest: Kent County, Md.
West: Cecil County, Md.
Local Colleges, Universities, and Schools
Find the Right School
Compare Colleges and Universities
Match schools to your needs.
County Resources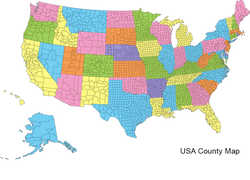 The history of our nation was a prolonged struggle to define the relative roles and powers of our governments: federal, state, and local. And the names given the
counties
, our most locally based jurisdictions, reflects the "characteristic features of this country!"
Get Your Degree!
Find schools and get information on the program that's right for you.
Powered by Campus Explorer
Get Your Degree!
Find schools and get information on the program that's right for you.
Powered by Campus Explorer
Get Your Degree!
Find schools and get information on the program that's right for you.
Powered by Campus Explorer