Alabama Public Colleges and Universities
Public Colleges in Alabama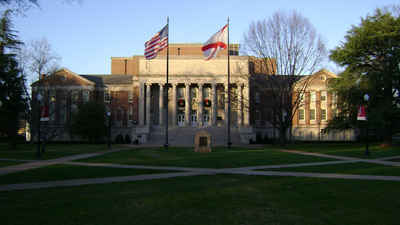 Alabama has made great strides to embrace the new, it is also one of the last remaining mainstays of southern hospitality and charm. Everything from college classes to college sports is deeply steeped in tradition and history. Imagine pursuing a biomedical engineering degree or studies in manufacturing set in an Alabama public college or universities against the backdrop of Civil War battlefields; historic sites; that mark the Civil Rights Movement, the Civil War, Helen Keller and Native American history; or long-retired textile mills. Beaches? The Gulf Coast is home of some of the nation's most stunning beaches, not to mention the many rivers and streams for year-round fishing and boating. And this is to say nothing of the delicious cuisine to be sampled throughout the state. Most colleges and universities are notorious for their stale tasteless food. Not so in Alabama. Cajun, seafood, and soul food are but a small sampling of what one can expect within Alabama's cafeterias. What Alabama colleges and universities have to offer their students is pretty hard to top.
Alabama is home to over 61 higher education institutions, both public and private colleges and universities, including 14 four-year Alabama public universities and universities, 26 - two-year community and technical colleges, and 15 - non-profit independent institutions. There are also 8 four-year and 3 two-year historically black colleges and universities.
The Alabama Commission on Higher Education oversees the state's higher education. It is responsible for the overall statewide planning and coordination of higher education in Alabama
The majority of Alabama's colleges and universities are accredited by the Southern Association of Colleges and Schools (SACS), but four are accredited by the Association for Biblical Higher Education (ABHE), four by the Council on Occupational Education (COE), and one by the Accrediting Council for Independent Colleges and Schools (ACICS).
There are four institutions of higher learning in Alabama that are listed among Tier 1 national universities by U.S. News World Report - The University of Alabama (UA), Auburn University (AU), the University of Alabama at Birmingham (UAB), and The University of Alabama in Huntsville (UAH)
The state operates many public institutions, with the largest being the University of Alabama System. The University of Alabama System consists of three schools located in Tuscaloosa, Birmingham and Huntsville.
University of Alabama Campuses:
University of Alabama (Tuscaloosa)
University of Alabama at Birmingham (Birmingham)
University of Alabama at Huntsville (Huntsville)
In Alabama, college education is within everyone's reach. The state is among the top 10 for investing public funds in higher education, and more than 300,000 students attend Alabama colleges and universities every year.
In addition to the University of Alabama System, the state supports other public four year institutions, classified as either master or research universities. These schools support regional education, providing educational opportunities throughout the state.
Public non-University of Alabama schools include:
Jacksonville State University (Jacksonville)
University of North Alabama (Florence)
University of South Alabama (Mobile)
Auburn University (Auburn)
Athens State University (Athens)
Troy University, Troy
Quick Notes
For a bigger college experience, take a look at The University of Alabama in Tuscaloosa is the largest university in the state with 36,155 enrolled for fall 2014.
The University of Alabama at Birmingham and the University of South Alabama are two public institutions that have medical school in the state.
Troy University, a state school with its flagship campus in the city of Troy, is the Alabama university with the largest enrollment across all its campuses.
University of Montevallo is the most expensive public school in Alabama.
The oldest institutions are the public University of North Alabama in Florence and the private college - Catholic Church-affiliated Spring Hill College in Mobile, both were founded in 1830.
Choose the right Alabama online or campus program today and start on your academic career.
---
Alabama Colleges, Universities, & Schools
Compare More Colleges and Universities

Find more schools to match to your needs.