Pennsylvania Public Colleges and Universities
Public Colleges in Pennsylvania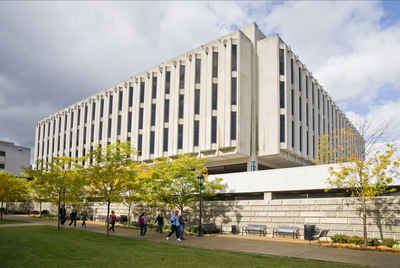 If you have ever visited Pennsylvania, you already know that there is an abundance to do whether you are a sightseer or a student. From Dutch Amish country to the skyscrapers of Philadelphia, Pennsylvania is a haven of diversity and multicultural cooperation. Many of the world's most respected public colleges and universities reside in Pennsylvania a relatively small mid-Atlantic state that has a lot of opportunities for education. And if you are an American history enthusiast, Pennsylvania is home to some of America's most historical spots: the signing of the Declaration of Independence, and Gettysburg, the Civil War battleground that is now a national park. No state can provide you with more hours of attractions (with the exception of Massachusetts or Virginia).
Pennsylvania is home to 44 public four-year universities and colleges, 127 private universities and colleges, and 249 community and technical colleges. Many colleges and universities in Pennsylvania are located in the major cities of Pittsburgh and Philadelphia, the latter being the fifth-largest city in the US. Dozens of top colleges and universities in Pennsylvania are publicly funded, including Pennsylvania State University - University Park.
The Pennsylvania State System of Higher Education (PASSHE) is the agency responsible for monitoring higher education in the state, as well as for planning and implementing programs.
Pennsylvania has two state run systems for colleges and universities, the Pennsylvania State System of Higher Education and the Commonwealth System of Higher Education.
The Pennsylvania State System of Higher Education is the 10th largest system of schools in the United States. It is comprised of fourteen schools that are located throughout the state and are the only wholly owned and governed public institutions in Pennsylvania.
Some Pennsylvania State System of Higher Education Schools:
West Chester University of Pennsylvania (West Chester)
Kutztown University of Pennsylvania (Maxatawny Township)
Bloomsburg University of Pennsylvania (Bloomsburg)
California University of Pennsylvania (California)
Slippery Rock University of Pennsylvania (Slippery Rock)
The Commonwealth System of Higher Education is comprised of four mains schools and a large number of branches and affiliated schools. Schools within the CSHE are publically funded but independently operated. As such tuition is higher than PSSHE schools but lower than private institutions.
The four Primary Schools in the Commonwealth System of Higher Education:
Lincoln University (Philadelphia)
The Pennsylvania State University (State College)
University of Pittsburgh (Pittsburgh)
Temple University (Philadelphia)
Of the Colleges and universities in Pennsylvania, the most popular being Penn State. University of Pittsburgh Pittsburgh Campus is the most expensive public school in Pennsylvania.
Penn State University is one of the largest universities in the United States. Its flagship campus is located in University Park. In its 2012 report, the US News & World Report ranked Penn State's undergraduate program 45th in the country.
Pennsylvania is host to a variety of online colleges and distance learning programs ready to give you the needed training and educational foundation to start your careers in the right direction. Pennsylvania ranks 29th out of the 50 states in percentage of people with a bachelor's degree. It's easy to find just the right program for you.
---
Pennsylvania Colleges, Universities, & Schools
Compare More Colleges and Universities

Find more schools to match to your needs.