Ohio Public Colleges and Universities
The state of Ohio has a large number of public and private post-secondary institutions.
Ohio public colleges also have another interesting advantage. The state has a healthy blend of metropolises and countryside. So whatever your preference, colleges and universities can accommodate you. If you are a person who requires big-city excitement, Cleveland, Cincinnati, Columbus, and nearby Pittsburgh or Philadelphia can satisfy your every need. If you go for the great outdoors, Ohio has room to spare.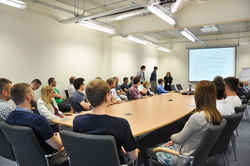 The state of Ohio is the home of a number of public and private institutions of higher learning. Chartered in 1787, Ohio University was the first institution of higher education chartered by an act of Congress in America (Northwest Ordinance), the first university in the former Northwest Territory in 1804, and is the ninth oldest public university in the United States.
Financial support for Ohio public colleges and universities comes directly from the state government, from tax dollars and other revenue the state collects in lieu of private endowments. Ohio public colleges and universities may also receive funds from the federal government and private sources, but in many cases the state is the primary source of support of public colleges.
Eleven of the 13 public universities top the state's enrollment statistics, with The Ohio State University ranking as one of the nation's top five universities by enrollment. The remaining two public institutions -- Shawnee State University and Central State University—are relatively small. The University of Dayton is the state's largest private university by enrollment, followed by Case Western Reserve, Ashland University, Franklin University, and Xavier University.
The Ohio Board of Regents was created in 1963 by the General Assembly oversees the public institutions of higher education in Ohio.
In Ohio, online degree programs are offered in state of the art distance learning programs and online colleges available to any qualified student. In Ohio 87.8% people over the age of 25 have attained a high school diploma, which is very close to the national average, 87.80%. Ohio is ranked 27th out of the 50 states in percentage of high school graduates. 24.5% people over the age of 25 have attained a bachelor's degree which is 2.60% higher than the national average, 27.10%. Ohio ranks 40th out of the 50 states in percentage of people with a bachelor's degree. Find the right program for yourself and get started today.
Ohio Colleges, Universities, & Schools
Compare More Colleges and Universities

Find more schools to match to your needs.