Find the Right School
Online Colleges
Campus Colleges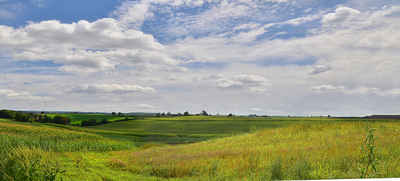 Wisconsin Counties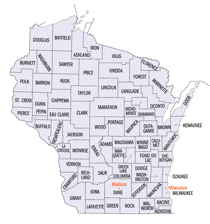 Click Image to Enlarge
Wisconsin Counties
There are 72 counties in the state of Wisconsin.
Brown County, Wisconsin
Brown County History, Geography, and Demographics
County Seat: Green Bay
Year Organized: 1818
Square Miles: 529
Court House:

305 E. Walnut Street
Northern Building
Green Bay, WI 54305
Etymology - Origin of County Name
Brown County was named for Major-General Jacob Brown of the United States Army (Gannett, Place Names, p. 33; Wis. Hist. Colls., i, p. 112). General Brown (1775-1828), born in Pennsylvania, was a successful leader in the War of 1812-15. At its close he retained the command of the Northern division, and in 1821 was made general-in-chief of the army. He died at Washington, D.C.
Demographics:
County QuickFacts: Census Bureau Quick Facts
County History
Description from John W. Hunt's 1853 Wisconsin Gazetteer: "BROWN, County, is bounded on the north by Oconto, on the east by Kewaunee, on the south by Manitowoc, and on the west by Outagamie, and a portion of Oconto. It derived its name from General Brown, commander-in-chief of the army, and was originally organized by an act of the legislative council of the Territory of Michigan, approved 16th October, 1818, and then included all of the territory of the present state of Wisconsin, east of a line drawn due north from the northern boundary of Illinois, through the middle of the Portage be tween the Fox and Wisconsin rivers. Its limits have been decreased from time to time, until at present it contains only fourteen and a half townships, being 21 by 24 miles square, with an addition of 3 by 6 miles to its northwestern corner. Its streams are: Fox, (Neenah), Manitoo, (or East), Ashwabena and Big Suamico rivers, and Duck creek. The soil is better adapted to grazing than the raising of grain, although it produces good crops of wheat, rye, oats, potatoes, &c. The surface is mostly level or slightly undulating, with but little swamp or waste land. It is mostly heavily timbered, with maple, beech, birch, &c., interspersed with pine and a good proportion of hemlock. The population in 1825 was 952; 1830, 964; 1836, 2,706; 1838, 3,081; 1840, 2,107; 1842, 2,146; 1846, 2,632; 1847, 2,914; 1850, 6,222. Farms, 267; manufactories, 23; and dwellings, 1,005. It must be borne in mind that new counties were established from the county of Brown, between nearly every taking of the census, and that the foregoing table, so far as showing the increase of population is concerned, is a very unsatisfactory one."
---
BROWN.
From: Handbook of Wisconsin by S. Silas, 1855
pg. 49-50
One of the three original counties of Wisconsin, embracing all the State North of Milwaukee and East of the Wisconsin River, but now one of the smallest counties in the State. A part of the Oneida reservation is in this County. The lower Fox River flows through this county, the largest stream of water in the State, and containing the best water power. This River has been made navigable the whole of its distance by the Fox River Improvement Co., and steamboats will run during the Summer of 1856 from Lake Winnebago to Green Bay. There is some good land still unoccupied in the Eastern and Southeastern part of the County. It is well watered, undulating but not hilly, and has but
little swamp or other waste land. The timber is maple, beech, and birch, interspersed with pine, and some hemlock. Duck Creek, and Big Suamico flow through the County.
Green Bay, at the month of the Fox, is one of the oldest settlements in the State, and is the centre of a heavy lumber trade, which has met with a stimulus in the high price which lumber has commanded during the past year, owing to the opening of new avenues for supplying Illinois and Wisconsin. It is supposed that more than twice the timber will be cut during the Winter of 1855 and '6 than at any season heretofore. Green Bay will also be the port of shipment of a large back country. Steamers run from this port to Buffalo.
The Green Bay, Lake Shore and Chicago Rail Road has its northern terminus at this place.
---
Geography
According to the U.S. Census Bureau, the county has a total area of 615 square miles (1,594 kmē), of which, 529 square miles (1,369 kmē) of it is land and 87 square miles (225 kmē) of it (14.10%) is water.

Neighboring Counties:
Oconto County – north
Kewaunee County – east
Manitowoc County – southeast
Calumet County – southwest
Outagamie County – west
Shawano County – northwest
Cities and Towns:
- Allouez
village
Incorporated Area
- Angelica
town
- Ashwaubenon
village
Incorporated Area
- Bellevue
village
Incorporated Area
- De Pere
city
Incorporated Area
- Denmark
village
Incorporated Area
- Glenmore
town
- Green Bay

(County Seat)

city
Incorporated Area
- Hobart
village
Incorporated Area
- Holland
town
- Howard
village
Incorporated Area
- Humboldt
town
- Lawrence
town
- Ledgeview
town
- Morrison
town
- New Denmark
town
- Oneida
town
- Pittsfield
town
- Pulaski
village
Incorporated Area
- Scott
town
- Suamico
village
Incorporated Area
- Wrightstown
village
Incorporated Area
County Resources:
County Resources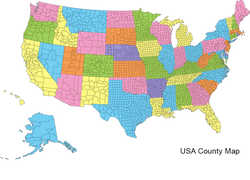 The history of our nation was a prolonged struggle to define the relative roles and powers of our governments: federal, state, and local. And the names given the
counties
, our most locally based jurisdictions, reflects the "characteristic features of this country!"