Wisconsin Almanac: Facts and Figures
Quick Facts and Figures on the State of Wisconsin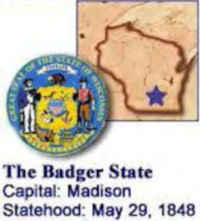 Wisconsin Almanac furnishes quick facts and figures on the state, its history and geography; largest and smallest counties, largest cities; climate and weather, temperature, highest, lowest, and mean temperatures; elevations, lowest, highest elevations; total area, land area and water area, state forest and park areas; bordering states, electoral votes, number of senators and representatives to the US Congress, and other statistical data.
Use this almanac of Wisconsin for information on local issues, politics, events, celebrations, people and business pertaining to the state of Wisconsin that can be found online.
Wisconsin is one of the East North Central states of the US. The state shares its boundaries with Iowa, Minnesota, Illinois, Michigan, Lake Michigan, and Lake Superior. Wisconsin is the 30th state in the United States. The capital of the state is Madison and the biggest city is Milwaukee. An Indian name, spelled Ouisconsin and Mesconsing by early chroniclers. Believed to mean "grassy place" in Chippewa. Congress made it name, Wisconsin.
Wisconsin is a leading state in milk and cheese production. Other important farm products are peas, beans, beets, corn, potatoes, oats, hay, and cranberries.

The chief industrial products of the state are automobiles, machinery, furniture, paper, beer, and processed foods. Wisconsin ranks first among the paper-producing states. The state's mines produce copper, iron ore, lead, and zinc.

Official Name
Wisconsin
Capital
Madison
Nicknames
Badger State ...and more
Motto
Forward
Location
Region
43.04405 N, 089.40954 W
Midwest
Northeastern
Constitution Ratified
1848
Statehood
May 29, 1848
30th state
Population
5,686,986 (2010)
18th
Largest City
(by population)
10 largest cities (2010 est.):Milwaukee, 594,833; Madison, 233,209; Green Bay, 104,057; Kenosha, 99,218; Racine, 78,860; Appleton, 72,623; Waukesha, 70,718; Oshkosh, 66,083; Eau Claire, 65,883; Janesville, 63,575
Bordering States
North: Lake Superior and the Upper Peninsula of Michigan (Menominee River forms the Northeastern boundary)
East: Lake Michigan
South: Illinois
West: Iowa and Minnesota (Mississippi and Saint Croix rivers form parts of the Western boundary)
Major Industry
dairy products (milk, butter, cheese), farming (corn), machinery, paper manufacturing, beer, tourism
Major Rivers
Wisconsin River, Mississippi River, St. Croix River, Chippewa River
Major Lakes
Lake Michigan, Lake Superior, Lake Winnebago
Wisconsin Counties
72 Counties in Wisconsin
Largest County
(by population)
Milwaukee County
947,735 (2010)
242 sq. mi.
Largest County
(by area)
Marathon County
1,545 sq. mi.
State parks, forests, and recreation areas
95
Electoral Votes
10 (as of the 2004 Presidential Election)
US Congress
2 Senators; 8 Representatives
Time Zone
Central Standard Time
Zip Codes
NANPA
State Quick Facts
Census Bureau Quick Facts

Wisconsin Climate and Weather

The Wisconsin climate is typically continental with some modification by Lakes Michigan and Superior. The cold, snowy winters favor a variety of winter sports, and the warm summers appeal to thousands of vacationers each year. About two-thirds of the annual precipitation falls during the growing season (freeze-free period). It is normally adequate for vegetation, although drought is occasionally reported. The climate is most favorable for dairy farming; the primary crops are corn, small grains, hay, and vegetables. The rapid succession of storms moving from west to east and southwest to northeast account for the stimulating climate.

The average annual temperature varies from 39 F in the north to about 50 F in the south. The highest temperature ever recorded in Wisconsin was 114 F at Wisconsin Dells on July 13, 1936, and the lowest temperature on record was minus 55 F, reported from Couderay on both February 2 and February 4, 1996.

During more than one-half of the winters, temperatures fall to minus 40 F or lower, and almost every winter temperatures of minus 30 or colder are reported from northern stations. Summer temperatures above 90 average 2 to 4 days in northern counties and about 14 days in southern districts. During marked cool outbreaks in summer months, the central lowlands occasionally report freezing temperatures.

The long-term mean annual precipitation ranges from 30 to 34 inches over most of the Western Uplands and Northern Highlands, then diminishes to about 28 inches along most of the Wisconsin Central Plain and Lake Superior Coastal area. The higher average annual precipitation coincides generally with the highest elevations, particularly the windward slopes of the Western Uplands and Northern Highlands. Thunderstorms average about 30 per year in northern Wisconsin to about 40 per year in southern counties, and occur mostly in the summer. Occasional hail, wind, and lightning damage are also reported.

Highest Temperature
114 degrees
July 13, 1936 - Wisconsin Dells
Lowest Temperature
-54 degrees
January 24, 1922 - Danbury
Avg. Temp:
High - Low
82.8 degrees
5.4 degrees

Wisconsin Points of Interest

A wide variety of statewide festivals (including Milwaukee's Summerfest), professional sports, winter outdoor activities of all description and world-class fishing all make Wisconsin a most desirable vacation spot.

Some of the most visited attractions in Wisconsin include the Apostle Islands; the hundreds of cheese manufacturers; Door County Peninsula; House on the Rock; Lambeau Field; St. Croix River Valley; Wisconsin Dells, and the Harley Davidson Factory in Milwaukee.

Wisconsin Highest, Lowest, and Mean Elevations (Feet)

Mean Elevation: 1,050 feet

Highest Point: Timms Hill: 1,951 feet

Timms hill, the highest point in Wisconsin from across Timms Lake. The state's four highest recorded elevations are Timms Hill, Pearson Hill, Sugarbush Hill, and Rib Mountain, but none exceeds 2,000 feet in altitude. These sites are concentrated in the north central portion of the state.

Lowest Point:
Lake Michigan
579 feet

Wisconsin Land Area (Square Miles)

Geographic Center
In Wood County, 9 mi. SE of Marshfield
Longitude: 89°45.8'W
Latitude: 44°26.0'N
Total Area
65,497.82 sq. mi.
23rd
Land Area
54,310.10 sq. mi.
83.00%
Water Area
11,187.72 sq. mi.
17.00%
Forested Land Area
45.9%
Dimensions
(Length - Width)
310 miles - 260 miles
County Information and County History
Adams
,
Ashland
,
Barron
,
Bayfield
,
Brown
,
Buffalo
,
Burnett
,
Calumet
,
Chippewa
,
Clark
,
Columbia
,
Crawford
,
Dane
,
Dodge
,
Door
,
Douglas
,
Dunn
,
Eau Claire
,
Florence
,
Fond du Lac
,
Forest
,
Grant
,
Green
,
Green Lake
,
Iowa
,
Iron
,
Jackson
,
Jefferson
,
Juneau
,
Kenosha
,
Kewaunee
,
La Crosse
,
Lafayette
,
Langlade
,
Lincoln
,
Manitowoc
,
Marathon
,
Marinette
,
Marquette
,
Menominee
,
Milwaukee
,
Monroe
,
Oconto
,
Oneida
,
Outagamie
,
Ozaukee
,
Pepin
,
Pierce
,
Polk
,
Portage
,
Price
,
Racine
,
Richland
,
Rock
,
Rusk
,
Sauk
,
Sawyer
,
Shawano
,
Sheboygan
,
St. Croix
,
Taylor
,
Trempealeau
,
Vernon
,
Vilas
,
Walworth
,
Washburn
,
Washington
,
Waukesha
,
Waupaca
,
Waushara
,
Winnebago
,
Wood
---