» Majors
» Cosmetology & Beauty
Esthetician Degree Programs
Esthetician Certificate and Degree Programs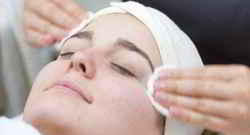 Estheticians (sometimes spelled Aestheticians) are licensed Skin Care Specialists who treat the facial skin to maintain and improve its appearance.
Skincare specialists must complete a state-approved cosmetology or esthetician program and then pass a state exam for licensure, which all states except Connecticut require.
Estheticians work to achieve their customers' beautifying goals through the following tasks:
Analyze customer's skin care needs.
Discuss treatments and products with clients.
Use a magnifying lamp or visor.
Perform facials to cleanse pores and improve skin tone.
Apply chemical peels to reduce fine lines and age spots.
Perform simple extractions to remove blackheads.
Remove unwanted facial hair using depilatory wax.
Tint eyebrows.
Instruct customers on skin care and makeup techniques.
Sterilize equipment and clean work area.
Massage the face.
Select and apply cosmetic products such as creams, lotions, and tonics.
Estheticians work indoors in salons, health and beauty spas, or medical offices or may be employed or work on a contract basis in beauty salons, cosmetology shops, spas, fitness centers or home based businesses. Estheticians can also work outside the treatment arena as educators and/or sales representatives for product manufacturers, as teachers, and as makeup artists in television studios, movie sets, fashion shows, and for wedding consultants.
---
Esthetician & Skin Care Schools
Compare More Colleges and Universities

Find more schools to match to your needs.