Career Colleges » Massachusetts » Cosmetology and Beauty
Massachusetts Cosmetology and Beauty Degrees
Cosmetology and Beauty Degrees: Massachusetts Career Colleges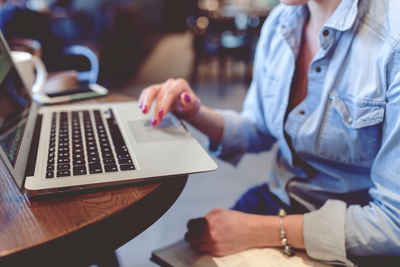 Looking for accredited career colleges, technical schools, and universities in Massachusetts offering Cosmetology and Beauty degrees.
Hairdressers usually attend a cosmetology colleges or beauty school where they specialize in hair styling and hair-related services
Although New England is actually a collection of states, Massachusetts seems to encapsulate the true spirit of this historic region. Whether you enjoy history, sports, science, or nature, Massachusetts has something for you. This is especially true in the autumn months when the trees begin to change colors. There is nothing like an autumn drive in Massachusetts when the foliage is at its peak. And if you are colonial history fanatic, only Pennsylvania and Virginia would be able to suit your needs more. Boston, as much as Philadelphia, Jamestown, or Williamsburg is often regarded as the birthplace of the United States.
Listing of Cosmetology and Beauty Degrees offered in Massachusetts:
Career Colleges: Massachusetts Cosmetology and Beauty Programs
What is Cosmetology?
The practice of cosmetology encompasses the whole of the beauty industry. Individuals in this field will style and treat hair, skin, nails. Cosmetology requires study, with some forms of care requiring an in depth or specialized education. Cosmetologists work in spas, salons, hotels and resorts, as well as any other location that may provide cosmetology service. At Cosmetology & Beauty school you'll learn how to improve personal appearances through hairstyling, skincare treatments, makeup application and more. Manicurists and pedicurists clean, shape, and beautify fingernails and toenails. Most of your school courses will be held in labs that resemble salons or spas or at on campus training salons to give you the hands-on experience you need to succeed.
Educational Requirements
Cosmetology programs teach students how to cut, trim and style hair, how to properly apply cosmetics, how to properly perform manicures and pedicures and provide the general education required for passing a state licensure exam. Programs will emphasize the importance of customer service, safety, and business management. Most students in Cosmetology & Beauty school enroll in certificate programs lasting 9 months or less depending upon the specialty you choose. A few students choose to earn an associates degree or bachelors degree. Programs are available at technical schools, career colleges, online schools, community colleges, 4-year colleges or universities. Cosmetologists have various career paths to choose from:
Hairstylist
Manicurist
Cosmetologist
Product Sales Representative
Beauty Magazine Writer
Salon Manager
Employment
Employment of manicurists and pedicurists is projected to grow 16 percent from 2012 to 2022, faster than the average for all occupations. New nail services being offered, such as mini sessions and mobile manicures and pedicures, will drive employment growth. High turnover and a growing number of nail salons will result in very good job opportunities.
Overall employment of barbers, hairdressers, and cosmetologists is projected to grow 13 percent from 2012 to 2022, about as fast as the average for all occupations. Growth rates will vary by specialty.
Employment of barbers is projected to grow 11 percent from 2012 to 2022, about as fast as the average for all occupations. The need for barbers will stem primarily from an increasing population, which will lead to greater demand for basic hair-care services.
Employment of hairdressers, hairstylists, and cosmetologists is projected to grow 13 percent from 2012 to 2022, about as fast as the average for all occupations. Demand for hair coloring, hair straightening, and other advanced hair treatments has risen in recent years, a trend that is expected to continue over the coming decade.
Job Growth and Related Fields
Overall job opportunities are expected to be good. Cosmetology is a growing field, and is projected to grow further in the coming years due to a high demand for personal skin and hair care. A large number of job openings will stem from the need to replace workers who transfer to other occupations, retire, or leave the occupation for other reasons. However, workers should expect strong competition for jobs and clients at higher paying salons, of which there are relatively few and for which applicants must compete with a large pool of experienced hairdressers and cosmetologists.
---
Massachusetts Colleges, Universities, and Schools
Compare More Colleges and Universities

Find more schools to match to your needs.