Idaho Public Colleges and Universities
Public Colleges in Idaho.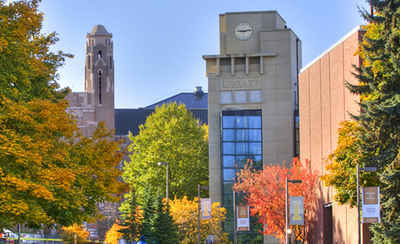 Now if you are looking for a state with action packed excitement and big city life, Idaho probably will not be the place for you to attend college. But, if you prefer rolling plains, scenic landscapes, and overwhelming tranquility, then look no further. Idaho is as much a part of America's heartland as anywhere else. Idaho's four major industries are: 1) renewable energy, 2) technology and innovation, 3) recreational technology and 4) film. There are farms and fields as far as the eye can see. Idaho draws imaginative and enterprising business people who hope to create a life (and business) from the state's natural bounty, and visionaries who are attracted by Idaho's growing renewable energy industry. This is what draws so many of Idaho public college students to this calm and peaceful region.
The state of Idaho is home to a small number of colleges and universities, both public and private. There are 15 colleges in Idaho, 8 public with four being community colleges, and 7 private, offering a wide range of programs and majors. This is due to the relatively low population of the state (40th out of 50 in the United States).
The Idaho State Board of Education oversees three comprehensive universities: Boise State University, the University of Idaho and Idaho State University, located in Pocatello.
Four year public institutions in Idaho:
Boise State University (Boise)
Idaho State University (Pocatello)
University of Idaho (Moscow)
Lewis-Clark State College (Lewiston)
The University of Idaho in Moscow was the first university in the state (founded in 1889). It opened its doors in 1892 and is the land-grant institution and primary research university of the state. Idaho State University in Pocatello opened in 1901 as the Academy of Idaho, attained four-year status in 1947 and university status in 1963. Boise State University is the most recent school to attain university status in Idaho. The school opened in 1932 as Boise Junior College and became Boise State University in 1974. Lewis-Clark State College in Lewiston is the only public, non-university 4-year college in Idaho. It opened as a normal school in 1893.
The University of Idaho is the state's oldest public institution; Boise State is the biggest, also it is the policy-making body for all public education in the state, serving as the Board of Trustees for state-sponsored, public, four-year colleges and universities, and the Board of Regents for the University of Idaho
Idaho offers you, the prospective student, a large variety of online colleges to choose from if you are searching the best distance learning program and seeking to earn an online college degree. Idaho ranks 40th out of the 50 states in percentage of people with a bachelor's degree. What better place than to earn your find an online college suited just for you.
---
Idaho Colleges, Universities, & Schools
Compare More Colleges and Universities

Find more schools to match to your needs.