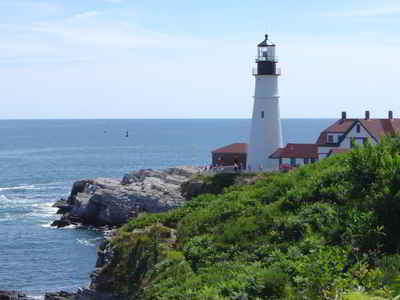 Maine Counties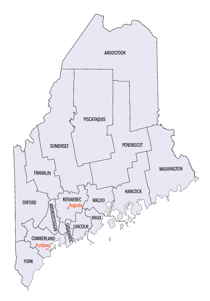 Click Image to Enlarge
Maine Counties
There are sixteen Counties in Maine. Prior to statehood. The first county to be created was York County, created as York County, Massachusetts by the government of the Massachusetts Bay Colony in 1652. Maine was granted statehood on March 15, 1820 as part of the Missouri Compromise. Nine of the sixteen Counties had their borders defined while Maine was still part of Massachusetts, and hence are older than the state itself. Even after 1820, the exact location of the northern border of Maine was disputed with Britain, until the question was settled and the northern counties took their final, official form by treaty in 1845.
Somerset County, Maine
Somerset County Education, Geography, and History
Somerset County is a county located in the state of Maine. Based on the 2010 census, the population was 52,228. Its county seat is Skowhegan.
Etymology - Origin of Somerset County Name
Somerset is named for the county of Somerset in England
Demographics:
County QuickFacts: CensusBureau Quick Facts
Somerset County History
History of Somerset County, Maine
From: A Gazetteer of the State of Maine
By Geo. J. Varney
Published by B. B. Russell, 57 Cornhill,
Boston 1886
Transcribed by Betsey S. Webber
Somerset County is one of the great central and northern
counties of Maine. It is about 135 miles in length, north and south,
with an average width of some 30 miles. On its eastern line, about
midway of its length, lies Moosehead Lake, 40 miles in length. Between
this and the western border of the State is a chain of ponds, extending
quite across the county, and discharging into Moosehead. The Ken-
nebec River, for fully half its length, lies in this county. In its northern
part rise both the Penobscot and the St. John Rivers. The million
acres of land purchased by William Bingham of Philadelphia, in the
western part of the State lie mostly in Somerset. The bounds of that
purchase commence at the south-eastern angle of the Wellington in Pis-
cataquis County, extending northward on the east line of the town,
and westward on its south line to the south-western angle of Mount
Abraham Township, thence northward on its west line to the north-
western angle of No. 6 of Range 7; whence it runs easterly on the
north line of this township to Moosehead Lake, intersecting the eastern
line near the north extremity of Deer Island. The mountains of this
county of present note are Mount Bigelow, on the southern border of
the most western part, Squaw, Fletcher, Johnson, Pierce, Spencer,
Heald, Bald, Owl's Head Sally, Moxie, the Bald Mountain Range,
Culcusso and Mucalsea mountains.

The industries of this county are chiefly agricultural; and having
a good soil, few farmers fail to make a good living. Neat cattle and
sheep are raised in large numbers.

Somerset County was incorporated March 1, 1809. Its territory
was formerly embraced in Kennebec County; and sections of it have
since been taken to form Franklin and Piscataquis counties. Nor-
ridgewock was the shire town until about 1870, when a new and elegant
brick building containing a court-room and offices are presented to the
county by Hon. Abner Coburn, and the county seat was changed to
Skowhegan. There are now twenty-eight towns and four organized
plantations. The townships classed as Wild Lands number 68. The
number of polls in 1870 was 8,169. In 1880, 8,698. The number
of children of school age in 1870 was 11,068. In 1880 it was 10,873.
The population of the county in 1870 was 34,611. In 1880 it was
32,399. The valuation in 1870 was $10,048,159. In 1880 it was
$12,128,878...Somerset County
Geography: Land and Water
As reported by the Census Bureau, the county has a total area of 4,095 square miles (10,607 km2), of which, 3,926 square miles (10,170 km2) of it is land and 169 square miles (437 km2) of it (4.12%) is water.

Neighboring Counties
Bordering counties are as follows:
Aroostook County, Maine - northeast
Penobscot County, Maine - east
Piscataquis County, Maine - east
Waldo County, Maine - southeast
Kennebec County, Maine - south
Franklin County, Maine - southwest
Education
Kennebec Valley Community College
---
Compare More Colleges and Universities

Find more schools to match to your needs.