Maine State Almanac: Facts and Figures
Quick Facts, Figures, and Overview of the State of Maine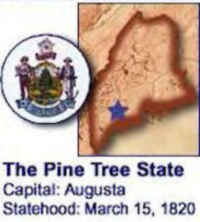 Maine is one of the New England states of the US West Quoddy Head, a small peninsula in the SE, is the easternmost point of land of the US. Maine is the 41st most populous state of the 50 US states. Maine is a state in the New England region of the northeastern United States, bordered by the Atlantic Ocean to the east and south; New Hampshire to the west; the Canadian provinces of Quebec to the northwest; and New Brunswick to the northeast. Maine is both the easternmost and northern most point of New England region located in the northeastern part of United States. Maine's name was first used to distinguish the mainland from the offshore islands. It has been considered a compliment to Henrietta Maria, queen of Charles I of England. She was said to have owned the province of Mayne in France.
Maine produces 98% of the nation's low-bush blueberries. Farm income is also derived from apples, potatoes, dairy products, and vegetables, with poultry and eggs the largest selling item. Manufacturing began to play a leading role in the Maine economy in the late 19th century. In the early 1990s the chief fabricated items were forest products, transportation equipment, electronic items, leather goods, apparel and textiles, and processed food. Tourism also is an important industry, and the state's extensive fisheries are noted for producing lobsters.
Official Name
Maine
Capital
Augusta
Nicknames
Pine Tree State ...and more
Motto
Dirigo (I direct)
Location
Region
44.33064 N, 069.72971 W
New England
Northeastern
Constitution Ratified
1820
Statehood
March 15, 1820
23rd state
Population
1,328,361 (2010)
41.31 sq. mi.
40th
Largest City
(by population)
10 largest cities (2010): Portland, 66,194; Lewiston, 36,592; Bangor, 33,039; South Portland, 25,002; Auburn, 23,055; Biddeford, 21,277; Sanford, 20,792; Brunswick, 20,278; Augusta, 19,136; Scarborough, 18,919
Bordering States
North and East: Canadian province of New Brunswick (Saint John and Saint Francis rivers form part of the Northern boundary)
South: Gulf of Maine (an arm of the Atlantic Ocean) (Saint Croix River forms part of the Southeastern boundary) (Salmon Falls River forms part of the Southwestern boundary)
West: New Hampshire
North West: Quebec Province
Coastline: 228 mi.
Major Industry
agriculture (especially potatoes), shipbuilding, fishing (especially lobsters), footwear, machinery, electronics, tourism
Major Rivers
Androscoggin River, Kennebec River, Penobscot River, St. John River
Major Lakes
Lake Moosehead, Richardson Lakes
Maine Counties
16 Counties in Maine
Largest County
(by population)
Cumberland County
281,674 (2010
836 sq. mi.
Largest County
(by area)
Aroostook County
6,672 sq. mi.
State forests
1 (21,000 ac.)
State parks
30+
State historic sites
18 (403 ac.)
Time Zone
Eastern Standard Time
Zip Codes
NANPA
State Quick Facts
Census Bureau Quick Facts
---
Maine Climate and Weather

Maine's climate is highly changeable -- it can go from sunny to stormy in short order. Generally, summers are cool, with highs in the upper 70s or low 80s F/24-27 C. Some summers have days that get above 90 F/32 C; some don't. Interior areas experience a greater range of temperatures in the summer, with some nights in northern areas at or near freezing. Winters in Maine are cold but not frigid. January temperatures range 11 to 31 F/-12 to -1 C along the coast and 1 to 19 F/-16 to -7 C inland. Snow melts frequently along the coast.
Highest Temperature
105 degrees
July 10, 1911 - North Bridgton
Lowest Temperature
-48 degrees
January 19, 1925 - Van Buren
Avg. Temp:
High - Low
78.9 degrees - 11.9 degrees

Maine Points of Interest

Maine offers countless things to see and do, regardless of the time of year. Popular outdoor activities include fishing, kayaking, sailing, skiing and snowboarding. In addition, visitors will thoroughly enjoy Maine's historic sites, homes and museums.

Some of the state's busiest attractions include Acadia National Park, coastal fishing villages and lighthouses, Baxter State Park, the historic buildings of Augusta, Bar Harbor, Allagash National Wilderness Waterway, the Wadsworth-Longfellow House in Portland, Roosevelt Campobello International Park, and the St. Croix Island National Monument. and much, much more.

Maine Highest, Lowest, and Mean Elevations (Feet)

Mean Elevation: 600 feet
Highest Point: Mt. Katahdin: 5,267 feet

Katahdin is a huge mountain with several summits. Baxter Peak, the 5,267 foot high point, is the northern terminus of the Appalachian Trail. A narrow ridge called the Knife Edge connects Baxter Peak to South Baxter Peak, Chimney Peak, and Pamola Peak.

Lowest Point:
Atlantic Ocean
Sea level

Maine Land Area (Square Miles)

Geographic Center
In Piscataquis County, 18 mi. N of Dover-Foxcroft
Longitude: 69°14.0'W
Latitude: 45°15.2'N
Total Area
35,384.65 sq. mi.
39th
Land Area
30,861.55 sq. mi.
Water Area
4,523.10 sq. mi.
12.78%
Forested Land Area
89.7%
Dimensions
(Length - Width)
320 miles - 190 miles
County Information and County History
Almanac Online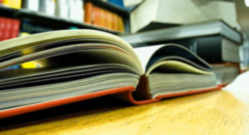 Information on people & places that make US a great place to live, visit, or study.