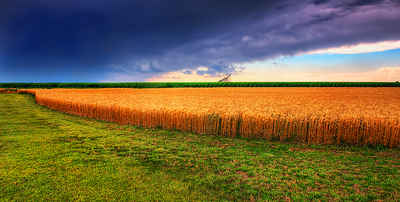 State Economy
The United States is one of the largest and most technologically developed countries in the world. The Gross Domestic Product of the country in terms of purchasing power parity of the country has reached at $12.36 trillion (2005 est.). A central feature of the US economy is a reliance on private decision-making ("economic freedom") in economic decision-making. This is enhanced by relatively low levels of regulation, taxation, and government involvement, as well as a court system that generally protects property rights and enforces contracts.
Kansas Economy
Agriculture and Industry in Kansas
Kansas economy is a set of human and social activities and institutions related to the production, distribution, exchange and consumption of agriculture and industry goods and services. The balance between Kansas various economic sectors differs largely between various regions and other states in the US.
Kansas's real gross state product in 2012 was estimated to be $118,523 which was $68,917 and 37% lower than the national state average, $187,440. Kansas has the 31st highest GSP out of the 50 states.
Historically, Kansas has had an agricultural economy. Today, manufacturing and services produce more income, but farming is still important, and Kansas ranks third in the US in the number of acres devoted to agriculture. Kansas leads the country in its production of wheat, and is also an important producer of grain sorghum, corn, hay, soybeans, and sunflowers. However, Kansans started raising cattle in the 1880s and cattle and calves represent its most valuable agricultural product. The Kansas City stockyards are among the largest in the US, and food processing is the state's third largest industry.

In the manufacturing arena, transportation equipment and industrial and computer machinery are important, as are petroleum and coal products. The state is a major producer of crude petroleum and has large reserves of natural gas. Kansas is the nation's leading producer of helium.
Kansas Agriculture:
Cattle, wheat, sorghum, soybeans, hogs, corn.


Kansas Industry:
Transportation equipment, food processing, printing and publishing, chemical products, machinery, apparel, petroleum, mining.
The 2003 total gross state product of Kansas was $93 billion, an increase of 4.3% over the prior year, but trailing the national average increase of 4.8%. Its per-capita income was $29,438. The December 2003 unemployment rate was 4.9%. The agricultural outputs of the state are cattle, sheep, wheat, sorghum, soybeans, cotton, hogs, corn, and salt. The industrial outputs are transportation equipment, commercial and private aircraft, food processing, publishing, chemical products, machinery, apparel, petroleum and mining.

Kansas ranks 8th in oil production, behind only Texas, Alaska, California, Louisiana, New Mexico, Oklahoma, and Wyoming. Production has experienced a steady, natural decline as it becomes increasingly difficult to extract oil over time. Since oil prices bottomed in 1999 oil production has remained fairly constant, with an average monthly rate of about 2.8 million barrels in 2004. The recent higher prices have made carbon dioxide sequestration and other oil recovery techniques more economical.

Kansas ranks 8th in natural gas production, behind only Texas, Alaska, Colorado, Louisiana, New Mexico, Oklahoma, and Wyoming. Production has steadily declined since the mid-1990's with the depletion of the Hugoton natural gas field- the state's largest field which extends into Oklahoma and Texas. In 2004 slower declines in the Hugoton gas fields and increased coalbed methane production contributed to a smaller overall decline. Average monthly production was over 32 billion cubic feet (0.9 km³).

Kansas is the nation's second largest producer of beef cattle, behind only Texas.

The state sales tax rate has increased twice since January 1990- first from 4.25% to 4.9% in June 1992, and most recently to 5.3% in July 2002. Except during the 2001 recession (March-November 2001) when monthly sales tax collections were flat, collections have trended higher as the economy has grown and the two rate increases have been enacted. Total sales tax collections for 2003 amounted to $1.63 billion, compared to $805.3 million in 1990.

Revenue shortfalls resulting from lower than expected tax collections and slower growth in personal income following a 1998 permanent tax reduction has contributed to the substantial growth in the state's debt level as bonded debt increased from $1.16 billion in 1998 to $3.83 billion in 2006. Some increase in debt was expected as the state continues with its 10-year Comprehensive Transportation Program enacted in 1999. As of June 2004, Moody's Investors Service ranked the state 14th for net tax-supported debt per capita. As a percentage of personal income, it was at 3.8%- above the median value of 2.5% for all rated states and having risen from a value of less than 1% in 1992. The state has a statutory requirement to maintain cash reserves of at least 7.5% of expenses at the end of each fiscal year.

Major employers in Kansas include the Sprint Nextel Corporation (with operational headquarters in Overland Park), Raytheon (mostly in Wichita), Hallmark Cards (Topeka, Lawrence & Kansas City), Goodyear Tire and Rubber Company (Topeka), Applebee's (Overland Park), Payless Shoes (National headquarters and major distribution facilities in Topeka), Koch Industries (Wichita), Department of Defense (Ft.Riley/Junction City and Fort Leavenworth) and Boeing.
---