Kansas Famous People
Famous Americans: History and Biographies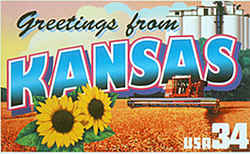 Links to histories and biographies of the famous people of Kansas. Many famous people of Kansas have made significant contributions to the history of our nation and the state of Kansas. These famous Americans, famous entertainers, famous players, famous scientist, famous singers, famous statesmen, famous women, heroes, great explorers, and others Kansas famous Americans have all made Kansas their home. This list includes Kansas historical figures, celebrities and those individuals of Kansas who have influenced the lives of others.
Kirstie Alley (1955 - ) Actress starring in Cheers and Veronica's Closet; born in Wichita.
Robert D. Ballard (1942 - ) He discovered the Titanic shipwreck; born in Wichita.
Walter Beech - (1891 - 1950) Outstanding pioneer of aviation; lived in Wichita.
Gwendolyn Brooks (1917 - ) The first African American to win a Pulitzer Prize; born in Topeka.
John Brown (1800 - 1859) Infamous abolitionist during the Civil War
George Washington Carver (1864 - 1943) A great scientist, educator and humanitarian; graduated from Minneapolis Kansas High School.
Clyde Cessna - (1879 - 1954) One of the outstanding pioneers of aviation; born in Hawthorne.
Walter Chrysler (1875 - 1940) Chrysler was born in Wamego, Kansas, and began his career as a machinist's apprentice. He worked his way up in the automobile industry to become vice-president of operations at General Motors in 1919. In 1920, he formed his own company and shortly became one of the largest automobile manufacturers.
Charles Curtis (1860 - 1936) The first Native American to serve as US vice president (1929-1933); born near Topeka.
Bob Dole (1923 - ) United States senator for many years; he ran for President in 1996; born in Russell.
Amelia Earhart (1897 - 1937) The first woman granted a pilot's license by the National Aeronautics Associate, the first woman to fly solo across the Atlantic Ocean (1932), and the first person to fly solo across the Pacific; born in Atchison.
Melissa Lou Etheridge (born May 29, 1961) is an American rock singer-songwriter, guitarist, and activist. Etheridge is known for her mixture of confessional lyrics, pop-based folk-rock, and raspy, smoky vocals. She has also been an iconic gay and lesbian activist since her public coming out in January 1993. Etheridge was born in Leavenworth, Kansas, the younger of two girls, to John Etheridge, a psychology teacher at Leavenworth High School, and Elizabeth Williamson, a computer consultant.
Dwight D. Eisenhower (1890 - 1969) The 34th United States President that served from 1953-1961; grew up in Abilene.
James "Wild Bill" Hickok (1837 - 1876) A scout and US marshal in the Old West.
Buster Keaton Born Joseph Francis Keaton in Piqua, Kansas, he is considered by many to be one of the greatest comic actors in film history. He began as a child actor in vaudeville, and then starred in many silent comedies as a deadpan hero who survives despite incredible odds. One of the few who made the successful transition from silent movies to the "talkies" he had a second career as a supporting actor in Sunset Boulevard and A Funny Thing Happened on the Way to the Forum in the late 1950s and 1960s.
Emmett Kelly Emmett Kelly was born in Sedan, Kansas and went on to become one of the best known clowns in the United States. In the 1930s, he developed the character of "Weary Willie" with his woeful expression and tattered clown outfit. He worked with various circuses until he gained a place with the Ringling Brothers and Barnum and Bailey Circus in 1942. One of his best known skits was to try and "sweep away" the circus spotlight.
Omar Knedlik, Invented the first frozen carbonated drink machine in 1961; from Coffeyville.
William Lear (1902 - 1978) One of the outstanding pioneers of aviation; lived in Wichita.
Hattie McDaniel (1895 - 1952) The first black woman to win an Academy Award; won for her role in "Gone with the Wind"; born in Wichita.
Charlie Parker (1920 - 1955) One of the most influential improvising soloists in jazz, and a central figure in the development of bop in the 1940s; grew up in Kansas City.
William Purvis & Charles Wilson, Invented the helicopter in 1909; from Goodland.
Susanna Madora "Dora" Salter (March 2, 1860 - March 17, 1961) was a U.S. politician and activist. She served as mayor of Argonia, Kansas, becoming the first woman elected as mayor and the first woman elected to any political office in the United States. Susanna Madora Kinsey was born near the unincorporated community of Lamira in Smith Township, Belmont County, Ohio, was the daughter of Oliver Kinsey and Terissa Ann White Kinsey, the descendants of Quaker colonists from England. At age 12, she moved to Kansas with her parents. The first woman mayor in the United States, elected in Argonia in 1887.
Clyde Tombaugh (1906 - 1997) The astronomer who discovered the planet Pluto; grew up in Burdette.
---
More Famous People of Kansas
Find more more Kansas famous people below. You may not even realize many of these famous people were born in Kansas or notable associated with Kansas, including actors, actresses, explorers, historical figures, inventors, musicians, novelists, professional athletes, important politicians, singers, sport stars and more.
Roscoe Fatty Arbuckle actor, Smith Center
Clarence D. Batchelor political cartoonist, Osage City
John Steuart Curry painter, Dunavant
Milton S. Eisenhower educator, Abilene
Carl A. Hatch politician, Kirwin
Dennis Hopper actor, Dodge City
William Inge playwright, Independence
Walter Johnson baseball pitcher, Humboldt
Stan Kenton jazz musician, Wichita
Harold Lloyd actor, Burchard
Edgar Lee Masters poet, Garnett
William C. Menninger psychiatrist, Topeka
Gordon Parks film director, Fort Scott
Zasu Pitts actress, Parsons
Charles Buddy Rogers actor, Olathe
Damon Runyon journalist, Manhattan
Barry Sanders football player, Wichita
Eugene W. Smith photojournalist, Wichita
William E. Stafford poet, Hutchinson
John Cameron Swayze news commentator, Atchison
Vivan Vance actress, Cherryvale
William Allen White journalist, Emporia
Charles E. Whittaker jurist, Troy