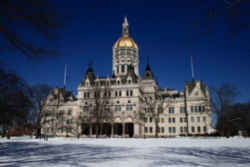 State Facts - History Firsts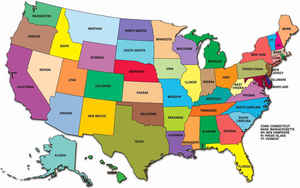 Connecticut State Facts - Connecticut History Firsts
Catch up on your state trivia with these Connecticut history firsts and interesting fun facts about the state.
Official Name
Connecticut
Capital
Hartford
Location
Region
41.76570 N, 072.68386 W
Northeast
Constitution Ratified
Dec.30,1965
Statehood
January 09, 1788
5th State
Number of Counties
8 Counties in Connecticut
Largest County
(by population)
Fairfield
882,567
626 sq. mi.
1636 - First English settlers of Connecticut arrived in 1636, settling the plantations of Windsor, Hartford and Wethersfield.
1639 - First constitution adopted, establishing representative government
1646 - Originally, Montville, along with Groton and Waterford, was a part of New London. New London was settled in 1646 under the name of Pequot, so called after the Pequot Indians, the name changing to New London in 1658.
1656 - First municipal public library in America, a bequest to the "towne of New Haven"
1670 - First survey for the first turnpike in America, between Norwich and New London
1705 - copper was discovered in Simsbury. Later, the copper mine became the infamous New-Gate Prison of the Revolutionary War.
1724 - Named for the stony character of the hilly countryside, North Stonington was incorporated in 1807.
1728 - First steel mill operating in America was located in Simsbury.
1729 - First medical diploma, granted by Yale University
1737 - Doctor Samuel Higley of Simsbury started the first copper coinage in America
1762 - First blast furnace in Connecticut was built in Lakeville
1764 - First newspaper, The Hartford Courant, published since October 29, 1764
1771 - The Scoville Memorial Library is the United States oldest public library. The library collection began in 1771, when Richard Smith, owner of a local blast furnace, used community contributions to buy 200 books in London. Patrons could borrow and return books on the third Monday of every third month. Fees were collected for damages, the most common being "greasing" by wax dripped from the candles by which the patrons read.
1775 - First submarine
1777 - Danbury, An important military depot for the American Revolutionary armies was burned and looted in April 1777 by the British under Major General William Tryon.
1779 - The town of Washington was incorporated being named in honor of General George Washington.
1783 - First dictionary, published by Noah Webster, born in West Hartford
1784 - New Haven was incorporated as a city.
1788 - First State House in America, built after the Federal Constitution ratification
1793 - Inventor Eli Whitney began manufacturing his cotton gins, which revolutionized the economy of the South, at New Haven.
1794 - First cotton gin, Eli Whitney of New Haven patented this invention
1796 - First cookbook written by an American was published in Hartford. The book was American Cookery by Amelia Simmons.
1803 - First town library, tax-supported and organized in Salisbury
1806 - First factory town in America, planned and established in Seymour
1807 - West Hartford is the birthplace of Noah Webster, the author of the first dictionary published.
1808 - First movable parts mass production in use, making clocks
1809 - ( May 15th) Mary Kies, of South Killingly was the first woman to receive a US patent. , for a method of weaving straw with silk.
1810 - (April 9) a Salisbury town meeting voted to authorize the "selectmen draw upon the town treasurer for the sum of one hundred dollars" to purchase more books for the Scoville Memorial Library collection, making the library the first publicly supported free town library in the United States.
1810 - First insurance company, ITT Hartford Group, Inc.
Officially opened for business and people were able to take insurance for the "loss of life or personal injury while journeying by railway or steamboat"
1817 - The Monroe Town seal is in the form of a circle with the words "Town of Monroe Connecticut" written in the outer rim of the seal. Inside this outer circle is a profile of a bust of James Monroe, who was the fifth President of the United States, serving from 1817-1825.
1819 - First industrial training school, established by Josiah Holbrook in Derby
1832 - First expert in the treatment of Asiatic cholera was Dr. Henry Bronson. He was a professor at Yale Medical School.
1834 - Thomas Sanford made the first friction matches in Beacon Falls.
1836 - First revolver
1836 - The manufacturing of the first safety fuse started in Simsbury
1842 - First public art museum
1843 - First portable typewriter
1844 - First use of anesthesia
1846 - First sewing machine, Elias Howe procured a patent for the first practical sewing machine
1853 - First ice-making machine
1858 - First can opener
1861 - First Ph.D. Degree, Yale University awarded in Philosophy
1868 - First tape measure
1875 - Hartford has remained the capital city of Connecticut
1877 -

First pay phone
First telephone exchange, established in Bridgeport

1878 - January 28, 21 venturous citizens of New Haven became the world's first subscribers to telephone exchange service.
1878 - February. First telephone book ever issued contained only fifty names. The New Haven District Telephone Company published it in New Haven.
1892 - First collapsible toothpaste tube
1895 - First hamburger, served at Louie's Lunch in New Haven
1898 - First car insurance in America is issued at Hartford.
1900 - First submarine
1901 - First automobile law was passed. The speed limit was set at 12 miles per hour.
1902 - New Milford's worst disaster struck when the main business section centered on Bank Street was almost completely leveled by the "Great Fire".
1907 - First permanent public planning body in America: Hartford's Commission on the City Plan
1908 - First lollipop-making machine opened for business in New Haven. George Smith named the treat after a popular racehorse.
1917 - June 12 - First golf tournament in Connecticut for women only was held in Waterbury.
1920 - First Frisbee, Yale students discovered empty pie plates from Mrs. Frisbie Pies in Bridgeport could be sailed across the New Haven Green
1933 - First vacuum cleaner
1934 - First Polaroid camera
1937- Connecticut became the first state to issue permanent license plates for cars.
1939 - First FM radio station, WDRC-FM began broadcasting in Hartford
1939 - First helicopter, Igor Sikorsky designed the first successful helicopter in the Western Hemisphere
1948 - First color television
1949 - First ultra high frequency UHF television station to operate on a daily basis, KC2XAK in Bridgeport
1954 - The USS Nautilus - the world's first nuclear powered submarine was built in Groton
1972 - Although West Haven is Connecticut's was the youngest city being incorporated, it is a community that dates back over 360 years, making it one of the oldest settlements in the country.
1974 - Ella Grasso was elected in her own right to be a state governor.
1982 - First artificial heart, Dr. Robert K. Jarvik, a Stamford native, invented the world's first artificial heart
1990 - In the mid-1990s Connecticut led the nation in per capita wealth.
---
More Connecticut History Firsts & State Facts
Connecticut and Rhode Island never ratified the 18th Amendment (Prohibition).
Cattle branding began in Connecticut when farmers were required by law to mark all of their pigs.
America's first trade association was founded in Naugatuck Valley.
In Hartford, you may not, under any circumstances, cross the street walking on your hands!
Connecticut has approx. 144 newspapers published in the State (daily, Sunday, weekly and monthly).
The World Wrestling Federation or the WWF is headquartered in Stamford.
Bristol, CT is considered the "Mum City" of the USA because of the many Chrysanthemums grown and sold to various states and Canada
The Submarine Force Museum in Groton is home of the historic ship Nautilus (SSN 571). It is the official submarine museum of the United States Navy.
Connecticut State insect is the Praying Mantis.
Connecticut's most important crops are dairy, poultry, forest and nursery, tobacco, vegetables and fruit.
Connecticut's motto is Qui Transtulit Sustinet - "He Who Transplanted Still Sustains".
In colonial New Haven cut pumpkins were used as guides for haircuts to ensure a round uniform style. Because of this fashion, these New Englanders were nicknamed "pumpkin-heads."
The name Middlebury derives from the central position the Town's meetinghouse occupies, six miles from three older neighbors, Waterbury, Southbury, and Woodbury.
First human inhabitants of present-day Burlington were members of the Tunxis Tribe, who belonged to a confederation of Algonquian Indians. Legend holds they used the area as a hunting ground.
B.F. Clyde's Cider Mill is the only steam-powered Cider Mill in the United States and is located in Mystic.
7-year-old James Thorsell designed the New Hartford "Town Bicentennial Emblem".
Connecticut was a major producer of military machinery during the Cold War and was the first producer of nuclear-powered submarines.
Wallingford has earned a worldwide reputation for the production of silverware.
PEZ® Candy is made in the city of Orange.
Some of the world's most famous cloth is woven in the Stafford textile mills.
To register to vote in Connecticut you must:
Be a US citizen;
Be a resident of a Connecticut Town;
Be at least 18 years old on or before the next election
Not be convicted of a felony
County Information and County History
State Facts & History Firsts