Find the Right School
Online Colleges
Campus Colleges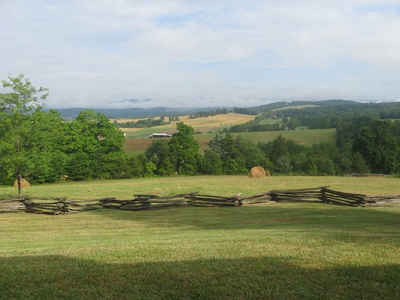 Alabama Counties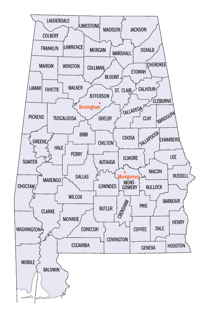 Click Image to Enlarge
Alabama Counties
Alabama currently has sixty-seven counties. The oldest county, Washington, was created on June 4, 1800, when what is now Alabama was then part of the Mississippi Territory. The newest county is Houston, created on February 9, 1903.

In 1820, Alabama had 29 counties. By 1830 there were 36, with Indians still occupying land in northeast and far western Alabama. By 1840, 49 counties had been created; 52 by 1850; 65 by 1870; and the present 67 counties by 1903.
Bullock County, Alabama
Bullock County History, Geography, and Demographics
County Seat: Union Springs
Year Organized: 1866
Square Miles: 625

Court House:

217 N Prairie Street
County Courthouse
Union Springs, AL 36089-1600
Etymology - Origin of County Name
Named Bullock in honor of Confederate hero Col. E. C. Bullock.
Demographics:
County QuickFacts: Census Bureau Quick Facts
County History
Bullock County, Alabama

Bullock County was just sophisticated when Creek Indians moving westward from Georgia settled here in the early 1700s. It was said that in those days, 27 springs of fresh water fed the area, making it a fertile oasis for the migrating Creeks.

Around 1832, following a bitter war between the Indians and the early white settlers, the Creeks ceded all their lands east of the Mississippi River. This allowed families from surrounding states to move in and find a new life in this flourishing countryside. Within three short years, churches, schools and stores began appearing as the community of Union Springs was born. Union Springs became quite prosperous prior to the Civil War, boasting of numerous factories, tanneries, hotels and mercantile shops. An early account described Union Springs as a "healthy land where lived the wealthiest plantations."

Following the war, in 1866, portions of Macon, Montgomery, Barbour and Pike counties were brought together to form a new one. This new county was named Bullock in honor of Confederate hero Col. E. C. Bullock.

The completion of the Macon and Brunswick Railroad through Appling County in 1870 led to the early development of Baxley, originally known as Station number 7, because of its location along the railroad. Following the construction of the railroad, naval store enterprises and sawmills moved into this area. Centrally located northwest of Homesville, Baxley was named for Wilson Baxley, a prosperous local farmer, cattle owner, and businessman who owned extensive acreage in the area and operated the community's first store. Baxley replaced Holmesville as the county seat in 1874, and during the next year the town was incorporated.

The first court held in this county was held at the present site of the Baxley Children's Home, eleven miles from Baxley. The first courthouse for this county was located at old Holmesville. The present day courthouse built from 1907 to 1908 in the neoclassical style, cost $50,000. H.L. Lewis designed the two-story limestone and concrete structure, which is the fourth courthouse to serve the county. The courthouse was listed in the National Register of Historic Places as part of a statewide county courthouse thematic nomination in 1980.

According to the census of 2000, there were 11,714 people, 3,986 households, and 2,730 families living in the county. The population density was 7/km˛ (19/mi˛). There were 4,727 housing units at an average density of 3/km˛ (8/mi˛). The racial makeup of the county was 25.25% White, 73.11% Black or African American, 0.38% Native American, 0.18% Asian, 0.02% Pacific Islander, 0.37% from other races, and 0.70% from two or more races. 2.75% of the population was Hispanic or Latino of any race.

There were 3,986 households out of which 33.50% had children under the age of 18 living with them, 35.50% were married couples living together, 28.20% had a female householder with no husband present, and 31.50% were non-families. 28.90% of all households were made up of individuals and 12.30% had someone living alone who was 65 years of age or older. The average household size was 2.56 and the average family size was 3.13.

In the county the population was spread out with 26.10% under the age of 18, 10.30% from 18 to 24, 29.30% from 25 to 44, 21.20% from 45 to 64, and 13.20% who were 65 years of age or older. The median age was 35 years. For every 100 females there were 110.20 males. For every 100 females age 18 and over, there were 113.40 males.

The median income for a household in the county was $20,605, and the median income for a family was $23,990. Males had a median income of $22,560 versus $19,069 for females. The per capita income for the county was $10,163. About 29.80% of families and 33.50% of the population were below the poverty line, including 44.70% of those under age 18 and 29.10% of that age 65 or over.
Neighboring Counties:
North: Macon County
Northeast: Russell County
Southeast: Barbour County
Southwest: Pike County
Northwest: Montgomery County
Cities and Towns:
- Banks
town
Incorporated Area
- Midway
town
Incorporated Area
- Union Springs

(County Seat)

city
Incorporated Area
County Resources:
Enter County Resources and Information Here

County Resources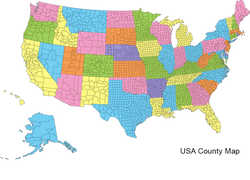 The history of our nation was a prolonged struggle to define the relative roles and powers of our governments: federal, state, and local. And the names given the
counties
, our most locally based jurisdictions, reflects the "characteristic features of this country!"