Find the Right School
Online Colleges
Campus Colleges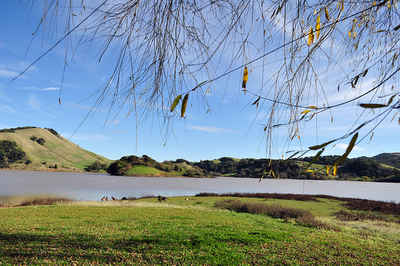 California Counties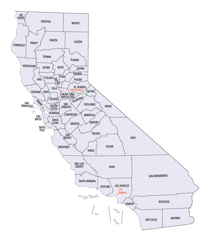 Click Image to Enlarge
California Counties
The U.S. state of California is divided into fifty-eight counties. On January 4, 1850, the California constitutional committee recommended the formation of 18 counties. They were Benicia, Butte, Fremont, Los Angeles, Mariposa, Monterey, Mount Diablo, Oro, Redding, Sacramento, San Diego, San Francisco, San Joaquin, San Jose, San Luis Obispo, Santa Barbara, Sonoma, and Sutter. On April 22, the Counties of Branciforte, Calaveras, Coloma, Colusi, Marin, Mendocino, Napa, Trinity, and Yuba were added. Benicia was renamed Solano, Coloma to El Dorado, Fremont to Yola, Mt. Diablo to Contra Costa, San Jose to Santa Clara, Oro to Tuolumne, and Redding to Shasta. One of the first state legislative acts regarding Counties was to rename Branciforte County to Santa Cruz, Colusi to Colusa, and Yola to Yolo.

The last California county to have been established is Imperial County in 1907.
Santa Clara County, California
Santa Clara County History, Geography, and Demographics
County Seat: San Jose
Year Organized: 1850
Square Miles: 1,291

Court House:

70 W Hedding, 10th Floor
County Courthouse
San Jose, CA 95110-0000
Etymology - Origin of County Name
The county is named after Mission Santa Clara, which was established in 1777, and named for Saint Clara of Assisi, Italy. The name Clara means "clear" or "bright."
Demographics:
County QuickFacts: Census Bureau Quick Facts
County History
Santa Clara County was one of the original counties of California, formed in 1850 at the time of statehood. The original inhabitants included the Ohlone, residing on Coyote Creek and Calaveras Creek. Part of the county's territory was given to Alameda County in 1853.

The county is named after Mission Santa Clara, which was established in 1777, and named for Saint Clare of Assisi, Italy.
Known at one time as the "Valley of Heart's Delight," Santa Clara Valley once overflowed with abundant agricultural riches. Before the cultivation of this beautiful valley, the land itself provided richly for its original Native American inhabitants, the Ohlone.

The Ohlone lived in villages scattered throughout the Santa Clara Valley and lived peacefully for more than 1,000 years before the arrival of Spanish Explorers in the late 1700's. Gaspar de Portola and Father Junipero Serra discovered the region while looking for Monterey Bay in November, 1769. Life in the area changed dramatically with the arrival of the Spanish and in 1777 the Valley's first mission and pueblo, Mission Santa Clara de Asís was established along the banks of the Guadalupe Creek.

After nearly a half-century of Spanish rule, the Mexican Revolution in 1821 brought an era of Mexican leadership. "Manifest Destiny" and the lure of gold brought American explorers, and in 1850 California was admitted to the Union. The County of Santa Clara was one of the original 28 counties of California and San José became, for a short time, the capital of the nation's 31st state. The Valley's fertile soil provided perfect conditions for agriculture. In the 1850's grain crops flourished, followed by orchards of prunes, apricots, peaches and pears. Acres of prized vineyards covered the Valley. Fruit processing developed into a major local industry and remained vital to the economy throughout the 1940's and 1950's.

The Bay Area has always attracted its share of new waves of people--Dust Bowl migrants of the 1930's, postwar veterans who received their discharge papers in California and chose to stay, emigres fleeing war or hardship in their native lands, sophisticated traders, business entrepreneurs, technical experts, and many more. Gradually, ideas came to be the area's lifeblood, as aerospace and electronics manufacturing replaces orchards and packing plants. Universities and businesses grew. Today, the County of Santa Clara is known as "Silicon Valley," the birthplace of the high technology revolution.
Geography
According to the U.S. Census Bureau, the county has a total area of 1,304 square miles (3,377 km²), of which, 1,291 square miles (3,343 km²) of it is land and 13 square miles (34 km²) of it (1.02%) is water.

The San Andreas Fault runs along the Santa Cruz Mountains in the south of the county.

Neighboring Counties:
Northeast: San Joaquin County; Stanislaus County
East: Merced County
Southeast: San Benito County
Southwest: Santa Cruz County
Northwest: San Mateo County; Alameda County
Cities and Towns:
- Campbell
city
Incorporated Area
- Cupertino
city
Incorporated Area
- Gilroy
city
Incorporated Area
- Los Altos
city
Incorporated Area
- Los Altos Hills
town
Incorporated Area
- Los Gatos
town
Incorporated Area
- Milpitas
city
Incorporated Area
- Monte Sereno
city
Incorporated Area
- Morgan Hill
city
Incorporated Area
- Mountain View
city
Incorporated Area
- Palo Alto
city
Incorporated Area
- San Jose

(County Seat)

city
Incorporated Area
- Santa Clara
city
Incorporated Area
- Saratoga
city
Incorporated Area
- Sunnyvale
city
Incorporated Area
County Resources:
Enter County Resources and Information Here

County Resources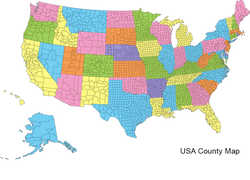 The history of our nation was a prolonged struggle to define the relative roles and powers of our governments: federal, state, and local. And the names given the
counties
, our most locally based jurisdictions, reflects the "characteristic features of this country!"