Find the Right School
Online Colleges
Campus Colleges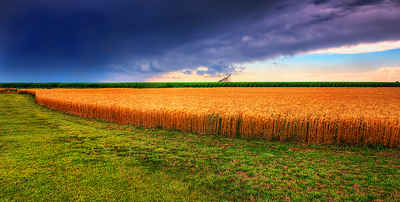 Kansas Counties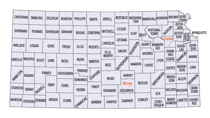 Click Image to Enlarge
Kansas Counties
Kansas has 105 counties, the sixth-highest total of any state. No Kansas county has two words in its name. Wyandotte County and the city of Kansas City operate as a unified government, and Greeley County and the city of Tribune are in the process of converting to a similar system.
Barton County, Kansas
Barton County History, Geography, and Demographics
County Seat: Great Bend
Year Organized: 1872
Square Miles: 895
Court House:

1400 Main Street, Room 106
County Courthouse
Great Bend, KS 67530-0000
Etymology - Origin of County Name
Barton County is the only current Kansas county named for a woman. It is named for Clara Harlowe Barton (1821-1912), Civil War nurse and founder of the American Red Cross.
Demographics:
County QuickFacts: Census Bureau Quick Facts
County History
Barton County, nearly in the geographical center of the state, is bounded on the north by Russell county, east by Ellsworth and Rice, south by Stafford and Pawnee, and west by Pawnee and Rush counties. It is exactly 30 miles square and contains 900 square miles. The county was created by an act of 1867, and was named in honor of Clara Barton, the founder of the American Red Cross association. The southern half of Barton county lies in territory that was erected as Washington county by the act of 1855, while the northern portion includes part of the unorganized territory attached to the counties lying east of it. It is supposed that the first white men who saw this part of Kansas were the Spaniards under Coronado (q. v.).
Geography
The southern part of the county is level, the northern portion higher and somewhat broken. The valleys of the Arkansas river and Walnut creek are from 2 to 7 miles in width, with a sandy loam soil, which is very fertile and productive. Narrow belts of timber, principally cottonwood, elm, ash, box-elder, hackberry, willow and walnut, are found along the streams, and many artificial groves have been set out. Barton county is one of the "banner" wheat counties of Kansas, but corn, Kafir corn and oats are extensively raised. Limestone of a good quality is found in the northern portion, and sandstone in the southern half of the county. Clay is found in the north, and a vein from 15 to 18 feet thick lies about 3 or 4 miles north of Great Bend. A rich bed of rock salt has been discovered about 3 miles northeast of Great Bend and has been drilled 100 feet.

The Arkansas river is the principal stream. Its course through the county is in the form of a crescent, or great bend, from which the town of Great Bend takes its name. There are several tributary streams, Walnut and Little Walnut creeks being the most important.

Neighboring Counties:
North: Russell County
Northeast: Ellsworth County
Southeast: Rice County
South: Stafford County
Southwest: Pawnee County
West: Rush County
Cities and Towns:
- Albert
city
Incorporated Area
- Albion
township
- Beaver
township
- Cheyenne
township
- Claflin
city
Incorporated Area
- Clarence
township
- Cleveland
township
- Comanche
township
- Ellinwood
city
Incorporated Area
- Grant
township
- Great Bend

(County Seat)

city
Incorporated Area
- Hoisington
city
Incorporated Area
- Independent
township
- North Homestead
township
- Olmitz
city
Incorporated Area
- Pawnee Rock
city
Incorporated Area
- South Bend
township
- South Homestead
township
- Susank
city
Incorporated Area
- Union
township
- Wheatland
township
County Resources:
County Resources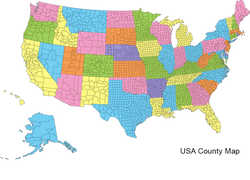 The history of our nation was a prolonged struggle to define the relative roles and powers of our governments: federal, state, and local. And the names given the
counties
, our most locally based jurisdictions, reflects the "characteristic features of this country!"