Find the Right School
Online Colleges
Campus Colleges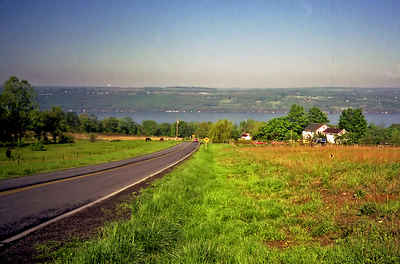 New York Counties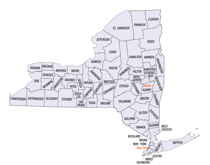 Click Image to Enlarge
New York Counties
There are 62 counties in the State of New York. The first twelve counties in New York were created immediately after the British annexation of the Dutch colony of New Amsterdam, although two of these counties have since been abolished. The most recent county formation in New York was in 1912, when Bronx County was created from the portions of New York City that had been annexed from Westchester County. New York's counties are named for a variety of Native American words, British provinces, cities, and royalty, early American statesmen and generals, and state politicians.
Erie County, New York
Erie County History, Geography, and Demographics
County Seat: Buffalo
Year Organized: 1821
Square Miles: 1,045
Court House:

25 Delaware Avenue
Rath Building
Buffalo, NY 14202-3926
Etymology - Origin of County Name
derived from a tribe of Indians living in Western New York prior to 1654
Demographics:
County QuickFacts: Census Bureau Quick Facts
County History
Erie County is located in western New York State. In 1990, the county population was 968,532 in a land area of 1,044 square miles, an average of 927 people per square mile. The county seat is Buffalo, organized in 1810, incorporated as a village in 1816 and as a city in 1832.

The County itself was formed in 1821 from Niagara County which was itself formed in 1808 from Genesee County, formed in turn from Ontario County in 1802, which was created in 1789 from Montomery County which was formed in 1772 from Albany County (Montgomery was known as Tryon County until 1784). Full History at NYSAC

---
The earliest inhabitants of Erie County were the Erie Indians, followed by the Seneca Indians who controlled Western New York in the 17th century. To protect the fur trade, the French built Fort Niagara in 1726. In 1798 the Holland Land Company purchased the land west of the Genesee River, and hired Joseph Ellicott to survey and begin the development of the area. Ellicott with his brother, Andrew, had laid out Washington D.C. and the same wagon-wheel plan was used for "New Amsterdam" (later called Buffalo).
Geography
Erie County is in the western portion of New York State, bordering on the lake of the same name. It is the most populous county in New York State outside of the New York City metropolitan area.

According to the U.S. Census Bureau, the county has a total area of 1,227 square miles (3,178 kmē), of which, 1,044 square miles (2,704 kmē) of it is land and 183 square miles (473 kmē) of it (14.89%) is water. The northern border of the county is Tonawanda Creek. Part of the southern border is Cattaraugus Creek. Other major streams include Buffalo Creek (Buffalo River), Cayuga Creek, Cazenovia Creek, Scajaquada Creek, Eighteen Mile Creek and Ellicott Creek.

The county's northern half, including Buffalo and its suburbs, is relatively flat and rises gently up from the lake. The southern half is much hillier and is the northwesternmost foothills of the Appalachian Mountains.

The highest elevation in the county is a hill in the Town of Sardinia that tops out at around 1,940 feet (591 m) above sea level. The lowest ground is about 560 feet (171 m), on Grand Island at the Niagara River.

The Onondaga Escarpment runs through the northern part of Erie County.

Neighboring Counties:
Niagara County, New York - north
Wyoming County, New York - east
Genesee County, New York - east
Cattaraugus County, New York - south
Chautauqua County, New York - southwest
Niagara Region, Ontario - west
Cities and Towns:
- Akron
village
Incorporated Area
- Alden
village
Incorporated Area
- Amherst
town
- Angola
village
Incorporated Area
- Blasdell
village
Incorporated Area
- Boston
town
- Brant
town
- Buffalo

(County Seat)

city
Incorporated Area
- Cattaraugus Reservation
Reservation
- Cheektowaga
town
- Clarence
town
- Colden
town
- Collins
town
- Concord
town
- Depew
village
Incorporated Area
- East Aurora
village
Incorporated Area
- Eden
town
- Elma
town
- Evans
town
- Farnham
village
Incorporated Area
- Grand Island
town
- Hamburg
village
Incorporated Area
- Holland
town
- Kenmore
village
Incorporated Area
- Lackawanna
city
Incorporated Area
- Lancaster
village
Incorporated Area
- Marilla
town
- Newstead
town
- North Collins
village
Incorporated Area
- Orchard Park
village
Incorporated Area
- Sardinia
town
- Sloan
village
Incorporated Area
- Springville
village
Incorporated Area
- Tonawanda
city
Incorporated Area
- Tonawanda Reservation
Reservation
- Wales
town
- West Seneca
town
- Williamsville
village
Incorporated Area
County Resources:
Enter County Resources and Information Here

County Resources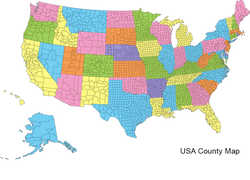 The history of our nation was a prolonged struggle to define the relative roles and powers of our governments: federal, state, and local. And the names given the
counties
, our most locally based jurisdictions, reflects the "characteristic features of this country!"