Find the Right School
Online College Articles
Campus College Articles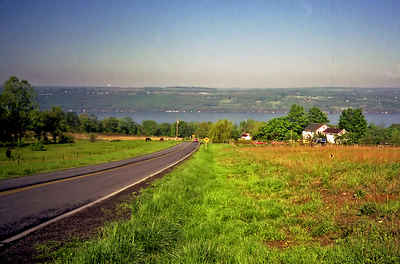 Choose a County
Albany
,
Allegany
,
Broome
,
Cattaraugus
,
Cayuga
,
Chautauqua
,
Chemung
,
Chenango
,
Clinton
,
Columbia
,
Cortland
,
Delaware
,
Dutchess
,
Erie
,
Essex
,
Franklin
,
Fulton
,
Genesee
,
Greene
,
Hamilton
,
Herkimer
,
Jefferson
,
Lewis
,
Livingston
,
Madison
,
Monroe
,
Montgomery
,
Nassau
,
New York City
,
Niagara
,
Oneida
,
Onondaga
,
Ontario
,
Orange
,
Orleans
,
Oswego
,
Otsego
,
Putnam
,
Rensselaer
,
Rockland
,
Saratoga
,
Schenectady
,
Schoharie
,
Schuyler
,
Seneca
,
St. Lawrence
,
Steuben
,
Suffolk
,
Sullivan
,
Tioga
,
Tompkins
,
Ulster
,
Warren
,
Washington
,
Wayne
,
Westchester
,
Wyoming
,
Yates
New York Counties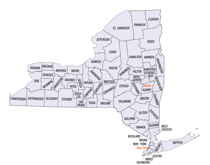 Click Image to Enlarge
New York Counties
There are 62 counties in the State of New York. The first twelve counties in New York were created immediately after the British annexation of the Dutch colony of New Amsterdam, although two of these counties have since been abolished. The most recent county formation in New York was in 1912, when Bronx County was created from the portions of New York City that had been annexed from Westchester County. New York's counties are named for a variety of Native American words, British provinces, cities, and royalty, early American statesmen and generals, and state politicians.
Putnam County, New York
Putnam County History, Geography, and Demographics
County Seat: Carmel
Year Organized: 1812
Square Miles: 232

Court House:

40 Gleneida Avenue
County Office Building
Carmel, NY 10512-1798
Etymology - Origin of County Name
Named in honor of General Israel Putnam, a hero of the French and Indian War and the Revolution
Demographics:
County QuickFacts: Census Bureau Quick Facts
County History
Putnam County was taken from Dutchess in 1812; greatest length 21, greatest breadth 12 miles. The Highlands extend across the western part. The highest point is about 1,580 feet above the Hudson. The remainder of the county, though generally uneven, has some handsome plains, with a soil various, and some of it fertile. The mountains abound with iron ore of good quality. Butter, beef, wool, calves, lambs, sheep, fowls, and the many other species of marketing," are produced here in great quantities for the New York market, and their returns are rapidly enriching the producer. The evidences of prosperity are everywhere visible. Within a few years the lands have doubled in value and price. The county is watered easterly and centrally by the main branches of the Croton. It is divided into six towns. (Historical Collections of the State of New York, Past and Present, John Barber, Clark, Albien & Co., 1851)
---

Most of the area comprising Putnam County was purchased from the Wappinger Indians by two Dutch speculators in 1691 for a "competent" sum of money. Six years later they sold it to Adolph Philipse, the son of an extremely wealthy merchant, and the land became known as Philipse Patent. Full History at NYSAC
Geography
Putnam County is situated in the southeastern part of New York State, between the Hudson River on its west and the New York-Connecticut border on its east. Putnam is southeast of Newburgh, and it is north of White Plains.

According to the U.S. Census Bureau, the county has a total area of 246 square miles (638 kmē), of which, 231 square miles (599 kmē) of it is land and 15 square miles (39 kmē) of it (6.08%) is water. The terrain of the county is generally hilly. The region of the county nearest the Hudson River is especially so, and is part of the Hudson Highlands. The highest point in Putnam County is Scofield Ridge, with four summits at approximately 1,540 feet (469 m) above sea level. The lowest point is sea level along the Hudson. The Hudson River, named for Henry Hudson, has provided transportation of goods from New York City, north to the Hudson Valley, throughout history

Neighboring Counties:
Dutchess County (north)
Fairfield County, Connecticut (east)
Westchester County, New York (south)
Orange County (west)
Cities and Towns:
- Brewster
village
Incorporated Area
- Carmel

(County Seat)

town
- Cold Spring
village
Incorporated Area
- Nelsonville
village
Incorporated Area
- Patterson
town
- Philipstown
town
- Putnam Valley
town
- Southeast
town
County Resources:
Enter County Resources and Information Here

County Resources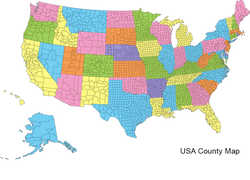 The history of our nation was a prolonged struggle to define the relative roles and powers of our governments: federal, state, and local. And the names given the
counties
, our most locally based jurisdictions, reflects the "characteristic features of this country!"