Missouri Private Colleges and Universities
Looking for Private Colleges and Universities in Missouri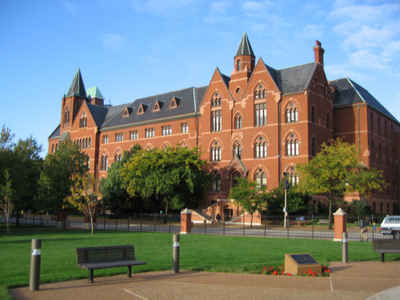 Missouri's nickname is the "Show-Me State," because of their strong adherence to simple common sense. Nowhere is this more apparent than in the higher education system. Missouri private colleges go of their way to provide their students with a strong, fundamental, practical education; no matter what field or discipline one is pursuing. By graduating from one of Missouri's private colleges, you will be well equipped to handle any number of occupations and career options.
Missouri private colleges and universities offer a wide range of education programs with degrees and certificates up to the doctoral level, as well as professional degrees such as law and medicine.
There are 90 colleges in Missouri, 36 public and 54 private, offering a wide range of programs and majors. These Missouri private colleges are diverse in character, academic emphasis, and origins. Some private colleges or schools have a religious affiliation; others are secular. Private colleges and universities may be profit or non-profit institutions. Typically, Missouri independent colleges or private schools give weight to personal characteristics and activities in addition to considering GPA and test scores.
Private Colleges and Universities in Missouri includes:
Washington University in St. Louis
Saint Louis University
Maryville University of Saint Louis in Saint Louis, MO
Saint Louis University (SLU) in Saint Louis, MO
Washington University in St Louis (Washington University) in Saint Louis, MO
Columbia College (CC) in Columbia, MO
Drury University in Springfield, MO
Evangel University in Springfield, MO
Lindenwood University (LU) in Saint Charles, MO
Missouri Baptist University (MBU) in Saint Louis, MO
Park University in Parkville, MO
Rockhurst University (Rockhurst) in Kansas City, MO
Southwest Baptist University (SBU) in Bolivar, MO
Webster University (Webster) in Saint Louis, MO
William Woods University (WWU/ William Woods) in Fulton, MO
The largest being Washington University in St Louis with 12,116 full time students. Washington University in St Louis is the most expensive with an in-state tuition of $42,500. On average, how much does it costs to attend private college in Missouri? The average annual in-state private college tuition in Missouri is $17,446 in 2013.
Independent Colleges and Universities of Missouri (ICUM)
The Independent Colleges and Universities of Missouri (ICUM) serves as a state-level organization for member private colleges and universities. The mission of ICUM is to represent its members before the general assembly and its executive branch of government as well as the US Congress and the federal executive offices. ICUM's lobbying should fulfill the following functions:
(1) promote and/or support legislation that defends or enhances the role of independent postsecondary education;
(2) monitor and rally support against any proposed legislation, regulation or rule that is detrimental to the role and causes of independent postsecondary education;
(3) work with similar organizations as appropriate, to further independent postsecondary education's interests on national or regional issues; and
(4) work with public postsecondary education when projects or legislation give evidence of benefiting independent and public colleges and universities.
---
Compare More Colleges and Universities

Find more schools to match to your needs.