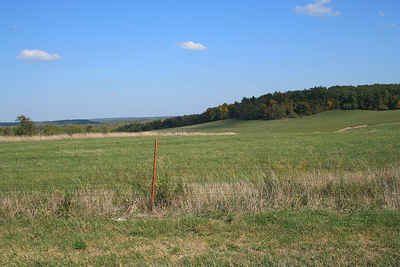 Missouri Counties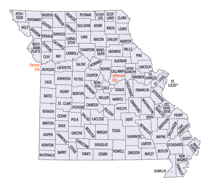 Click Image to Enlarge
Missouri Counties
Missouri has one hundred and fourteen counties and one independent city. St. Louis City is separate from St. Louis County and is referred to as a "city not within a county." Following the Louisiana Purchase and the admittance of Louisiana into the United States in 1812, five counties were formed out of the Missouri Territory at the first general assembly. Most subsequent counties were apportioned from these five original counties.
Franklin County, Missouri
Franklin County Education, Geography, and History
Franklin County is a county located in the state of Missouri. Based on the 2010 census, the population was 101,492. Its county seat is Union. The county was organized in 1818 and is named after Founding Father Benjamin Franklin.

Franklin County is part of the St. Louis, MO-IL Metropolitan Statistical Area and contains many of the city's exurbs. It is located along the south side of the Missouri River.
Etymology - Origin of Franklin County Name
Named for Benjamin Franklin.
Demographics:
County QuickFacts: CensusBureau Quick Facts
History of Franklin County
A large county, bounded on the north by the Missouri River, on the northeast by St. Louis County, on the southeast by Jefferson County, on the south by Washington and Crawford Counties, and on the west by Gasconade County. It was organized on December 11, 1818, and thus separated from St. Louis County, of which it had previously formed a part. The area of Franklin County at first included large regions on the west and south. These areas are now outside the county. On November 25, 1820, Gasconade County, which then included much of Osage County, was formed from Franklin County. By subsequent changes including the formation of Crawford County, Franklin County was reduced to its present area of 866 square miles. The earliest record of American settlement in the county is that of William Hughes, who located on Du Bois Creek, not far from the site of the present Washington, in 1794. This was the extreme frontier of the time. One of the first American settlers was Kincaid Caldwell, who came to Franklin County in 1803. The earliest entry of land in the county was made by Samuel Cantley on July 13, 1818. Franklin County was named in honor of Benjamin Franklin (1706-1790), the Philadelphia printer, inventor, philosopher, diplomat, and statesman. Americans have always been delighted to honor him in their choice of place names; there are more than twenty Franklin Counties in other states, and over fifty other places named for him. (Davis & Durrie, 365; COUNTY ATLAS 1878, 8; HIST. FRANKLIN, 222; Switzler 543; MISSOURI SURVEY MAP; Kiel's BIOG. DIR., 8; Schultz, 44-45, 52-54; Eaton; McClure, 5; Miss Johnson)
Source: Harrison, Eugenia L. "Place Names Of Four River Counties In Eastern Missouri." M.A. thesis., University of Missouri-Columbia, 1943.
Geography
As reported by the Census Bureau, the county has a total area of 931 square miles (2,410 km2), of which 923 square miles (2,390 km2) is land and 8.0 square miles (21 km2) (0.9%) is water.It is the fourth-largest county in Missouri by land area and third-largest by total area.

The center of the Missouri River forms the nominal northern border of the county, although the river has changed its course since boundaries were first established: a portion of St. Charles County near St. Albans is now south of the river, while a portion of Franklin County near Augusta is north of the river.

The Bourbeuse River runs for 107 miles in the county. It cuts a deep, narrow valley and is very crooked. It empties into the Meramec River near Union. This river is mostly undeveloped, with limited access and few bridges over it. During low water, a number of fords allow crossing.

The county is located in the Ozarks region, with steep hills and deep valleys, caves, springs, and sinkholes characteristic of karst areas. The underlying rock is typically carbonate, including limestone and dolomite. Mining activity in the county included ores of lead, copper, zinc, and deposits of refractory clay. The soils in most of the county tend to be thin, rocky red clay, and are poor for most agriculture, while the soil near the Missouri River is dark, rich, and thick, and used primarily for row crops such as corn, wheat, and soybeans. Much of the county is covered with thick forests, reestablished since in the 1920s.

Urbanization is increasing in the county, especially surrounding Washington and Union, and along Interstate 44. St. Albans is now a continuation of the suburban region of St. Louis County while the majority of the county retains a rural character and includes extensive wilderness areas, typical of exurban areas.

Neighboring Counties
Bordering counties are as follows:
Warren County (north)
St. Charles County (northeast)
St. Louis County (northeast)
Jefferson County (east)
Washington County (southeast)
Crawford County (southwest)
Gasconade County (west)
Education
Public schools
New Haven Public School District - New Haven
Meramec Valley R-III School District - Pacific
St. Clair R-XIII School District - St. Clair
Spring Bluff R-XV (k-8)
Sullivan School District - Sullivan
Union R-XI School District - Union
Washington School District - Washington
Franklin County R-II School District - New Haven
Lonedell R-XIV School District - Lonedell
Owensville R-II School District - Gerald
Strain-Japan R-XVI School District - Sullivan
Private schools
The Fulton School at St. Albans - St. Albans - (Pre-K-12) - Nonsectarian
Cornerstone Baptist Academy - St. Clair - (1-12) - Other Affiliation
Crosspoint Christian School - Villa Ridge - (K-12) - Nondenominational Christianity
Immanuel Lutheran School - Washington - (K-8) - Lutheran
St. Francis Borgia Regional High School - Washington - (9-12) - Roman Catholic
St. John the Baptist School - Villa Ridge - (Pre-K-8) - Roman Catholic
St. Gertrude School - Krakow - (K-8) - Roman Catholic
St. Francis Borgia Grade School - Washington - (Pre-K-8) - Roman Catholic
Our Lady of Lourdes - Washington - (Pre-K-8) - Roman Catholic
St. Clare Catholic Grade School - St. Clair - (Pre-K-8) - Roman Catholic
St. Bridget of Kildate School - Pacific - (Pre-K-8) - Roman Catholic
Alternative schools
Autumn Hill State School (K-12) - Union - Handicapped/Special needs
Franklin County Special Education Cooperative (Pre-K-12) - St. Clair - Special Education
Four Rivers Career Center (9-12) - Washington - Vocational/Technical
Colleges/universities
East Central College - Union
---
Compare More Colleges and Universities

Find more schools to match to your needs.