Missouri State Seal
Great Seal of the State of Missouri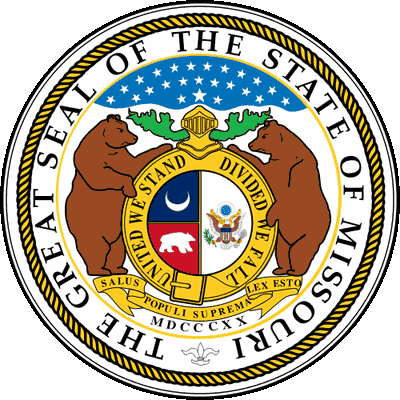 Adopted on January 11, 1822.
The Great Seal of the State of Missouri was adopted by the Missouri General Assembly on January 11, 1822.
Judge and Congressman Robert William Wells designed the Great Seal of Missouri in the early 1820s. The banners are inscribed with the phrase "United We Stand, Divided We Fall,"which symbolizes Missouri's entry into the United States as the 24th state. Standing on the ground next to native foliage, heraldic bears hold a shield decorated with state and national imagery. The crescent moon represents Missouri at the time of the seal's creation- a state with little wealth and a small population, both of which would grow like a crescent moon. The grizzly bear on all four paws represents the state's strength and its citizens' bravery. The U. S. Coat of Arms adorns the right side of the shield.
The center of the state seal is composed of two parts. On the right is the United States coat-of-arms containing the bald eagle. In its claws are arrows and olive branches, signifying that the power of war and peace lies with the U.S. federal government. On the left side of the shield, the state side, are a grizzly bear and a silver crescent moon. The crescent symbolizes Missouri at the time of the state seal's creation, a state of small population and wealth which would increase like the new or crescent moon; it also symbolizes the "second son," meaning Missouri was the second state formed out of the Louisiana Territory.
This shield is encircled by a belt inscribed with the motto, "United we stand, divided we fall," which indicates Missouri's advantage as a member of the United States. The two grizzlies on either side of the shield symbolize the state's strength and its citizens' bravery. The bears stand atop a scroll bearing the state motto, "Salus Populi Suprema Lex Esto," which means, "Let the welfare of the people be the supreme law." Below this scroll are the Roman numerals for 1820, the year Missouri began its functions as a state.
The helmet above the shield represents state sovereignty, and the large star atop the helmet surrounded by 23 smaller stars signified Missouri's status as the 24th state. The cloud around the large star indicates the problems Missouri had in becoming a state. The whole state seal is enclosed by a scroll bearing the words, "The Great Seal of the State of Missouri." (RSMo.10.060)
Missouri Seal Law
TITLE II: SOVEREIGNTY, JURISDICTION AND EMBLEMS.
CHAPTER 10: STATE EMBLEMS.
SECTION 10.060. Seal of state--device.

10.060. The device for an armorial achievement for the state of Missouri is as follows: Arms, parted per pale, on the dexter side; gules, the white or grizzly bear of Missouri, passant guardant, proper on a chief engrailed; azure, a crescent argent; on the sinister side, argent, the arms of the United States, the whole within a band inscribed with the words "UNITED WE STAND, DIVIDED WE FALL". For the crest, over a helmet full-faced, grated with six bars; or, a cloud proper, from which ascends a star argent, and above it a constellation of twenty-three smaller stars, argent, on an azure field, surrounded by a cloud proper. Supporters on each side, a white or grizzly bear of Missouri, rampant, guardant proper, standing on a scroll, inscribed with the motto, "Salus populi suprema lex esto", and under the scroll the numerical letters MDCCCXX. And the great seal of the state shall be so engraved as to present by its impression the device of the armorial achievement aforesaid, surrounded by a scroll inscribed with the words, "THE GREAT SEAL OF THE STATE OF MISSOURI", in roman capitals, which seal shall be in a circular form and not more than two and a half inches in diameter.

(RSMo 1939 § 15437, RSMo 1949 § 10.110, A.L. 1957 p. 726)
Prior revisions: 1929 § 14312; 1919 § 11608; 1909 § 11180
---