Missouri State Motto
"Salus populi suprema lex esto"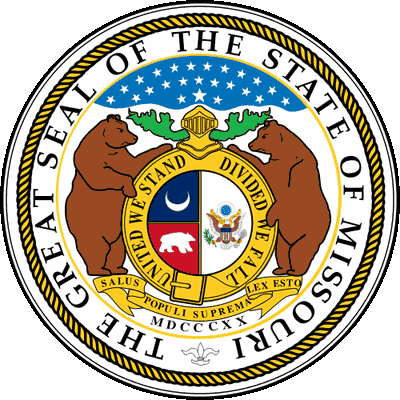 (The welfare of the people shall be the supreme law)
Adopted in 1822.
Language: Latin
Focus: People
Missouri's motto is not an official state motto, as such, but is accepted as an element of its official seal adopted in 1822. The State motto of Missouri, Salus Popili Suprema Lex Esto, signifying Let the welfare of the people be the supreme law, may be found in Cicero's De Legibus, Book III, Part III, Sub. VIII.
There are three states with mottos that focus on the people:
Missouri Law
The law designating the official Missoiuri state motto is found in the Missouri Revised Statutes, Title 2, Chapter 10, Section 10-060.
This statute describes the Mississippi seal. The motto is specified within this description.
TITLE II - SOVEREIGNTY, JURISDICTION AND EMBLEMS.
CHAPTER 10 - STATE EMBLEMS.
SECTION 10-060.

Seal of state--device. 10.060. The device for an armorial achievement for the state of Missouri is as follows: Arms, parted per pale, on the dexter side; gules, the white or grizzly bear of Missouri, passant guardant, proper on a chief engrailed; azure, a crescent argent; on the sinister side, argent, the arms of the United States, the whole within a band inscribed with the words "UNITED WE STAND, DIVIDED WE FALL". For the crest, over a helmet full-faced, grated with six bars; or, a cloud proper, from which ascends a star argent, and above it a constellation of twenty-three smaller stars, argent, on an azure field, surrounded by a cloud proper. Supporters on each side, a white or grizzly bear of Missouri, rampant, guardant proper, standing on a scroll, inscribed with the motto, "Salus populi suprema lex esto", and under the scroll the numerical letters MDCCCXX. And the great seal of the state shall be so engraved as to present by its impression the device of the armorial achievement aforesaid, surrounded by a scroll inscribed with the words, "THE GREAT SEAL OF THE STATE OF MISSOURI", in roman capitals, which seal shall be in a circular form and not more than two and a half inches in diameter.

(RSMo 1939 § 15437, RSMo 1949 § 10.110, A.L. 1957 p. 726)

Prior revisions: 1929 § 14312; 1919 § 11608; 1909 § 11180

---