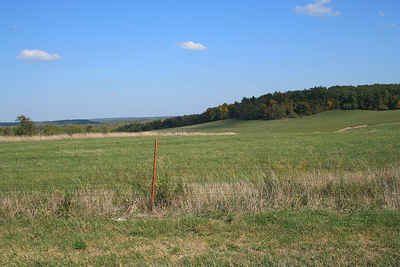 Missouri Counties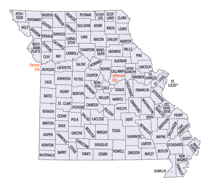 Click Image to Enlarge
Missouri Counties
Missouri has one hundred and fourteen counties and one independent city. St. Louis City is separate from St. Louis County and is referred to as a "city not within a county." Following the Louisiana Purchase and the admittance of Louisiana into the United States in 1812, five counties were formed out of the Missouri Territory at the first general assembly. Most subsequent counties were apportioned from these five original counties.
Scotland County, Missouri
Scotland County Education, Geography, and History
Scotland County is located in the northeastern portion of the state of Missouri. Based on the 2010 census, the population was 4,843, making it the fifth-least populous county in Missouri. Its county seat is Memphis. The county was organized January 29, 1841, and named for Scotland.
Etymology - Origin of Scotland County Name
Named for Scotland.
Demographics:
County QuickFacts: CensusBureau Quick Facts
History of Scotland County
Scotland County is located on the Iowa-Missouri line, with Clark County to the east, Knox to the south, and Schuuyler and Adair to the west. The county was originally included in Lewis, and was until about 1842 a part of the hunting grounds allotted by the government to the Indians. This particular locality was known as headquarters of the Indian chief of the Sauk and Foxes, Keokuk, (1780-1848), who gave his name to Keokuk, Iowa. The county consists of an extense of land about two-thirds prairie and one-third timber and bottom land. Originally it was that part of Lewis County known as Benton Township (q.v.), set apart for a separate county and duly organized for civil and military purposes, and included besides what is now Scotland County the northern part of Knox, a strip six miles in width. In 1836 the Lewis County Court organized Mt. Pleasant Township (q.v.) out of Benton. In 1837, territory which now composes about one-third of Scotland County was attached to Clark County for civil and military purposes. The two townships, Benton and Mt. Pleasant participated in the dispute over the boundary line between Iowa and Missouri, and were not organized into a county until 1841 after the adjustment of the dispute. The statement that Scotland County was settled as early as 1832 is questioned, for the Black Hawk War was occurring in this vicinity at that time. Sand Hill (q.v.) was the site of the first settlement, to which the date of 1833 is given. David Cooper in the spring of that year became identified with the story of both Scotland and Knox (See Cooper Settlement). It is claimed that Robert T. Smith, first treasurer of the county, came in 1833. The pioneers who came in that early period were from Kentucky, Pennsylvania, and Virginia. "Squatters" settled on the rolling prairie in the vicinity of Sand Hill, Bible Grove, and Pleasant Retreat (q.v.). On the close of the War of 1861, a large emigration ensued from Ohio, Indiana, Illinois and Iowa. The county was so named by the old Scottish surveyor, S.W.B. Carnegy of Canton, for the homeland of the Scottish people. The two already existing townships were continued with changed lines, and to these were added Johnson, Miller, Maidenkirk, and Ayreshire (q.v.) the last two recalling in name association with the mother country. These Scotch names were followed by names of early settlements so associated. (See Edinburg and Kilwinning) Records of the location, extent, even date of organization of these early townships have not been preserved. Changes followed with additions, the townships reaching in 1891 the present number of ten with lines existing today. (HIST. SCOTLAND 1887, 405, 406, 410, 417, 439, 469, 489, 497; HIST. N.E. MISSOURI, 606; Davis & Durrie 1876, 429; ATLAS SCOTLAND 1876; SOIL SURVEY, Scotland, 1906; QUINCY HERALD-WHIG, Dec. 29, 1935; CLARK COUNTY COURIER, Oct. 2, 1936; Mrs. Arla B. Williams)
Source: Elliott, Katherine. "Place Names of Six Northeast Counties of Missouri." M.A. thesis., University of Missouri-Columbia, 1938.
Geography: Land and Water
As reported by the Census Bureau, the county has a total area of 439 square miles (1,140 km2), of which 437 square miles (1,130 km2) is land and 2.6 square miles (6.7 km2) (0.6%) is water. Scotland County borders Iowa to the north.


Neighboring Counties
Bordering counties are as follows:
Davis County, Iowa (northwest)
Van Buren County, Iowa (northeast)
Clark County (east)
Knox County (south)
Adair County (southwest)
Schuyler County (west)
Education
Public schools
Gorin R-III School District - Gorin
Scotland County R-I School District - Memphis
---
Compare More Colleges and Universities

Find more schools to match to your needs.