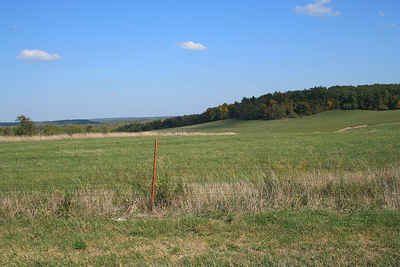 Missouri Counties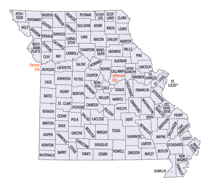 Click Image to Enlarge
Missouri Counties
Missouri has one hundred and fourteen counties and one independent city. St. Louis City is separate from St. Louis County and is referred to as a "city not within a county." Following the Louisiana Purchase and the admittance of Louisiana into the United States in 1812, five counties were formed out of the Missouri Territory at the first general assembly. Most subsequent counties were apportioned from these five original counties.
Shelby County, Missouri
Shelby County Education, Geography, and History
Shelby County is a county located in the northeastern portion of the state of Missouri. Based on the 2010 census, the population was 6,373. Its county seat is Shelbyville. The county was organized January 2, 1835 and named for Governor Isaac Shelby of Kentucky.
Etymology - Origin of Shelby County Name
Named for Isaac Shelby, governor of Kentucky and a Revolutionary War soldier.
Demographics:
County QuickFacts: CensusBureau Quick Facts
History of Shelby County
A county erected on petition to the Legislature January 2, 1935, at which time Black Creek and North River Townships were organized as a new county to be known as Shelby. Records show that the territory now known as Shelby was not included by legislative enactment in Marion in 1826 on the organization of that county, but at a later date was attached to Marion for military, civil, and judicial purposes only. The settlers felt that for judicial purposes they were too far from the seat of justice at Palmyra; hence the position for county organization. Until its organization as a distant and separate county therefore in 1835, Shelby was a part of Ralls (HIST. SHELBY, 1911). From 1831 to 1834, however, it was for the purpose of administration of justice only, attached to Marion County as a part of Warren Township. In May, 1834, this territory was formed into Black Creek Township (q.v.). Later the same year it was reorganized into two townships, the new township being known as North River Township (q.v.). In the following January the two townships were designated by legislative act Shelby County. The county was at that time only eighteen miles in extent north and south, but in 1843 the Legislature cut off sixty square miles from Monroe County and added this territory to Shelby, an action said to have been taken to insure keeping the county seat of Monroe County at Paris. Shelby County is a rectangular 511 square miles with a "Panhandle District" (q.v.) on the southwest, with Knox, Lewis and Marion Counties on the east, Monroe on the south, and Macon on the west. It is traversed by many little streams, all of which were named for men who first settled or located there. Its principal stream is the North Fork of Salt River which traverses the county through the center diagonally from northwest to southeast. The first bona fide white settler was Major Obadiah Dickerson, pioneer settler of Palmyra (q.v.), who came to Shelby in 1831. (See Dickerson Ford). Undoubtedly the first white men to visit the county were Kentucky hunters who crossed from Boone Lick Country on the Missouri River seeking the head waters of Salt River. Probably even earlier that Boone Lick days, in the early 1800s it was visited by hunters and trappers. From the two original townships, Black Creek and North River, created in 1834 for voting purposes, there were in 1840 returns from six townships designated as Black Creek, North River, Salt River, Fabius, Tiger Fork, and Jackson. (HIST. SHELBY 1911, 50). We do not see again the name Fabius. In 1852, but five recorded votes: Black Creek, Bethel, Tiger Fork, Taylor, and Jackson (IBID, 50; HIST. SHELBY 1884, 682). In 1856 Clay was one of eight, as were Salt River, North River, (IBID, 682), Taylor, Jackson, Bethel, Black Creek, and Tiger Fork. Jefferson had entered by 1870 and Lentner as late as the late 1890s. These ten comprise the present townships of the county. There are conflicting reports of the townships owning to incomplete records. (See HIST. SHELBY 1884, 682, 728, 878; HIST. N.E. MISSOURI, 629; Switzler, 432). Since tne early residents of Shelby were from Kentucky, the Legislature named the county in honor of Governor Isaac Shelby (1750-1826), who served three terms as governor of Kentucky, in 1792 and again in 1812 and 1816. Before going to Kentucky Governor Shelby served in the Revolutionary War, in Virginia, and later served in the legislature of Carolina. HIST. SHELBY 1884, 631, 641, 652; HIST. SHELBY 1911, 1-3, 15, 21-23, 29; HIST. N.E. MISSOURI, 621, 629; Eaton, 66; SOIL SURVEY, Shelby 1904; SHELBY COUNTY HERALD, July 31, 1935; INTERN. CYC.)
Source: Elliott, Katherine. "Place Names of Six Northeast Counties of Missouri." M.A. thesis., University of Missouri-Columbia, 1938.
Geography: Land and Water
As reported by the Census Bureau, the county has a total area of 502 square miles (1,300 km2), of which 501 square miles (1,300 km2) is land and 1.5 square miles (3.9 km2) (0.3%) is water.

Neighboring Counties
Bordering counties are as follows:
Knox County (north)
Lewis County (northeast)
Marion County (east)
Monroe County (south)
Randolph County (southwest)
Macon County (west)
Education
Public schools
North Shelby School District - Shelbyville
Shelby County R-IV School District - Shelbina
Private schools
Shiloh Christian School - Shelbina (K-12) - Nondenominational Christian - Alternative School
Heartland Christian Academy - Bethel (PK-12) - Nondenominational Christian
---
Compare More Colleges and Universities

Find more schools to match to your needs.