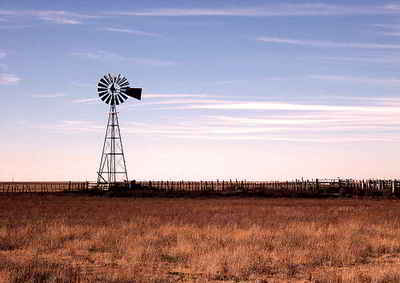 Texas Counties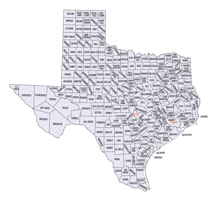 Click Image to Enlarge
Texas Counties
Texas is divided into two hundred and fifty-four counties, more than any other state. Texas was originally divided into municipalities, a unit of local government under Spanish and Mexican rule. When the Republic of Texas gained its independence in 1836, there were 23 municipalities, which became the original Texas counties. Many of these would later be divided into new counties. The most recent county to be created was Kenedy County in 1921. The most recent county to be organized was Loving County in 1931
Jeff Davis County, Texas
Jeff Davis County Education, Geography, and History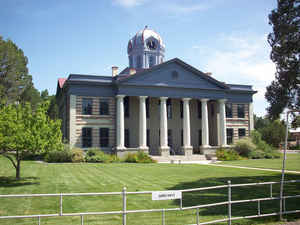 Jeff Davis County is a county in the state of Texas. Based on the 2010 census, its population was 2,342. Its county seat is Fort Davis. The county is named for Jefferson Davis, the 23rd United States Secretary of War and President of the Confederate States of America. It is one of the nine counties that comprise the Trans-Pecos region of West Texas.
Etymology - Origin of Jeff Davis County Name
The precursor of Fort Davis was a settlement known as Chihuahua, which formed just southwest of the military post of Fort Davis after it was established in 1854. Both the county and Fort Davis are named for Jefferson Davis; he was Secretary of War at the time Fort Davis was founded, and would later become the only president of the Confederate States of America before Jeff Davis County was founded in 1887
Demographics:
County QuickFacts:
Jeff Davis County History
Prehistoric peoples camped at Phantom Lake Spring, in northeastern Jeff Davis County, and may have used the springs for irrigation. Indian pictographs in The Painted Comanche Camp of Limpia Canyon were discovered by the Whiting and Smith Expedition of 1849.

In August 1861, Mescalero Apaches under Chief Nicolas made an attack on Fort Davis, driving off livestock and killing three people. In the ensuing chase by the cavalry, Nicolas ambushed the soldiers, killing them all. September 1868 at Horsehead Hills, a group of volunteer Mexicans and Buffalo Soldiers from Fort Davis attacked and destroyed a Mescalero village to recover captives and stolen livestock. January 1870, a group of soldiers attacked a Mescalero Apache village near Delaware Creek in the Guadalupe Mountains. July 1880 soldiers at Tinaja de las Palmas attacked a group of Mescaleros led by Chief Victorio. August 1880, Buffalo Soldiers ambushed Victorio at Rattlesnake Springs. Victorio retreated to Mexico and was killed in October by Mexican soldiers. The last Indian depredation in the area was at Barry Scobee Mountain in 1881

In March 1849 lieutenants William H. C. Whiting and William F. Smith were sent out by Maj. Gen. William J. Worth of the Texas 8th Military Department to look for a route from San Antonio to El Paso del Norte. A second party, led by Dr. John S. Ford and financed by a group of Austin merchants, pioneered a trail that ran north of the Davis Mountains before turning southward toward El Paso. June 1849 Lt. Col. Joseph E. Johnston, attached to Bvt. Maj. Jefferson Van Horne's battalion, was sent for additional surveying. At El Paso, Horne established Fort Bliss. Texas Ranger Big Foot Wallace escorted the San Antonio-El Paso Mail coach through the mountains. Fort Davis was established in 1854. The land was leased from Surveyor John James at $300 a year. The fort was surrendered to the Confederacy in 1861, and abandoned in 1862 after Confederate defeat at Glorieta Pass, New Mexico, but was re-occupied by Federal troops July 1, 1867.

The legislature established Jeff Davis County on March 15, 1887. Fort Davis was named county seat. It is named for Jefferson Davis, the president of the Confederate States of America.
Handbook of Texas Online
The prosperity that accompanied the return of the troops led to the organization of Presidio County, which had been formed out of El Paso County in 1850. Two previous attempts to organize it had failed. Finally, on May 12, 1871, the county was organized, with Fort Davis as the county seat. In 1882, however, when the Southern Pacific built through the area, it bypassed Fort Davis. The residents of Marfa thought that their town, which was on the railroad, should be the county seat. A new election was held on July 14, 1885, and although the results were disputed, Marfa won. The residents of Fort Davis immediately called for a new county, and on March 15, 1887, an act of the state legislature established Jeff Davis County. "Thank God," said one legislator, "that at last we have a Texas county named in honor of the president of the Confederacy." Fort Davis was again a county seat, but the rivalry with Marfa continued as a dispute about the county line. The boundary quarrel, eventually decided in the courts, was not settled until January 1905, when Jesse W. Merrill and S. A. Thompson surveyed a new county line. More at
Martin Donell Kohout, "JEFF DAVIS COUNTY," Handbook of Texas Online (http://www.tshaonline.org/handbook/online/articles/hcj04), accessed January 24, 2016. Uploaded on June 15, 2010. Published by the Texas State Historical Association.

Geography: Land and Water
As reported by the Census Bureau, the county has a total area of 2,265 sq mi (5,870 km2), with a total area of 0.01% water. The county is home to the Davis Mountains, the highest mountain range located entirely within the state of Texas.

Neighboring Counties
Bordering counties are as follows:
Reeves County (northeast)
Pecos County (east)
Brewster County (southeast)
Presidio County (south)
Hudspeth County (west)
Culberson County (northwest)
Education
Western Jeff Davis County is served by the Valentine Independent School District, while central and eastern Jeff Davis County is served by the Fort Davis Independent School District.
---
Compare More Colleges and Universities

Find more schools to match to your needs.