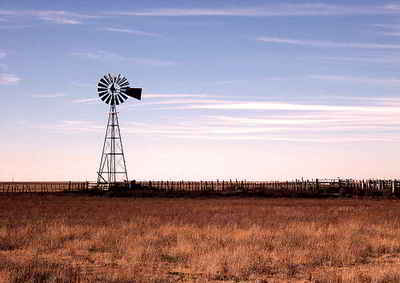 Texas Counties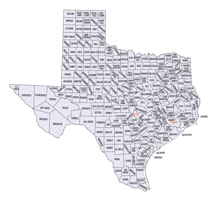 Click Image to Enlarge
Texas Counties
Texas is divided into two hundred and fifty-four counties, more than any other state. Texas was originally divided into municipalities, a unit of local government under Spanish and Mexican rule. When the Republic of Texas gained its independence in 1836, there were 23 municipalities, which became the original Texas counties. Many of these would later be divided into new counties. The most recent county to be created was Kenedy County in 1921. The most recent county to be organized was Loving County in 1931
Texas Counties: History and Information
Find a brief history of Texas Counties
Texas is a state in the South and Southwest regions of the United States. It joined the United States in 1845 as the 28th state, after nine years of self governing.
The state name derives from a word in a Caddoan language of the Hasinai, táysha (or tejas, as the Spaniards spelled it), meaning friends or allies. Spanish explorers mistakenly applied the word to the people and their location.
With an area of 268,820 square miles (696,241 km2) and a population of 22.5 million, Texas is the second largest US state in both area and population, and the largest state in the contiguous 48 states in area. (Alaska is the largest US state in area and California is the most populous.) Texas has historically had a "larger than life" reputation, especially in cowboy films.

Of Texas 254 counties, 42 bear Indian, French, or Spanish names. Stephen F. Austin is honored by 10 counties. Washington, Clay and other American patriots are honored by 12 counties. Men like Glasscock who fought in the Texas War of Independence or at the Alamo are honored by 96 counties, 15 of those dying at the Alamo, signed the Declaration of Independence or served as statesmen in the Republic of Texas. Twenty-three have the names of frontiers men and pioneers. Eleven honor American statesmen who worked for the annexation of Texas. Ten leaders in Texas since statehood, including jurist, ministers, educators, historians, statesmen, and 36 men were prominent in the Confederacy during Civil War. Midland and 8 others have geographical names. San Jacinto and Val Verde were named for battles, Live Oak and Orange, for trees, and Mason for a fort.
County
2000
Population
Square
Miles
County Seat
Created
Anderson County
55,109
1,071
Palestine
1846
Andrews County
13,004
1,501
Andrews
1876
Angelina County
80,130
802
Lufkin
1846
Aransas County
22,497
252
Rockport
1871
Archer County
8,854
910
Archer City
1858
Armstrong County
2,148
914
Claude
1876
Atascosa County
38,628
1,232
Jourdanton
1856
Austin County
23,590
653
Bellville
1836
Bailey County
6,594
827
Muleshoe
1876
Bandera County
17,645
792
Bandera
1856
Bastrop County
57,733
888
Bastrop
1836
Baylor County
4,093
871
Seymour
1858
Bee County
32,359
880
Beeville
1857
Bell County
237,974
1,059
Belton
1850
Bexar County
1,392,931
1,247
San Antonio
1835
Blanco County
8,418
711
Johnson City
1858
Borden County
729
899
Gail
1876
Bosque County
17,204
989
Meridian
1854
Bowie County
89,306
888
New Boston
1840
Brazoria County
241,767
1,387
Angleton
1836
Brazos County
152,415
586
Bryan
1841
Brewster County
8,866
6,193
Alpine
1887
Briscoe County
1,790
900
Silverton
1876
Brooks County
7,976
943
Falfurrias
1911
Brown County
37,674
944
Brownwood
1856
Burleson County
16,470
666
Caldwell
1846
Burnet County
34,147
995
Burnet
1852
Caldwell County
32,194
546
Lockhart
1848
Calhoun County
20,647
512
Port Lavaca
1846
Callahan County
12,905
899
Baird
1877
Cameron County
335,227
906
Brownsville
1848
Camp County
11,549
198
Pittsburg
1874
Carson County
6,516
923
Panhandle
1876
Cass County
30,438
938
Linden
1846
Castro County
8,285
898
Dimmitt
1876
Chambers County
26,031
599
Anahuac
1858
Cherokee County
46,659
1,052
Rusk
1846
Childress County
7,688
710
Childress
1887
Clay County
11,006
1,098
Henrietta
1857
Cochran County
3,730
775
Morton
1876
Coke County
3,864
899
Robert Lee
1889
Coleman County
9,235
1,273
Coleman
1858
Collin County
491,675
848
McKinney
1846
Collingsworth County
3,206
919
Wellington
1876
Colorado County
20,390
963
Columbus
1836
Comal County
78,021
562
New Braunfels
1846
Comanche County
14,026
938
Comanche
1856
Concho County
3,966
992
Paint Rock
1858
Cooke County
36,363
874
Gainesville
1848
Coryell County
74,978
1,052
Gatesville
1854
Cottle County
1,904
901
Paducah
1892
Crane County
3,996
786
Crane
1927
Crockett County
4,099
2,808
Ozona
1875
Crosby County
7,072
900
Crosbyton
1876
Culberson County
2,975
3,813
Van Horn
1911
Dallam County
6,222
1,505
Dalhart
1876
Dallas County
2,218,899
880
Dallas
1846
Dawson County
14,985
902
Lamesa
1858
Deaf Smith County
18,561
1,497
Hereford
1876
Delta County
5,327
277
Cooper
1870
Denton County
432,976
888
Denton
1846
DeWitt County
20,013
909
Cuero
1846
Dickens County
2,762
904
Dickens
1876
Dimmit County
10,248
1,331
Carrizo Springs
1858
Donley County
3,828
930
Clarendon
1876
Duval County
13,120
1,793
San Diego
1858
Eastland County
18,297
926
Eastland
1858
Ector County
121,123
901
Odessa
1887
Edwards County
2,162
2,120
Rocksprings
1858
El Paso County
679,622
1,013
El Paso
1850
Ellis County
111,360
940
Waxahachie
1849
Erath County
33,001
1,086
Stephenville
1856
Falls County
18,576
769
Marlin
1850
Fannin County
31,242
892
Bonham
1837
Fayette County
21,804
950
La Grange
1837
Fisher County
4,344
901
Roby
1876
Floyd County
7,771
992
Floydada
1876
Foard County
1,622
707
Crowell
1891
Fort Bend County
354,452
875
Richmond
1837
Franklin County
9,458
286
Mount Vernon
1875
Freestone County
17,867
885
Fairfield
1850
Frio County
16,252
1,133
Pearsall
1858
Gaines County
14,467
1,502
Seminole
1876
Galveston County
250,158
399
Galveston
1838
Garza County
4,872
896
Post
1876
Gillespie County
20,814
1,061
Fredericksburg
1846
Glasscock County
1,406
901
Garden City
1887
Goliad County
6,928
854
Goliad
1836
Gonzales County
18,628
1,068
Gonzales
1836
Gray County
22,744
928
Pampa
1876
Grayson County
110,595
934
Sherman
1846
Gregg County
111,379
274
Longview
1873
Grimes County
23,552
794
Anderson
1846
Guadalupe County
89,023
711
Seguin
1846
Hale County
36,602
1,005
Plainview
1876
Hall County
3,782
903
Memphis
1876
Hamilton County
8,229
836
Hamilton
1858
Hansford County
5,369
920
Spearman
1876
Hardeman County
4,724
695
Quanah
1858
Hardin County
48,073
894
Kountze
1858
Harris County
3,400,578
1,729
Houston
1836
Harrison County
62,110
899
Marshall
1839
Hartley County
5,537
1,462
Channing
1876
Haskell County
6,093
903
Haskell
1858
Hays County
97,589
678
San Marcos
1848
Hemphill County
3,351
910
Canadian
1876
Henderson County
73,277
874
Athens
1846
Hidalgo County
569,463
1,569
Edinburg
1852
Hill County
32,321
962
Hillsboro
1853
Hockley County
22,716
908
Levelland
1921
Hood County
41,100
422
Granbury
1865
Hopkins County
31,960
785
Sulphur Springs
1846
Houston County
23,185
1,231
Crockett
1837
Howard County
33,627
903
Big Spring
1876
Hudspeth County
3,344
4,571
Sierra Blanca
1917
Hunt County
76,596
841
Greenville
1846
Hutchinson County
23,857
887
Stinnett
1876
Irion County
1,771
1,052
Mertzon
1889
Jack County
8,763
917
Jacksboro
1857
Jackson County
14,391
830
Edna
1836
Jasper County
35,604
938
Jasper
1836
Jeff Davis County
2,207
2,265
Fort Davis
1887
Jefferson County
252,051
904
Beaumont
1836
Jim Hogg County
5,281
1,136
Hebbronville
1913
Jim Wells County
39,326
865
Alice
1911
Johnson County
126,811
729
Cleburne
1854
Jones County
20,785
931
Anson
1881
Karnes County
15,446
750
Karnes City
1854
Kaufman County
71,313
786
Kaufman
1848
Kendall County
23,743
662
Boerne
1862
Kenedy County
414
1,457
Sarita
1911
Kent County
859
902
Jayton
1876
Kerr County
43,653
1,106
Kerrville
1856
Kimble County
4,468
1,251
Junction
1858
King County
356
912
Guthrie
1850
Kinney County
3,379
1,364
Brackettville
1876
Kleberg County
31,549
871
Kingsville
1913
Knox County
4,253
854
Benjamin
1858
La Salle County
5,866
1,489
Cotulla
1858
Lamar County
48,499
917
Paris
1840
Lamb County
14,709
1,016
Littlefield
1876
Lampasas County
17,762
712
Lampasas
1856
Lavaca County
19,210
970
Hallettsville
1846
Lee County
15,657
629
Giddings
1874
Leon County
15,335
1,072
Centerville
1846
Liberty County
70,154
1,160
Liberty
1836
Limestone County
22,051
909
Groesbeck
1846
Lipscomb County
3,057
932
Lipscomb
1876
Live Oak County
12,309
1,036
George West
1856
Llano County
17,044
935
Llano
1856
Loving County
67
673
Mentone
1887
Lubbock County
242,628
900
Lubbock
1891
Lynn County
6,550
892
Tahoka
1876
Madison County
12,940
470
Madisonville
1854
Marion County
10,941
381
Jefferson
1860
Martin County
4,746
915
Stanton
1876
Mason County
3,738
932
Mason
1858
Matagorda County
37,957
1,114
Bay City
1836
Maverick County
47,297
1,280
Eagle Pass
1856
McCulloch County
8,205
1,069
Brady
1856
McLennan County
213,517
1,042
Waco
1850
McMullen County
851
1,113
Tilden
1858
Medina County
39,304
1,328
Hondo
1848
Menard County
2,360
902
Menard
1858
Midland County
116,009
900
Midland
1885
Milam County
24,238
1,017
Cameron
1836
Mills County
5,151
748
Goldthwaite
1887
Mitchell County
9,698
910
Colorado City
1876
Montague County
19,117
931
Montague
1857
Montgomery County
293,768
1,044
Conroe
1837
Moore County
20,121
900
Dumas
1876
Morris County
13,048
254
Daingerfield
1875
Motley County
1,426
989
Matador
1876
Nacogdoches County
59,203
947
Nacogdoches
1836
Navarro County
45,124
1,071
Corsicana
1846
Newton County
15,072
933
Newton
1846
Nolan County
15,802
912
Sweetwater
1876
Nueces County
313,645
836
Corpus Christi
1846
Ochiltree County
9,006
918
Perryton
1876
Oldham County
2,185
1,501
Vega
1876
Orange County
84,966
356
Orange
1852
Palo Pinto County
27,026
953
Palo Pinto
1856
Panola County
22,756
801
Carthage
1846
Parker County
88,495
904
Weatherford
1855
Parmer County
10,016
882
Farwell
1876
Pecos County
16,809
4,764
Fort Stockton
1871
Polk County
41,133
1,057
Livingston
1846
Potter County
113,546
909
Amarillo
1876
Presidio County
7,304
3,856
Marfa
1850
Rains County
9,139
232
Emory
1870
Randall County
104,312
914
Canyon
1876
Reagan County
3,326
1,175
Big Lake
1903
Real County
3,047
700
Leakey
1913
Red River County
14,314
1,050
Clarksville
1836
Reeves County
13,137
2,636
Pecos
1885
Refugio County
7,828
770
Refugio
1856
Roberts County
887
924
Miami
1876
Robertson County
16,000
855
Franklin
1837
Rockwall County
43,080
129
Rockwall
1873
Runnels County
11,495
1,054
Ballinger
1858
Rusk County
47,372
924
Henderson
1843
Sabine County
10,469
490
Hemphill
1836
San Augustine County
8,946
528
San Augustine
1836
San Jacinto County
22,246
571
Coldspring
1870
San Patricio County
67,138
692
Sinton
1836
San Saba County
6,186
1,134
San Saba
1856
Schleicher County
2,935
1,311
Eldorado
1887
Scurry County
16,361
903
Snyder
1876
Shackelford County
3,302
914
Albany
1858
Shelby County
25,224
794
Center
1836
Sherman County
3,186
923
Stratford
1876
Smith County
174,706
928
Tyler
1846
Somervell County
6,809
187
Glen Rose
1875
Starr County
53,597
1,223
Rio Grande City
1848
Stephens County
9,674
895
Breckenridge
1858
Sterling County
1,393
923
Sterling City
1891
Stonewall County
1,693
919
Aspermont
1876
Sutton County
4,077
1,454
Sonora
1887
Swisher County
8,378
900
Tulia
1876
Tarrant County
1,446,219
864
Fort Worth
1849
Taylor County
126,555
916
Abilene
1858
Terrell County
1,081
2,358
Sanderson
1905
Terry County
12,761
890
Brownfield
1876
Throckmorton County
1,850
912
Throckmorton
1858
Titus County
28,118
411
Mount Pleasant
1846
Tom Green County
104,010
1,522
San Angelo
1874
Travis County
812,280
989
Austin
1840
Trinity County
13,779
693
Groveton
1850
Tyler County
20,871
923
Woodville
1846
Upshur County
35,291
588
Gilmer
1846
Upton County
3,404
1,242
Rankin
1887
Uvalde County
25,926
1,557
Uvalde
1850
Val Verde County
44,856
3,171
Del Rio
1885
Van Zandt County
48,140
849
Canton
1848
Victoria County
84,088
883
Victoria
1836
Walker County
61,758
788
Huntsville
1846
Waller County
32,663
514
Hempstead
1873
Ward County
10,909
836
Monahans
1892
Washington County
30,373
609
Brenham
1836
Webb County
193,117
3,357
Laredo
1848
Wharton County
41,188
1,090
Wharton
1846
Wheeler County
5,284
914
Wheeler
1876
Wichita County
131,664
628
Wichita Falls
1858
Wilbarger County
14,676
971
Vernon
1858
Willacy County
20,082
597
Raymondville
1921
Williamson County
249,967
1,124
Georgetown
1848
Wilson County
32,408
807
Floresville
1860
Winkler County
7,173
841
Kermit
1887
Wise County
48,793
905
Decatur
1856
Wood County
36,752
650
Quitman
1850
Yoakum County
7,322
800
Plains
1876
Young County
17,943
922
Graham
1856
Zapata County
12,182
997
Zapata
1858
Zavala County
11,600
1,299
Crystal City
1858
---