Texas History
Historic Facts & Overview of Texas History
Take a peek at Texas history. Discover an overview of Texas' rich history, heritage, historic events, and culture.
The Republic of Texas achieved its independence from Mexico in 1836, the same year as the famous siege of the Alamo in which pioneers Jim Bowie and Davy Crockett were slain. The "Lone Star State" was the 28th state to join the Union, admitted in 1845. The name Texas is a Spanish name, which comes from an Indian word meaning "friends" or "allies." Texas is the second-largest state in the Union in area, after Alaska. Although it has a wild, frontier history, today Texas is a major producer of oil and has important centers of industry and finance. A Texas state historian has said that the state flower, the bluebonnet, "is to Texas what the shamrock is to Ireland."
---
Spanish explorers, including Álvar Núñez Cabeza de Vaca and Francisco Vásquez de Coronado, were the first to visit the region in the 16th and 17th centuries, settling at Ysleta near El Paso in 1682. In 1685, sieur de la Salle established a short-lived French colony at Matagorda Bay.
Americans, led by Stephen F. Austin, began to settle along the Brazos River in 1821 when Texas was controlled by Mexico, recently independent from Spain.
In 1821 Mexico gained independence from Spain, beginning a series of politically turbulent years. Under the Mexican Constitution of 1824, Texas was joined politically to the state of Coahuila, giving Texas a minority voice in its government. In 1836, following a brief war between the American settlers in Texas and the Mexican government, the Independent Republic of Texas was proclaimed with Sam Houston as president. This war was famous for the battles of the Alamo and San Jacinto. On March 2, 1836, 41 delegates to the first Constitutional Convention adopted Texas' Declaration of Independence, beginning the transition to becoming an independent republic. The period ended 50 days later, on April 21, 1836, at the Battle of San Jacinto, where the Texas Army defeated the Mexican Army led by General Santa Anna.
Texas remained a republic for almost a decade until annexation by the United States in 1845. After Texas became the 28th US state in 1845, border disputes led to the Mexican War of 1846-48. Texas remained a state until 1861 when it seceded from the Union to become part of the Confederacy. Texas was readmitted to the United States in 1870.

US History Overview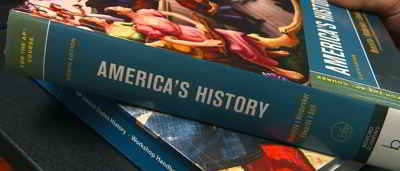 America's history is not static. It's fluid. It changes, grows, becomes richer, and more complex when any individual interacts with it.