Texas State Almanac: Facts and Figures
Quick Facts, Figures, and Overview of the State of Texas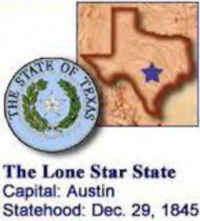 Texas is one of the West South Central states of the US. It is also the second largest state in the US It is situated in the South Central part of the United States. It shares a border with Mexico to the south and the US states of New Mexico, Oklahoma, Arkansas, and Louisiana. It's total area is 268,820 square miles (696,200 sq. km). Texas's name comes from the word "teysha" meaning "hello friend" in the language of the Caddo Indian tribes. Spanish explorers and settlers used this word to refer to the friendly tribes throughout Louisiana, Oklahoma and Texas.
Possessing enormous natural resources, Texas is a major agricultural state and an industrial giant. Second only to Alaska in land area, it leads all other states in such categories as oil, cattle, sheep, and cotton. Texas ranches and farms also produce poultry and eggs, dairy products, greenhouse and nursery products, wheat, hay, rice, sugar cane, and peanuts, and a variety of fruits and vegetables.

Sulfur, salt, helium, asphalt, graphite, bromine, natural gas, cement, and clays are among the state's valuable resources. Chemicals, oil refining, food processing, machinery, and transportation equipment are among the major Texas manufacturing industries.
Official Name
Texas
Capital
Austin
Nicknames
Lone Star State ...and more
Motto
Friendship
Location
Region
30.30588 N, 097.75052 W
Great Plains
Southwestern
Constitution Ratified
1876
Statehood
December 29, 1845
28th state
Population
25,145,561 (2010)
79.61 sq. mi.
2nd
Largest City
(by population)
10 largest cities (2010 est.):Houston, 2,099,451; San Antonio, 1,327,407; Dallas, 1,197,816; Austin, 790,390; Fort Worth, 741,206; El Paso, 649,121; Arlington, 365,438; Corpus Christi, 305,215; Plano, 259,841; Laredo, 36,091
Bordering States
North: Oklahoma (Red River forms part of the Northern boundary)
North East: Arkansas
East: Louisiana (Sabine River forms part of the Eastern boundary)
South East: Gulf of Mexico
South West: Mexico (Rio Grande forms the border with Mexico)
West: New Mexico
Coastline: 367 mi.
Major Industry
petroleum and natural gas, farming (cotton, livestock), steel, banking, insurance, tourism
Major Rivers
Rio Grande, Red River, Brazos River
Major Lakes
Texas Counties
254 Counties in Texas
Largest County
(by population)
Harris County
4,092,459 (2010)
1,729 sq. mi.
Largest County
(by area)
Brewster County
6,193 sq. mi.
State forests
5 (7,314 ac.)
State parks
115 (600,000+ ac.)
Presidential Birthplaces

Dwight David Eisenhower was born in Denison on October 14, 1890 (he was the 34th US President, serving from 1953 to 1961).

Lyndon Baines Johnson was born near Johnson City on August 27, 1908 (he was the 36th US President, serving from 1963 to 1969).

Electoral Votes
34 (as of the 2004 Presidential Election)
US Congress
2 Senators; 32 Representatives
Time Zone
Central Standard Time
Zip Codes
NANPA
State Quick Facts
Census Bureau Quick Facts
---
Texas Climate and Weather

The climate in Texas varies from hot and humid along the Gulf Coast to cool and dry in the upper reaches of the Guadalupe Mountains. The climate is warmer than in most parts of the US: Temperatures usually run in the mid to upper 90s F/35-36 C during July and August (with readings above 100 F/37 C occurring quite frequently). In addition to the heat, the eastern third of the state is quite humid (conditions get drier as you move west). Summer visitors should be prepared to pace themselves. Wear light, loose clothing and a hat - the Texas sun is quite intense. Air-conditioning is nearly universal (especially in automobiles - be sure yours has it), so relief is not hard to find. Even though nighttime lows in most places are in the low 70s F/21-23 C, you may want a sweater for the times when the air-conditioning is turned too low (Texans seem to love it that way) or when you're visiting the far north or mountains. Spring and summer can bring intense, heavy rains and occasional tornadoes. Hurricanes are possible in August and September. In the dry western part of the state, dust storms can occur in March and April.

Winter in Texas is more varied in temperature across the state than summer. Panhandle winters often dip well below freezing (occasionally even below 0 F/-18 C). Snow (or ice) is possible anywhere in north Texas, but rarely does it get heavy or last long. In south Texas, winters are usually quite pleasant, although they can range from freezing to a balmy 70 F/21 C.

Expect temperatures in the spring to range 56-79 F/12-25 C (cooler in the north and in the mountains, warmer on the coast and in the south).
Highest Temperature
120 degrees
August 12, 1936 - Seymour
Lowest Temperature
-23 degrees
February 8, 1933 - Seminole
Avg. Temp:
High - Low
98.5 degrees
21.7 degrees

Texas Points of Interest

The Lone Star State has a very close relationship with Mexico, its culture, and its people, and with all of the history-changing events that have taken place in Texas, it's no surprise that 11,621 historical markers are found within its borders.

Major points-of-interest include the Capital City of Austin, Big Bend National Park, the glistening cities of Dallas and Houston, the Guadalupe Mountains, historic Galveston, Gulf of Mexico coastline, the Hill Country, NASA (Johnson Space Center) in Clear Lake, Padre Island National Seashore, San Antonio Riverwalk and the Alamo, numerous Spanish missions sprinkled across the state, and so much more

Texas Highest, Lowest, and Mean Elevations (Feet)

Mean Elevation: 1,700 feet

Highest Point: Guadalupe Peak: 8,749 feet

The highest point in Texas at 8,749 feet. This is part of the Guadalupe Mountains National Park, which is located near the Texas / New Mexico border at the far western edge of our forecast area.

Lowest Point:
Gulf of Mexico
Sea level

Texas Land Area (Square Miles)

Geographic Center
In McCulloch County, 15 mi. NE of Brady
Longitude: 99°27.5'W
Latitude: 31°14.6'N
Total Area
268,580.82 sq. mi.
2nd
Land Area
261,797.12 sq. mi.
97.48%
Water Area
6,783.70 sq. mi.
2.52%
Forested Land Area
51.6%
Dimensions
(Length - Width)
790 miles -660 miles
County Information and County History
Anderson, Andrews, Angelina, Aransas, Archer, Armstrong, Atascosa, Austin, Bailey, Bandera, Bastrop, Baylor, Bee, Bell, Bexar, Blanco, Borden, Bosque, Bowie, Brazoria, Brazos, Brewster, Briscoe, Brooks, Brown, Burleson, Burnet, Caldwell, Calhoun, Callahan, Cameron, Camp, Carson, Cass, Castro, Chambers, Cherokee, Childress, Clay, Cochran, Coke, Coleman, Collin, Collingsworth, Colorado, Comal, Comanche, Concho, Cooke, Coryell, Cottle, Crane, Crockett, Crosby, Culberson, Dallam, Dallas, Dawson, Deaf Smith, Delta, Denton, DeWitt, Dickens, Dimmit, Donley, Duval, Eastland, Ector, Edwards, El Paso, Ellis, Erath, Falls, Fannin, Fayette, Fisher, Floyd, Foard, Fort Bend, Franklin, Freestone, Frio, Gaines, Galveston, Garza, Gillespie, Glasscock, Goliad, Gonzales, Gray, Grayson, Gregg, Grimes, Guadalupe, Hale, Hall, Hamilton, Hansford, Hardeman, Hardin, Harris, Harrison, Hartley, Haskell, Hays, Hemphill, Henderson, Hidalgo, Hill, Hockley, Hood, Hopkins, Houston, Howard, Hudspeth, Hunt, Hutchinson, Irion, Jack, Jackson, Jasper, Jeff Davis, Jefferson, Jim Hogg, Jim Wells, Johnson, Jones, Karnes, Kaufman, Kendall, Kenedy, Kent, Kerr, Kimble, King, Kinney, Kleberg, Knox, La Salle, Lamar, Lamb, Lampasas, Lavaca, Lee, Leon, Liberty, Limestone, Lipscomb, Live Oak, Llano, Loving, Lubbock, Lynn, Madison, Marion, Martin, Mason, Matagorda, Maverick, McCulloch, McLennan, McMullen, Medina, Menard, Midland, Milam, Mills, Mitchell, Montague, Montgomery, Moore, Morris, Motley, Nacogdoches, Navarro, Newton, Nolan, Nueces, Ochiltree, Oldham, Orange, Palo Pinto, Panola, Parker, Parmer, Pecos, Polk, Potter, Presidio, Rains, Randall, Reagan, Real, Red River, Reeves, Refugio, Roberts, Robertson, Rockwall, Runnels, Rusk, Sabine, San Augustine, San Jacinto, San Patricio, San Saba, Schleicher, Scurry, Shackelford, Shelby, Sherman, Smith, Somervell, Starr, Stephens, Sterling, Stonewall, Sutton, Swisher, Tarrant, Taylor, Terrell, Terry, Throckmorton, Titus, Tom Green, Travis, Trinity, Tyler, Upshur, Upton, Uvalde, Val Verde, Van Zandt, Victoria, Walker, Waller, Ward, Washington, Webb, Wharton, Wheeler, Wichita, Wilbarger, Willacy, Williamson, Wilson, Winkler, Wise, Wood, Yoakum, Young, Zapata, Zavala
Almanac Online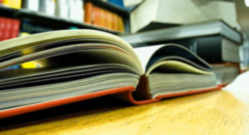 Information on people & places that make US a great place to live, visit, or study.