Matagorda County, Texas
Matagorda County Education, Geography, and History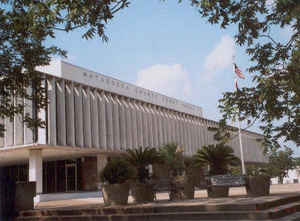 Matagorda County is a county located in the state of Texas. Based on the 2010 census, the population was 36,702. Its county seat is Bay City, not to be confused with the larger Baytown in Harris and Chambers Counties. Matagorda County is named for the canebrakes that once grew along the coast (matagorda is a Spanish word meaning "thick bush").

Matagorda County comprises the Bay City, TX Micropolitan Statistical Area, which is also included in the Houston-The Woodlands, TX Combined Statistical Area.
Etymology - Origin of Matagorda County Name
the canebrakes that once lined the Gulf of Mexico coastline; Matagorda is Spanish for thick bush
Demographics:
County QuickFacts: CensusBureau Quick Facts
Matagorda County History
Matagorda County is a county located in the US state of Texas. ts county seat is Bay City, not to be confused with the larger Baytown in Harris and Chambers counties. Matagorda County is named for the canebrakes which once grew along the coast (Matagorda is a Spanish word meaning "thick bush").
Handbook of Texas Online
In events leading up to the Texas Revolution, according to some sources, members of the district of Mina at the Convention of 1832 were actually people from the Matagorda area rather than what became Bastrop County. The District of Matagorda was represented at the Convention of 1833, and Matagordans took an active part in both the councils and subsequent fighting. A local Committee of Public Safety drew up a formal pledge to protect the citizens of Goliad, and troops were sent to aid James W. Fannin. After the war, in 1836, Matagorda County was organized as one of the first twenty-three counties by the Republic of Texas; Matagorda was designated as the county seat. The area's culture reflected the southern backgrounds of many of its inhabitants. Baptist education began at Matagorda around 1829, an Episcopal congregation was established in the area in 1838, and the area's first Methodist congregation was established in 1839. The county's first newspaper, the Tribune, appeared in 1837. A keel boat was reported on the Colorado in 1838, and a ferry known as Cayce's (later called Elliotts) was established in 1849 west of Bay City. As Texas's second major seaport and a port of entry for Texas immigrants from 1840 to 1865, Matagorda rapidly developed transportation and industry. The town had a gristmill in 1859, and the largest sugar mill in the state was built there sometime before 1860. By 1850 there were 2,124 people living in the county, including 913 whites, 1,208 slaves, and 3 free blacks. According to the agricultural census, almost 59,000 acres were in farms in the county that year, including 8,500 acres considered "improved." More than 103,000 bushes of corn, 1,394 thousand-pound hogsheads of sugar, 1,613 bales of cotton, and 60 pounds of rice were produced in the county that year. While cash crops already constituted an important part of the local economy, livestock also played a significant role: almost 32,000 cattle, and more than 2,100 sheep, were also reported in the county that year. The production of cotton rapidly expanded in the county during the 1850s. On the east side of the Colorado, alluvial soils made up of stream deposits provided bottomlands hospitable to plantations, while west of the Colorado the land was used almost exclusively by stockraisers and small farmers. Between 1850 and 1855 a number of slaves were brought into the county, largely by slaveholders from Georgia, South Carolina, and Virginia, to work on large plantations in the bottomlands of the Colorado River and Caney Creek. The region between Matagorda and Brazoria, forty miles away, came to be known as "Old Caney" and was noted for its production of cotton and sugar. Meanwhile, as the profitable plantation economy encouraged planters to bring more black slaves into the area, the county's minority white population took various steps to ensure their control. Citizens established a curfew for slaves and free persons of color as early as 1850, and in 1852 Elder Noah Hill was employed to serve as a missionary to slaves in the county. The need to protect their control over their slaves was also used by white citizens in 1856 to justify expelling the county's entire Mexican population. As one newspaper item contended, the Mexicans in the county were known to "hang around the plantations, taking the likeliest negro girls for wives....they often steal horses, and these girls, too, and endeavor to run them to Mexico. We should rather have anticipated an appeal to Lynch law, than the mild course which has been adopted." By 1858 roughly 30 percent of the improved acreage in the county was used to raise cotton, 6 percent was devoted to sugar, and 20 percent to corn; sea-island cotton was grown on Matagorda Peninsula during this period. In the late 1850s major towns in the county included Matagorda, with 1,200 residents, and Tres Palacios (also known simply as Palacios), which was located west of the Colorado on a high point of land between Matagorda and Tres Palacios bays. By 1860 there were 3,454 people, including 2,107 slaves, living in Matagorda County. Almost 159,000 acres in the county was in farms, and 21,000 acres were reported to be improved. That year the county's plantations and farms produced 8,454 bales of cotton, 507 hogsheads of cane sugar, and 144,000 bushels of corn. John Duncan, one of the county's many wealthy planters, owned real property valued at $150,000 and personal property valued at $128,000, as well as seventy-five slaves and 3,000 cattle. Another planter, James B. Hawkins, had real property valued at $100,000 and personal property valued at $60,750, along with his 101 slaves. While cash crops, especially cotton, had helped to provide this prosperity, cattle remained an important part of the economy in 1860. Almost 38,000 cattle were reported in the county that year, and a cattle company formed in 1849 continued to engage in a lively commerce that had grown between Matagorda Bay, New Orleans, Mobile, and other Gulf points; this trade lasted until the Civil War. More at
Diana J. Kleiner, "MATAGORDA COUNTY," Handbook of Texas Online (http://www.tshaonline.org/handbook/online/articles/hcm05), accessed January 24, 2016. Uploaded on June 15, 2010. Published by the Texas State Historical Association.
Geography: Land and Water
As reported by the Census Bureau, the county has a total area of 1,612 square miles (4,176 km2), of which, 1,114 square miles (2,886 km2) of it is land and 498 square miles (1,290 km2) of it (30.87%) is water, which includes Matagorda Bay.

Neighboring Counties
Bordering counties are as follows:
Brazoria County (northeast)
Gulf of Mexico (southeast)
Calhoun County (southwest)
Jackson County (west)
Wharton County (northwest)

Education
School districts serving Matagorda County include:

Bay City Independent School District
Boling Independent School District (partial)
Matagorda Independent School District
Palacios Independent School District (partial)
Tidehaven Independent School District
Van Vleck Independent School District
---
Compare More Colleges and Universities

Find more schools to match to your needs.